Stone Arts Kenya is among the leading brands in Kenya offering a wide selection of natural stone products including Granite, sandstone, limestone, slate, travertine and marble. They have a factory in Ngong where they fabricate stone building materials and stone garden ornaments, fountains, planters, and architectural stone in traditional, classical and contemporary styles.
Custom-made or bespoke stone building materials for restoration, new-build and self-build projects are their specialty. They have sister companies in India, Cameroon and have also recently diversified into Rwanda.
They have supplied stone building materials and garden ornaments to France, USA, Cameroon, India, Dubai, and Congo. They import the natural stones from many geographical regions in India, Turkey and Europe which enables them to offer an incredible range of colors.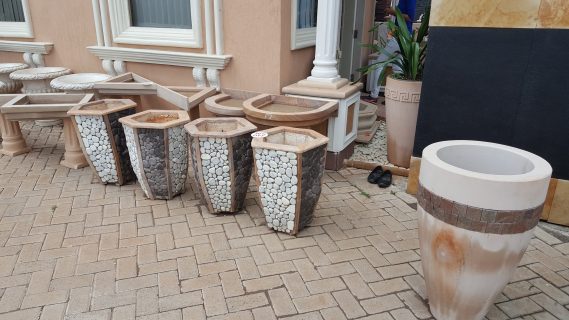 They have a very competitive and economical flooring option known as stamped concrete. According to the Business Development Manager, Ash Ghir, stamped concrete has a very long life.
All their colours are imported from Germany and therefore do not crack or fade due to exposure to sunlight or too much washing.
It is also available in different colours and patterns and is very ideal for very large projects as well as small areas, as opposed to Kabro which gets loose easily.
Some of the projects where Stone Arts have used their stamped concrete flooring option in Kenya include Wadi Degla Sports Club, the Lake Basin Development Authority (LBDA) Mall in Kisumu, Karicho temple, Airport centre in Mombasa, and Green Park in Naivasha. They are also behind the granite flooring in the mega Two Rivers Mall.
They also do claddings for buildings, whereby they specialize in dry cladding, also known as mechanical cladding. "Most of the claddings available in our display are made in our factory. We have a variety for different price ranges to fit everybody's pocket.
Most of our claddings are UV and water proof, which means they can be used in both interior and exterior," Ash says. One of the most recent projects they have done for dry cladding is Kigali Heights in Rwanda. "Dry cladding involves the use of stainless steel clamps to clad the building instead of cement. This is very good in high-rise buildings. We use sandstone as the cladding material and stainless steel clamps to hold it in place," she explains.
Some of the advantages of dry or mechanical cladding over wet cladding include:
• It is safe and chances of stone falling down at a later date is remote
• Dry cladding allows for expansion and contraction of stone in extreme weather conditions
• Dry cladding creates a gap of around 30 to 300 mm in between back wall and stone lining, providing a space for the services like plumbing and AC lines to pass and also gives space for thermal insulation if required.
• The appearance of stone used in dry cladding work looks aesthetically pleasing.
The company has also done several interior stone designs including fireplaces, fountains, and water features for personalized spaces. They also supply Glass Fiber-Reinforced Concrete (GFRC) and Fiber-Reinforced Plastic (FRP) solutions.
Ash says there is a demand for the stone building materials and ornaments in Kenya. "There is a big demand for what we do in the market. We get people referred to us by other clients after seeing the quality of our work."
Going forward, Stone Arts Kenya looks to open up more offices in the East African region. "We would like to expand our factory and create more jobs for the locals," Ash concludes.