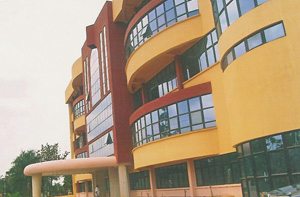 10 years of contribution to Uganda's infrastructure
Brief profile
UPDEAL (U) LTD, a civil engineering and construction company that provides quality works was established in 2002 to render their expertise and play a role in the development of the building and construction industry in Uganda.  Although it is only in its first decade of existence, UPDEAL has the experience, expertise and capability to handle big projects and their hard work can be perceived from the number of projects they have completed over time.
Mission statement
With a mission of providing quality professional engineering services, adapting to the changing needs of the industry, meeting and exceeding client expectations, UPDEAL aims at being a contributing member to the construction industry in Uganda.
According to the managing director of the company Eng Ali M. Kisitu, UPDEAL is working to change the perception that local contractors can't execute satisfactorily. Backed by the belief that "the client comes first and is always right", " we approach the job knowing that the client knows what he wants so we do exactly what they wish " says Eng Ali Kisitu. UPDEAL"s venture is to realize the client's requirements however complex.
They endeavor to deliver quality, scheduled, engineering services using a dedicated, skilled and well-trained workforce conscious of safety and the environment. They also shall ensure optimal returns on investment while complying with the industry standards and regulations.
Morals
UPDEAL(U)Ltd values their customers and their morals are dedication, teamwork, loyalty and integrity.
Key staff
Located along Mawanda road, Kampala, Uganda, UPDEAL has a team of 5 experienced Engineers (Eng. Ali Kisitu, Eng. Mateega, Eng. Aloysius Nabukya, Eng. Farooq Mpanga, and Eng. Sam Ssali) as well as a number professional technical staff at all levels.
The firm also deploys consultants in various fields to supplement if necessary the in-house key personnel in undertaking special projects.
Services provided
•    Water engineering
The company deals in designing overall schemes, such as sewer improvement schemes or flood defense programs, and associated structures, such as pumping stations, pipe work and earthworks.
•    Construction and building engineering
UPDEAL specializes in all aspects of structural and building engineering from conceptual analysis, through feasibility studies to design and construction supervision
•    All types of civil works
Challenges
Eng. Ali Kisitu articulates that the constant inflation in the country poses a great challenge because prices of goods and services increase.
Further more, competition from foreign and large contractors is yet another challenge local contractor's face. To avert this Eng. Kisitu pleads to the Government of Uganda to categorize contractors according to size so that there is fair competition.
More so due to the public's perception of high costs involved in hiring professional engineers, many developers have resorted to using ordinary builders especially during the construction of houses and arcades which leaves the professionals and contractors out of work.
Fixed government contracts are also unfair to the local contractors.
Projects handled
•    WATER SUPPLY AND SANITATION IN NAKASEKE TOWNSHIP
The Ministry of Water and Environment (MWE), through the Directorate of
Water Development's Water and Sanitation Development Facilities, (WSDF) embarked on up-scaling the provision of safe water within easy reach and hygienic sanitation facilities based on management responsibility and ownership by users in selected townships around the country.
UPDEAL was selected to carry out the construction works a project they implemented and successfully completed and cost 1.9 billion shillings
Nakeseke is one of the Districts in Central Uganda where such services have been extended through the Water and Sanitation Development Facility-Central (WSDF-C) under the Urban Water and Sewerage Department.
Impact of the project
The Project has registered tremendous achievements which are already being enjoyed in Nakaseke Township. These include:
•    The three boreholes which will sufficiently meet the town's average day projected 20 year water demand.
•    A 200m3 Reservoir tank was completed and technically commissioned by the acting Director of Water Development Eng Richard Cong who handed it over to the water authority
represented by the town clerk, Richard Mukasa on April 6, 2012 after 14 months of construction.
•    The system currently serves over 6,000 people in 200 homes, who live and work in the area. The project is monitored and supervised by the Water Sanitation Development Facility,
Central (WSDFC) as it is still under the one year liability defects period and have a district water engineer to overlook the technical aspects of the system.
Other projects include.
•    Water project in Kyatiri-Bugyengyi
•    Monitor publications premises
•    United Nations Offices on plot 11 Yusuf Lule ROAD
•    UNRA offices on plot 5 laundrel road
•    Kako water project
•    Serere water project
•    Gravity flow scheme in Mbale
•    Rural water and sanitation – a project they worked on under ministry of water and environment
•    Ngoma- Wakyato roads
•    Water works for DWD
•    Sub contractor for Nakivubo channel rehabilitation project
•    Registered contractors for BAT in Uganda as well as UNELIVER Uganda Limited
Future plan and Recommendation
To develop UPDEAL into one of the strongest local construction company in Uganda UPDEAL being an engineering firm they implement what architects design so they urge architects to go green so as to save the environment.
For more information about UPDEAL (U) LTD, email them at [email protected]