Water Forever International is a Dutch holding company and is the major shareholder in Maji Milele Ltd in Nairobi and Water Forever Uganda Ltd in Kampala.
In Kenya, the company under the name 'Maji Milele' was established in 2014, and offers high quality prepaid water metering solutions across the country. They started in Kajiado County but now have projects in more than 25 different Kenyan counties. Like their Dutch mother organization they are a for-profit social enterprise.
Installing and maintaining prepaid water meters is their main service. Maji Milele installs prepaid meters from various brands all over the world. They have prepaid water meters for communal water points (kiosks and standpipes), domestic connections (also with AMR/AMI) and for purified water ATMs. On the other hand in some rural areas, Maji Milele acts as a private supplier of water supply via the concept 'Public Ownership, Private Management'.  Extremely poor people can get limited amounts of free water per month with. All users get loyalty points: Maji Milele calls them 'Maji Osafi' points, a kind of Bonga points, but in this case the points can only be used to get discount on selected sanitation and hygiene products.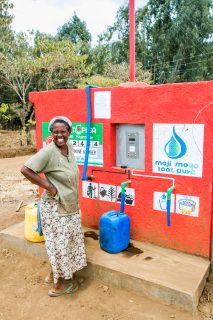 All Maji Milele prepaid water meters are linked to mobile payment and come with an online monitoring system for tracking daily payments and water consumption. The online monitoring helps to detect leakages and illegal connections and reduces non-revenue water.
The meter's functionalities include working with both a flat tariff and variable tariffs. A maximum consumption per user can be defined, for examples in times of water scarcity. The meter moreover sends SMS messages to the water supplier in case of technical problems.
The company also offer prepaid standpipe in areas such as urban areas where there is hardly a space to build communal water kiosks.
The company has worked hand in hand with known companies who have now become their main clients that trust them with their projects. They include;
Nairobi City Water and Sewerage Company
Oxfam and via them WSPs like Lowasco (Lodwar) and Wajwasco (Wajir)
FH/Pacida for projects in Marsabit
Sheepcare Community Center (Kayole, Nairobi)
Maji Milele received support from several partners like Aqua for All in the Netherlands and AECF (Africa Enterprise Challenge Fund) and Millenium Water Alliance partners. Their belief in the potential of prepaid water services was not only lip service, but all these organizations have greatly contributed beyond expectations.
Among the company's remarkable achievement is receiving nomination for the Sankalp Africa Award. In 2016, they signed a contract for 800 prepaid communal water meters with Nairobi City Water and Sewerage Company, to install the prepaid meters in several informal settlements in Nairobi. Over 800,000 people were to benefit from the project but so far only a small part of the project was implemented by NCWSC.
Some other WSPs (Water Service Providers) that recently did a successful pilot are the WSPs in Nyeri, Malindi and Bomet.