Plans for the construction of new Power Court stadium in Luton Town are being pushed by Luton Town FC. The club is aiming to initiate groundwork before the end of the year.
The club's development arm, 2020 Developments, has unveiled new images as it prepares to expedite the stadium's construction. The proposed 23,500-capacity Power Court stadium will be the focal point of a comprehensive revitalisation project on a 20-acre site adjacent to Luton Railway Station.
The site already has outline planning consent in place.
READ ALSO: Ambitious Renovation Plans Unveiled for Cardiff's Historic Central Market
Ambitious Power Court stadium Project in the Heart of Luton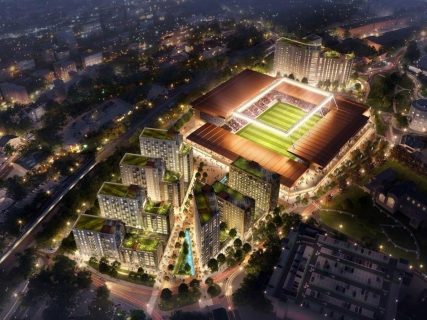 Michael Moran, Chief Operating Officer, emphasised the club's intention to engage with Luton Council and key stakeholders such as the Environment Agency and Historic England to guide them through the detailed design process. Additionally, the club is in talks with contractors to finalise construction aspects. The target completion date for the project is 2026.
Moran highlighted the broader impact of the stadium, noting that it will be accompanied by a new town quarter for Luton, encompassing 1,200 homes, leisure facilities, restaurants, bars, retail spaces, and community areas. He expressed enthusiasm for being at the forefront of the borough's wider regeneration plans.
Land assembly for the entire site has been successfully completed, and progress is underway in relocating a sub-station located at the centre of the site. It is anticipated that groundwork for the new Power Court stadium will commence by the end of the year. Additionally, a construction period will be estimated at 24 to 30 months for the stadium.