New York-based Lalezarian Properties is about to redefine Miami's skyline with the unveiling of the impressive Miami World Towers Project renderings at the bustling heart of the Miami Worldcenter complex. This bold venture will bring over 2,000 apartments across four striking towers, reshaping both the city's architecture and urban living experience in downtown Miami.
Designed by Nichols Architects and with landscape architecture by Kimley-Horn, the Miami World Towers Project includes a 25-story North Tower, a towering 68-story South Tower, an equally impressive 68-story West Tower, and the already-under-construction 557-unit East Tower. This development will provide a whopping 2,137,110 square feet of space, with 2,040 residential units, amenities, and an extra 810 parking spaces. Altogether, these four towers will offer an impressive 2,600 residential units and a remarkable 3 million square feet of space.
Read also: New apartment tower in Hollywood: Soleste La Piazza gets the green light
Scheduled for a thorough review by Miami's Urban Development Review Board on September 20th, the Miami World Towers Project is poised to become a city landmark. The renderings by Nichols Architects vividly showcase a densely packed complex covering nearly the entire block. Each tower's façade displays a diverse range of architectural styles. Despite its towering height, Tower 3 follows the same design aesthetics as Tower 1, featuring floor-to-ceiling glass windows, elegant silver aluminum frames, and glass balcony handrails, creating a sense of motion in the structure.
In contrast, Tower 2 introduces a striking design with white diagrid aluminum-clad columns adorned with diamond-shaped patterns, chamfered edges, staggered slabs, and glass curtain walls. This design echoes iconic structures like the Hearst Tower in New York City, embodying innovation within the Miami World Towers Project.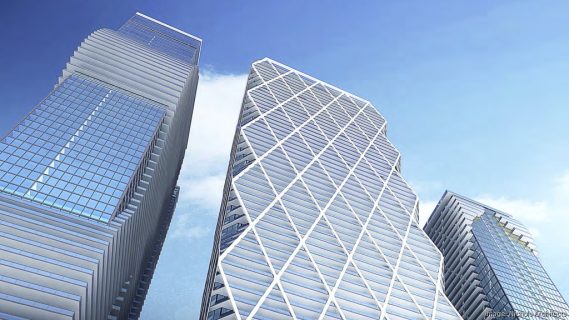 Floor plans for the residential units at Miami World Towers
The residential units at Miami World Towers will offer various floor plans, ranging from 380 to 1,286 square feet, including studios, one-bedroom, one-bedroom with a den, two-bedroom, and three-bedroom layouts. Most amenities will be on the 14th floor, and rooftop pools will grace levels 65 and 66 of the two taller towers.
Beyond its architectural marvels, the strategic location of the Miami World Towers Project places over 2,000 residential apartments near Metromover and Metrorail stations, improving urban connectivity. The ground floor of the property will feature 2,994 square feet of commercial space, enriching the streetscape and creating a lively pedestrian environment within the vibrant Miami Worldcenter complex.
Miami Worldcenter, spanning 27 acres, is one of the largest mixed-use developments in the United States. With apartments, condos, and a hotel already operational, and almost fully leased retail space totaling 350,000 square feet, this development will redefine urban living in Miami while making the Miami World Towers Project a central feature of the city's skyline.
As Miami continues to evolve, the Miami World Towers Project and the encompassing Miami Worldcenter exemplify Miami's thriving real estate landscape, offering a glimpse into the future of urban living and architectural innovation in the Magic City.