Black Salmon and The Allen Morris Co. have unveiled ambitious plans for a transformative Highland Park Miami Project,a mixed-use development set to redefine the landscape of the Miami Health District. This groundbreaking venture will span 7 acres at 800 Northwest 14th St., strategically positioned near prominent healthcare institutions such as Jackson Medical Center and the University of Miami Miller School of Medicine.
Black Salmon, led by Jorge Escobar and Camilo Lopez, has been busy acquiring land for this development since 2016. They've spent about $60 million to gather seven acres of land near Jackson Medical Center and the University of Miami Miller School of Medicine. Now, they've teamed up with The Allen Morris Co. to propose an exciting new project.
Read also: Garden State Plaza Redevelopment to add 1400 housing units, NJ
Highland Park Miami Project promises to be a game-changer for the Miami Medical District, expanding its footprint by around 10%. This bold Mixed-Use Project will feature a diverse array of offerings, including 500,000 square feet of cutting-edge medical office space, 1,000 residential units, and a 150-room hotel. With the tallest tower soaring 22 stories into the skyline. Project will also incorporate open walkways and public green spaces, creating an environment that fosters wellness and community engagement.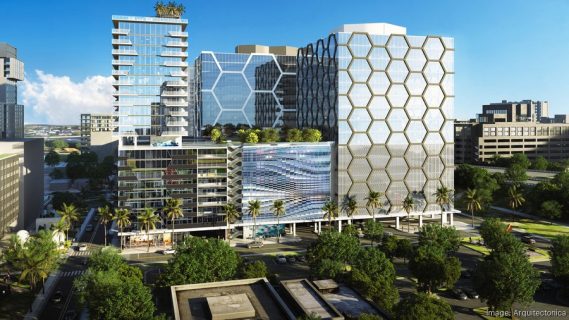 Who are the architects for Highland Park Miami
Renowned architects have been enlisted to shape this landmark Mixed-Use Project. Miami-based Arquitectonica is responsible for the master plan, while Oppenheim Architecture brings their expertise to the residential component. Naturalficial has taken charge of landscape architecture, guaranteeing a harmonious fusion of nature and modernity.
Highland Park Miami Project aims to become a vibrant center of gravity within the Health District. Offering a diverse mix of wellness-oriented retail, dining options, medical facilities, and residential spaces. Spencer Morris, President of The Allen Morris Co., envisions Highland Park Miami Project as a hub serving the needs of the thousands of patients and healthcare professionals in the vicinity, further solidifying Miami's reputation as a leader in the healthcare industry.
Black Salmon and The Allen Morris Co. are now focused on obtaining site plan approval from the city. Highland Park Miami Project is not merely a real estate project; it's a visionary endeavor that promises to elevate the Miami Health District and contribute to the city's ongoing evolution