A new Marrakech Airport was proposed for construction in 2014 however, construction on the project did not take off. The Marrakech Menara Airport is still the main airport used in the region. The airport has three airport terminals with the latest being opened in 2016.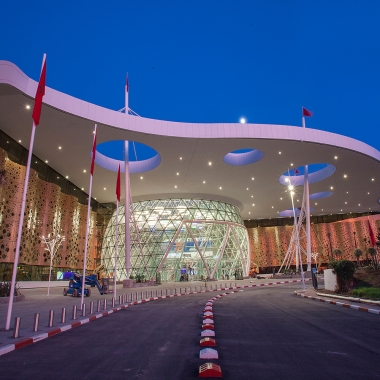 Search for construction leads
Reported in July 2014
Morocco to construct Marrakech Airport at $520 million
Morocco is planning to set up a new airport, Marrakech Airport, at the cost of $520 million. This will see the expansion of passenger capacity in the country to 10 million per year. This is according to Mr. Rebahrevealed, the Minister of Equipment, Transportation and Logistics, in a July 2 meeting. The airport will be located 30 kilometers from the city.
Prospects have already been studied, in a meeting held on July 2 between local figures and the Ministry of Equipment, Transportation and Logistics and chaired by the Minister Mr. Aziz Rebbah. Possible construction areas include Sidi Zouine and Sidi Bouatmane, according to the meeting.
Increased urbanization is causing problems in the development of the current city airport, and setting up the new airport could bring a sigh of relief. Morocco targets handling a total of 14.37 million passengers per year in 2030 and, although the current city airport has been renovated and expanded to take up 9 million passengers per year, it would not be possible for it to swallow the increasing traffic.
Like the Marrakech Menara Airport, the new airport could include road infrastructure for easy access, bus and taxi termini, a shopping mall, banks, hotels, and an administration block, among others.
The new construction will see the addition of an air transport facility, in addition to the already existing, busiest in Morocco, the Casablanca Mohammed V International Airport, Agadir Al Massira Airport, Ouarzazate Airport, Aroui Nador International Airport, the Rabat-Sale International Airport, and Anfa Airport, among others.
Some of the companies providing flight services in Morocco are Ryanair, Air Arabia Maroc, Jet4you, Casa Air Service, RAM Cargo, Air France, and Royal Air Maroc. The oldest in record is the latter, which started operations in 1957.