By Anthony Kiganda
Majority of airports in Africa are undergoing expansion in a bid to cater for rapidly growing passenger and cargo traffic volumes. Booming tourism and renewed interest in investing  in Africa by foreign companies has left many countries struggling to boost the capacity of their airports.
For instance, between 2011 and 2012 business activities at African airports rose from 45% to 80%. This trajectory has largely been attributed to the growth of the continents GDP of 6.1% contrary to the global estimation of 5.8%.
According to Nick Fadugba, the chief executive of African Aviation Services Limited, the African airports should restructure to facilitate commerce and tourism within and out of the continent. This he notes will foster sustainable development.
However, there are a number of challenges facing governments and airport authorities as they seek to enhance airport facilities.
Interconnectedness
For example, they have to grapple with the issue of interconnectedness among African states in order to increase performance and efficiency.
In recent years, the International Air Transport Association (IATA) has been at the forefront in urging African governments to open up their airspace, reduce levies and speed up airport expansion.
Raphael Kuuchi, IATA's Vice President for Africa says that increased intra-African air connectivity is essential if Africa is to seize the opportunities for development.
"It is absurd that it is possible to travel 13 times a week from Nairobi to London yet impossible to travel directly from Nairobi to Dakar," he quips
Higher taxes and tariffs have been blamed for hampering interconnectedness among the various countries in Africa.
The continent has been especially faulted for failure to heed the Yamoussoukro Declaration an accord that calls for fewer restrictions on cross border travel.
Financial support
Mr Fadugba reckons that the African aviation industry is still struggling because government support including subsidies is rare leaving then with less capacity to finance their expansion plans.
His thoughts are similar to those of Hemant Mistry, director of Airport and Fuel at IATA. Mistry is worried over how emerging airports are designed.
"The way new airport capacity is being developed is of growing concern in many parts of the world. In Africa often the working arrangements between the airport authority, the government and airlines are fragmented and much of the investment does not fully deliver the necessary improvements," he reveals
"Many international airports are "full". Some airports are operating almost perpetually at full capacity, and others do have additional capacity, but not at the times when people want to fly."
In a 2014 African Aviation Summit held in June 9-13 last year in Ethiopia, Jean-Louis Ekra, President of AFREXIMBANK said there was need for African governments to increase funding of modern aviation infrastructure. And in a report released last year by the Brooks Market Intelligence – dubbed Airports in Africa: Capital Investment Programs – 2014 observes that investments in airport infrastructure in Africa has been hampered by decades of underfunding and regular change of leadership.
Safety
Another hurdle that the African aviation industry is grappling with is the issue of security of its airspace. This has been exacerbated by accidents recorded in Africa, with the continent recently recording accidents higher than the global average. Partly to blame is inconsistency and slow pace of adoption of international-level security and safety standards and related regulations.
Experts agreed in a recent Modern Airports Africa Conference in Entebbe that there is need for Africa to invest in its infrastructure to cater for growth at her airports.
In 2014, the Center for Aviation (CAPA), identified lack of passenger capacity volumes in Africa, high transportation costs, safety, constrained capacity and slow privatization as among issues affecting growth of the sector.
But it is the high amount of expenditure required for the modernization of airports or completion of new projects that could spell a major setback for Africa ambitious plans. This coupled with fluctuations in oil prices is set to delay expansion plans.
Projects
Despite the challenges, African countries have embarked on aggressive airport expansion plans that are set to see the continent revolutionalize its aviation industry.
In 2014, Africa initiated 40 new airport projects in a bid to expand its airport infrastructure. The continent also expedited privatization of airlines. For instance, Angola spent US$2.1 billion on airport construction. Nigeria on the other hand, is planning to spend US$1.07 billion. Tripoli has set aside US$2.1 billion for airport construction projects while Algiers has set aside US$952 million. Kigali is set to spend US$650 million and Cairo USD18.5 billion. Meanwhile, Lusaka is planning to spend US$500 million in airport construction projects.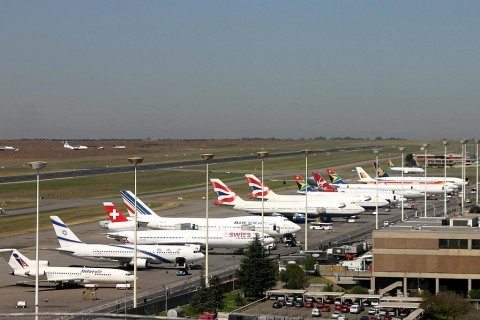 Ethiopia
In Eastern Africa, Ethiopia has launched major infrastructure projects designed to expand the capacity for handling passengers passing through its capital's airport. According to a recent report, the project will cost US$340m against the earlier anticipated cost of US$225m. The project is being undertaken by China Communications Construction Company (CCCC) and will see the airport handle 20 million travelers yearly.
Ethiopia is also planning to spend US$ 64.5m for construction of airports in Hawassa, Robe Goba and Shire, with construction for terminals scheduled to take place this year. The country has already called for bidders to undertake the Hawassa airport project. The Ethiopian Airports Enterprise (EAE) also awarded a US$29m contract to Afro-Tsion Construction Plc for the construction of Jinka airport.
Tanzania
In Tanzania, plans are underway to expand and renovate Kilimanjaro International Airport at a the cost of US$40m, which will see the airport handle more passengers and airlines. The airport upgrading project will involve construction of new terminal buildings, runways, aprons and taxiways, with completion expected by 2017.
The project, which has already been awarded to BAM International of Netherlands, will also entail installing of floodlights and new airfield ground lighting.
Kenya
Kenya's Jomo Kenyatta International Airport (JKIA), East Africa's busiest airport is on an ambitious expansion drive. The African Development Bank has funded the construction of a new terminal at Jomo Kenyatta airport, a project expected to cost US$ 612m.
Additionally, the country is planning for the construction of a US$14.8m airport complex at Mombasa's Moi International Airport. Upgrade of Turkana's Kapese airstrip for commercial ventures is also in the pipeline.
Uganda 
In a move that is set to see East Africa boost its air connectivity, Uganda is planning to expand  Entebbe airport at a cost of US$400m, while Rwanda seeks to spend US$1bn for the Bugesera International airport and upgrading of Kamembe airport at a cost of US$5.9m. China Road and Bridge Corporation Company which was awarded the contract was targeting to complete the upgrading in six months from December 2014.
Rwanda 
Construction of Bugesera airport would give rise to the largest International Airport in the country, having 4.2 kilometre-runways and a passenger terminal that would handle 1.8 million passengers annually. The project, set to be completed in 2017 would also have a cargo terminal.
Namibia 
In the South of Africa, Namibia has kicked off with rehabilitation of Ondangwa Airport Runway, a project being undertaken by China State Construction Engineering Corporation. Chief executive officer of Namibian Airports Company (NAC) Tamar El-Kallawi said it was a great milestone for  the country's aviation industry.
"We are strategically positioning ourselves by upgrading our airport infrastructure to meet this need. This will also create much needed employment for Namibians," he said.
Zambia 
Zambia has also planned for construction of a passenger terminal building at the Kenneth Kaunda International Airport. The renovation building will cost US$385m and contractors were reported to already have gone on site in February. The country was also set to undertake construction of Simon Mwansa Kapwepwe Airport in Ndola at a cost of $522 million in order to handle 2 million passengers.
Construction of Harry Mwaanga Nkumbula International airport had entered the final phase, a project that will see the country get an ultra modern facility at a cost of US$40m. The terminal building will be renovated to hold one million passengers and commissioning is expected in April 2015.
Egypt 
In North Africa, Egypt is undertaking refurbishment of Cairo International Airport Terminal 2 at a cost of US$387million by the Turkey-based Limak Holding. The World Bank is financing the project which would render a complex capable of handling 8.5million passengers per year when completed this year. Egypt has also constructed a third parallel runway at the airport, a Seasonal Terminal and an Automated People mover. A Metro Line is expected to come online in 2019 to link the airport to Gaza.
The World Bank has agreed to provide US$140 million for expansion of the Sharm El-Sheikh International airport. The passenger capacity will be expanded to 10 to 18 million per year by construction of terminal 3. The same project, which involves construction of a runway, has benefitted with US$230.2m from Islamic Development Bank (IDB) after announcing last year October that it would provide the funds.
The country will also undertake construction of a 4000m runway and 7.5km square terminal at Hurghada. The latter will be built by Orascom Construction Industries (OCI) and will handle 7.5million passengers per year.
Even as Africa continues to boost its airport infrastructure, it will have to adopt the right technology to cope with heightened demand and improve its service delivery.
With cut throat competition between countries in a bid to become the hub of choice for airline traffic it remains to be seen if the ambitious expansion of African airport will match those of developed countries. For now, it is clear that the continent is set to benefit greatly with the current quest for expansion.