The kitchen sink, is a routine feature of our daily lives that we take for granted. This is until of course the water dries up or turns smelly, inconveniencing our schedules or threatening our health. It is also put into consideration when considering a house purchase or renovation. The tap turns on, the water obligingly pours out; the tap turns off, the water obligingly drains away. But it was not always so. The advancement of kitchen sinks from dishpans filled with buckets of water to today's modern kitchen sink with carefully controlled municipal system with its in/out pipes, hot water tanks, very attractive and lucrative materials and on/off taps; reflects developments in plumbing technology, society's evolving concerns about civic and moral health, and major alterations in expectations around kitchen activities.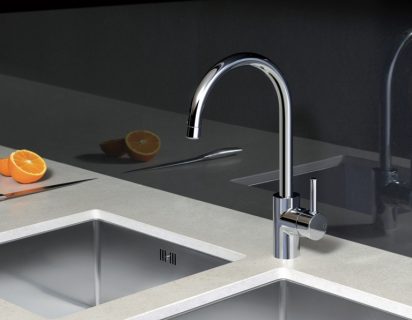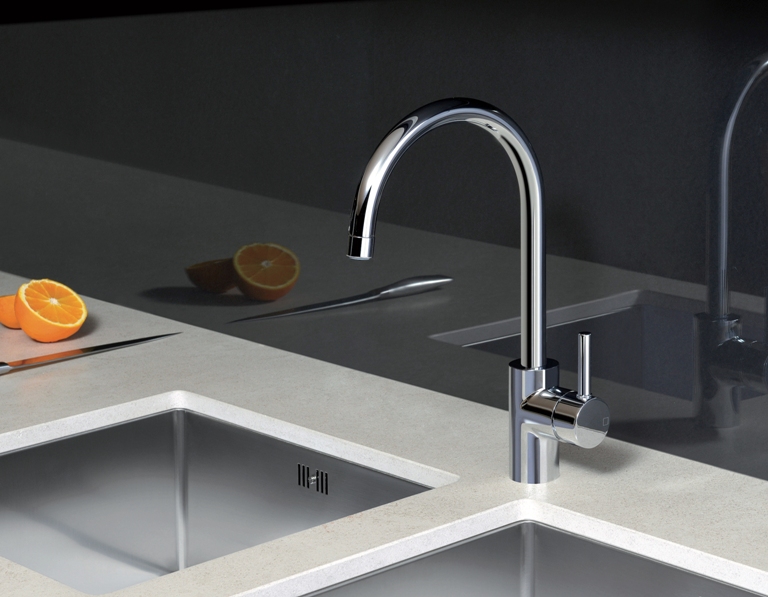 So, even the more functional elements, as the faucets, are required to absolve aesthetic and practical functions making things simple in the everyday life. In terms of trends, Mr. Paolo Bossi the Area Manager for Africa at Cristina rubinetterie in Italy says that in Africa people prefer modern design faucets; in chrome or in the new black chrome finishing, inspired by a sort of elegant and industrial mood: solutions that perfectly match with all of kind of environments, from those characterized by vivid colours and decorations to those more minimal.
Whilst Africa is now at par with the rest of the world in terms of sink trends, Mr. Roger Westbrook of Larson Industries in South Africa mentions that, the evolution thereof was never a fast one. "In fact, the majority of home renovators seeking a new kitchen sink will first consider what they are most used to: a standard stainless-steel sink. Only when they are educated on the trend do they consider switching over to coloured Silgranit derivative," he affirms. He further adds that, the demand for classic stainless-steel sinks remains high, and cheap imports are prevalent in market where budget will always be a primary concern.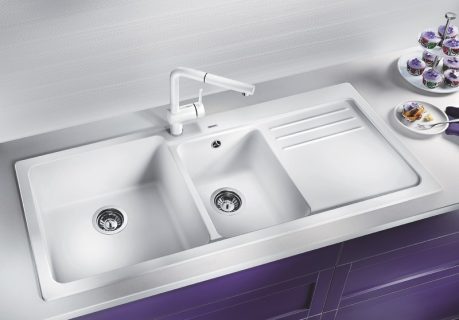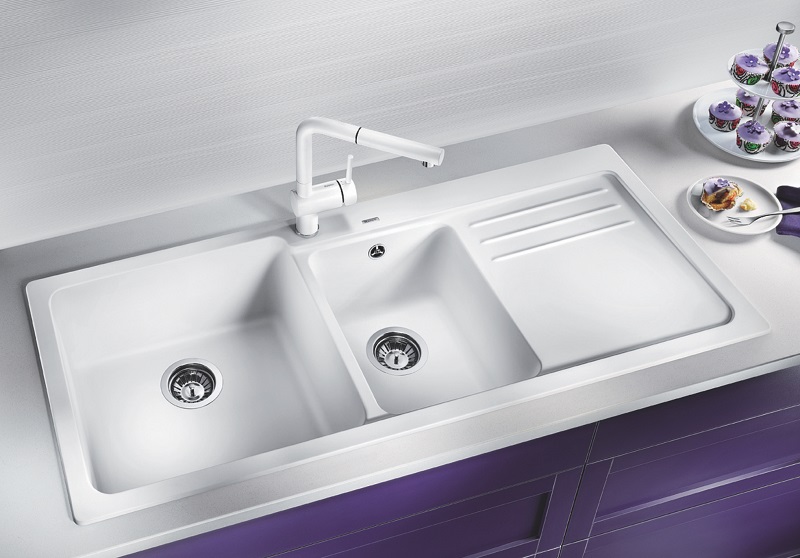 According to Mr. Westbrook, when compared to other kitchen accessories, the sink enjoys about 60% usage through a number of applications. They are exposed to a lot of mucky activities and must endure the wear and tear of water, harsh chemicals and germs on a daily basis. However, a sink has a role to play as the kitchen's fashion element. It has not only to function as a culinary pit stop but at the same time make the kitchen look good.
Also Read:Having a Modern Kitchen
Sizing it up
Before choosing a modern kitchen sink, consider its uses and compare the proportion of the size to that of your kitchen. According to Angelo Setti of Foster spa in Italy, functionality – bowl sizes, drain boards, durability, aesthetics and cost are quite important factors when sizing a modern kitchen sink. Kitchens over 200 square feet in space with sinks used for light washing and a garbage disposal should consider the popular double bowl, which allows the sink to handle multiple jobs at once. Large basins, which are on trend right now, and triple bowls, can be used for those who frequently cook or wash dishes in the sink, but their size might overpower a smaller kitchen for instance, one that is less than 150 square feet. In a kitchen this size, smaller single bowls will not only function well, but will also fit the room best.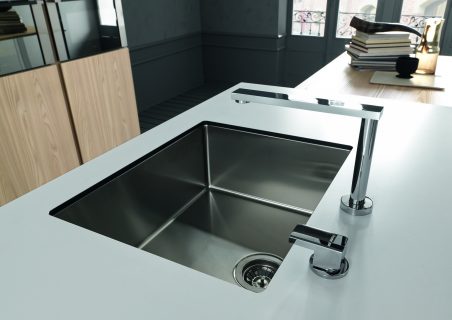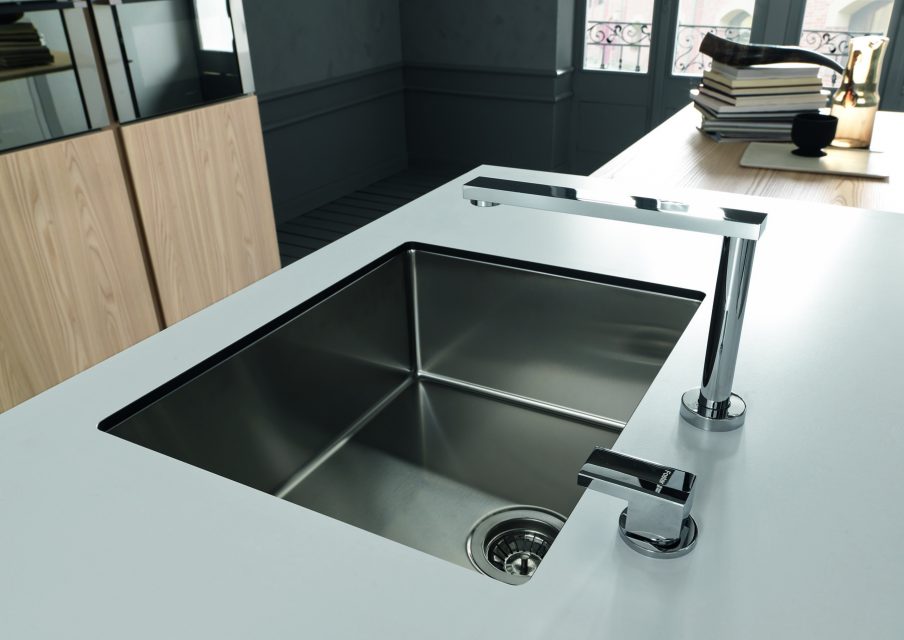 When in a showroom, it is advisable to stand next to the sink at a counter and picture yourself scrubbing pots or peeling carrots. This will enable you to know if the sink is too deep to an extent of banging your elbows while you work, or too narrow that it chips your platters during washing.
Most importantly, Mr. Oguz Can of Asilkrom in Turkey, one of the leading sink manufacturers in the world insists that; cut-out dimensions and models to cover your specific kitchen design are very important factors to consider when sizing up a modern kitchen sink.
Consequently, the material the modern kitchen sink is made of has a big impact on not only how it functions, but its aesthetics and cost effectiveness as well. Moreover, as sinks are a notable design element in your kitchen; choose one that complements the other fixtures and decor of the space, plus check on the durability of the material with regards to its function and whether the material will hold its aesthetic properties over time; this is according to Errol Cronje the Brand Manager of Franke in South Africa.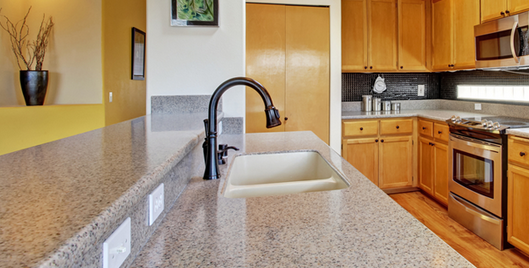 Selecting a sink material
For long house owners and real estate developers have had fondness for stainless steel kitchen sinks due to durability, price point and easy availability reasons. According to Devendra Mishra of Acrysil Limited in India, its neutral and clean look has been another crucial factor for popularity of Stainless Steel Kitchen Sinks globally and in Africa.
Stainless Steel: This material offers a good balance of cost, durability and ease of cleaning as well as availability in a variety of types, styles and sizes. Stainless-steel sinks are very budget friendly, but can easily scratch and show water marks. Alternatively, a brushed satin finish will ensure that the water marks and scratches are less noticeable compared to the mirror finish. Lastly, sound-absorbing pads fitted at the bottom will help minimize the noise.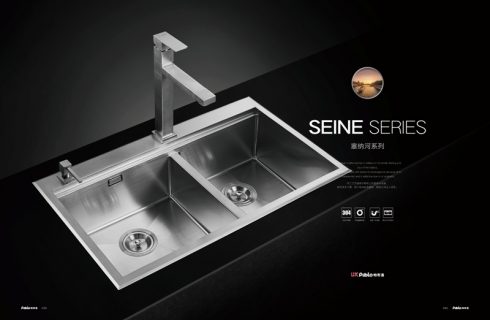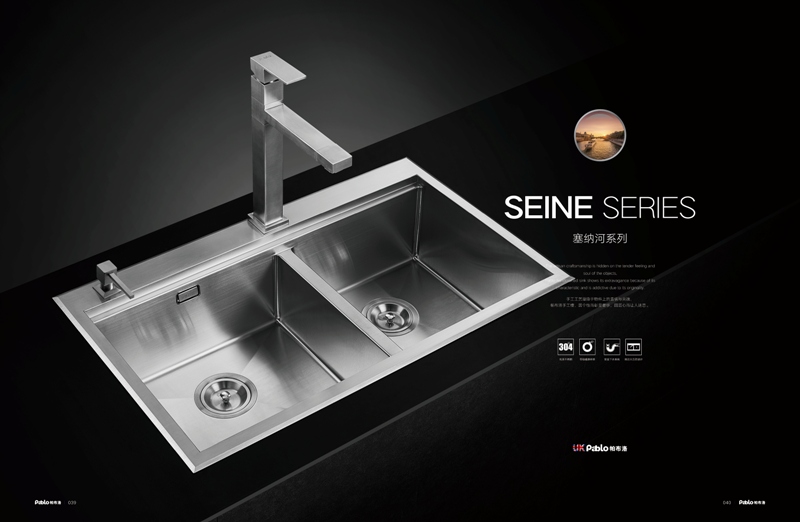 Caroline SUN from Shanghai Pablo Kitchenware and Sanitary Ware mentions that, customers in the African market used to  purchase stainless steel kitchen sinks with the SUS201 material; but recently they are more interested in the SUS304 material. "The SUS304 material is more durable and scratch resistant as compared to SUS201," she adds.
"Although, now with the popularity of modular kitchen and customization trend; Kitchen Sinks made of natural Quartz (also known as Granite Sinks) and Solid surface materials are gaining popularity in the continent," adds Mr. Mishra
Composite Granite: These are the go-to sink for interior designers because of their attractive look and reliability. Unlike stainless steel, these sinks don't show water marks or scratches. They come in a variety of neutral colors, but the darker hues best disguise grit and grime. Although durable, they can crack if mishandled, especially during shipping and handling.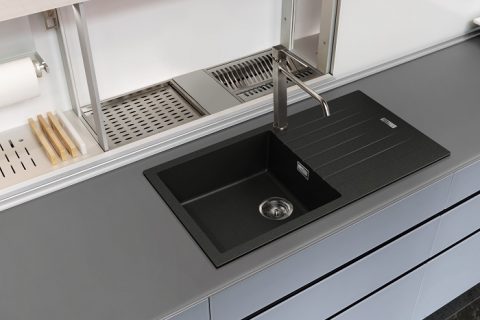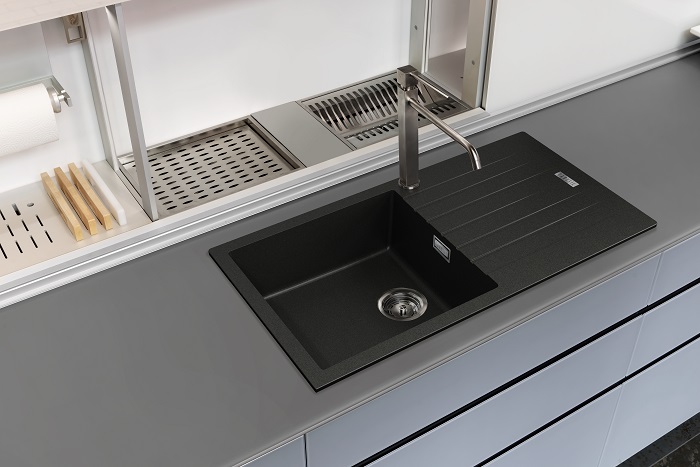 "In recent years, we have seen a trend of Kitchen Sinks made using innovative materials such as 'Composite Quartz' and 'Solid surface materials' are gaining popularity, especially in mid to high-end projects where developers want to offer some unique experience to their home buyers. Earlier, these types of Sinks were mostly used in private houses and villa projects," affirms Mr. Mishra.
Acrysil Limited have been manufacturing high quality Composite Granite and Quartz Sinks since 1987 and exporting them to more than 50 countries worldwide. "Acrysil is the only company in Asia and Africa to have this technology and capability. From countries like South Africa, Kenya, Nigeria, Ghana, Ethiopia, Rwanda, Morocco, Tunisia and Egypt, we have been experiencing good demand for our CARYSIL brand Quartz Kitchen sinks in recent years," he adds.
Fireclay: This is the best choice for those looking to make over their kitchen in solid whites and neutrals. These are manufactured at extremely high temperatures and are resistant to scratches, staining and chipping. Clean up is simple; dish soap on a sponge; but for tougher marks, a mild abrasive cleanser and some elbow grease will get that sink back to white.
According to David Dare the CEO of Shaws of Darwen, in the 15 years they have been  working with their South African partners, they have witnessed a real surge in the popularity of fireclay sinks, particularly the Butler style. "The kitchen is at the very heart of the home, which means that people want assurance that they're investing in a quality sink that is not only stylish, but also capable of enduring daily usage without succumbing to wear and tear. In that regard, our fireclay sinks are handcrafted for life; a claim that we're so confident in that we offer a lifetime warranty with our products.  We haven't changed our techniques since 1897 and the handcrafted element of our business has been identified as a highly desirable quality by our customers in South Africa," he adds.
"There is actually a large, high-end market for modern kitchen sinks. Our partners do still see stainless steel and granite sinks being used by customers in South Africa, however the demand for fireclay is on the rise due to the longevity and classic style of the sinks," he affirms.
Natural Stone: This is best experienced when the countertops are matching the sink. This integral style makes the flow from the countertops seamless to the sink. However, some stones, like marble, are susceptible to stains, making it advisable to test a sample of the stone first and watch how it stands up to constant water splashes and colored liquids.
As much as you are choosing a particular type of material for your kitchen sink, it is also important to consider other aspects of the material for instance hygiene.
According to Marco Maccaroni Plados of Plados and Telma Group in Italy, while the client is choosing the material of a modern kitchen sink he should highly consider the hygienic nature of the kitchen sink material. "The client should ensure that the material is easy to clean and do not harbor any bacteria or support bacteria replication," he adds.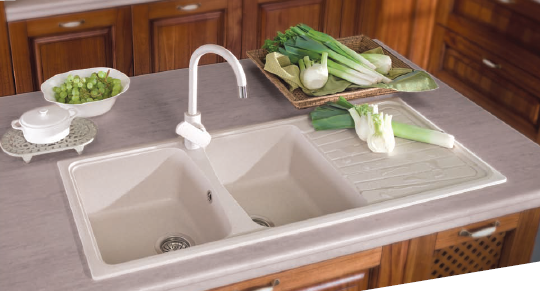 In this regard, Plados Telma have developed different technologies to address the same. "Our UltraClean technology makes the surface of the sink 'hydrophobic', in other words, the drops of water in contact with the sink do not shatter but slip away giving the sink a 'self-cleaning' property (the lotus effect); and our Microstop technology is based on natural silver ions, and gives a constant protection against bacterial proliferation. The silver ions released from the composite material, can penetrate the membranes of bacteria, blocking the activity and bacterial replication," affirms Mr. Plados.