Construction Review online looks at the the Best flooring options for an office.
Warm up your office with carpets and carpet tiles
This type of flooring is ideal for businesses that need some kind of noise insulation, such as an office environment. It is, however, important to put into consideration that carpet can easily get stained and may require close attention over time. Carpet tiles provide more flexibility because each tile can be replaced individually without any mess and noise. Carpet tiles also come in different styles and patterns, giving the managers a range of choices that reflect the brand and aesthetic of an office.
Search for construction leads
According to Zandile Gumede of VAN DYCK FLOORS the oldest carpet manufacturer in South Africa, presently the market for carpet tiles in the commercial sector continues to grow. In general, carpet tiles are becoming more environmentally friendly. For instance, new developments in yarn and fibres with increased use of recycled content are becoming a perfect match for increased stringent green building regulations.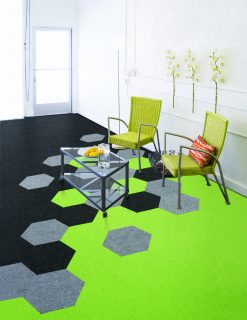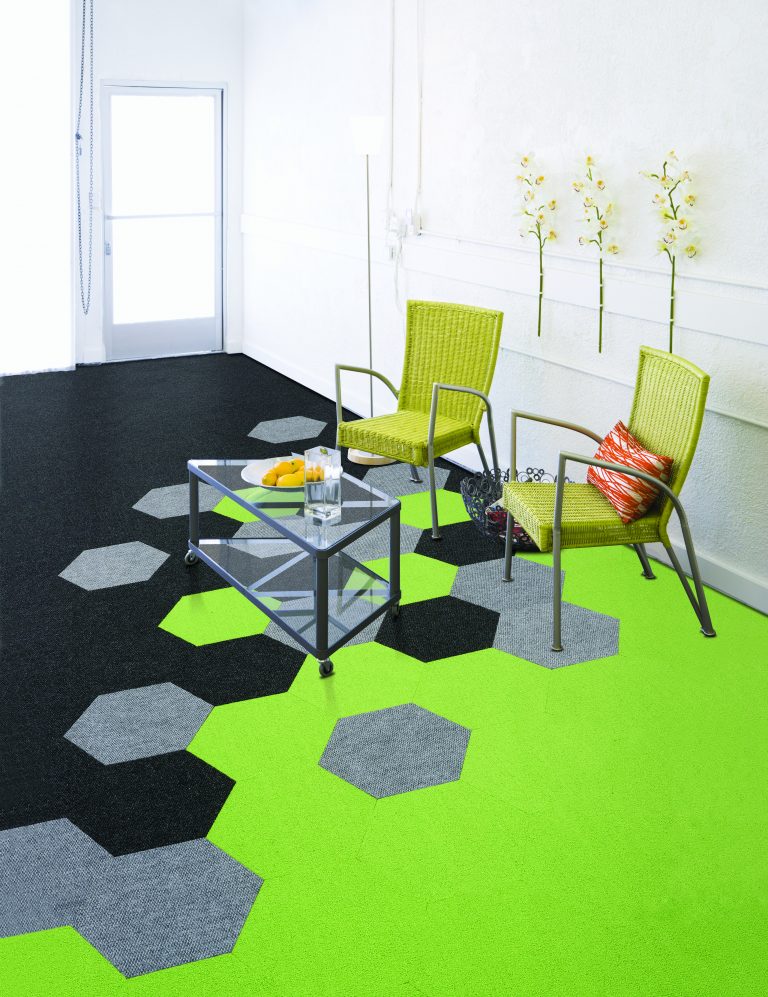 She further mentions that, it is imperative that carpet tiles not only maintain their aesthetic appearance over time, but that they have the ability to maintain their shape and to remain flat on the floor surface without doming or buckling. They must have the ability to remain in place undisturbed after installation and stay looking good, even under the most testing traffic conditions. To do this, they must possess five fundamental characteristics:
Dimensional stability
Balance between flexibility and rigidity
Sufficient weight and mass
Strength of construction
Colour fastness
Cleanability
These factors determine the lifespan of the carpet tiles and are very important when choosing the right office flooring that will last long and keep looking great.
Vinyl flooring; a touch of style and durability
Vinyl flooring is popular for commercial flooring because it offers long-lasting performance. It is ideal for a wide range of applications in offices, commercial, healthcare and retail spaces that need to withstand high traffic. This type of flooring is resilient and resistant to damage, such as indentation and scratches. It is available in many different colours and designs bringing a stylish touch to an office. It is easy to clean and with minimal maintenance.

Rubber Flooring; for resilience and ease of maintenance
Rubber flooring is ideal for high-traffic commercial interior spaces such as airports, healthcare facilities and restaurants. Rubber flooring is durable and is resistant to water and heat and is easy to maintain. Besides being comfortable to walk on, it is slip-resistant and sound absorbent. It comes in a variety of textures and colours.
Also read:Top 6 flooring ideas for Africa
Hardwood flooring: A classic and timeless look
Hardwood flooring has been the stylish look in most offices from time immemorial and has never gone out of style. It elevates the look and feel of the interior design of an office besides being durable and easy to clean. It is a great office flooring office option for areas that have a lot of activity. Even though it faces damage from moisture, choosing a pre-finished floor can help maintain its appearance.
Laminate
This is a more inexpensive alternative to wood flooring, tiles or stone. The lamination process involves fusing of two or more types of materials and sealing them. It is simple to install and does not scratch or dent easily. This flooring type is durable, easy to clean and maintain. It also comes with various options to choose from; smooth laminate, embossed laminate, patina laminate and wood grain laminate.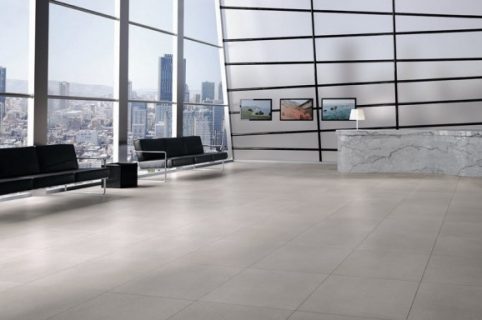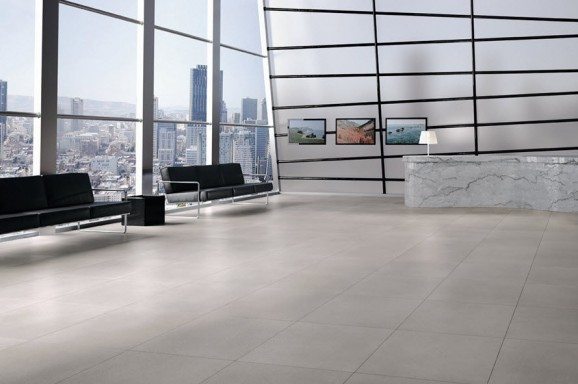 Mukesh Kumar of India's flooring experts observes that for a market that is bursting forth like Africa, laminate flooring is a product with huge potential because of its cost effectiveness.
Tiles
Other best flooring options includes tiles. This is because they last for a really long time and do not wear out. Some tiles are stronger than others leaving the buyer to choose. Glass tiles are water resistant and also stain resistant. Tiles also improve the beauty of an office as long as it is cleaned regularly.
According to Greg Barry of Belgotex a leading soft flooring manufacturer in Africa, colour and design are very critical factors. They must always be looked at when choosing the right tile for the right area. It is no use going for a plain light colour in a heavy traffic environment for example. "Tufted tiles in plank sizes are becoming very popular in 1.2 m x .30 m, and also Luxury Vinyl Tiles in wood looks are still right up there. New Colorpoint technology in tufted patterned broadloom is also coming through very well in the Hospitality and executive area sectors. There are also new vibrant designs in needlepunch," he adds.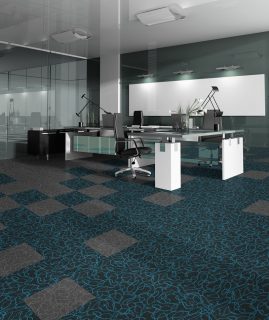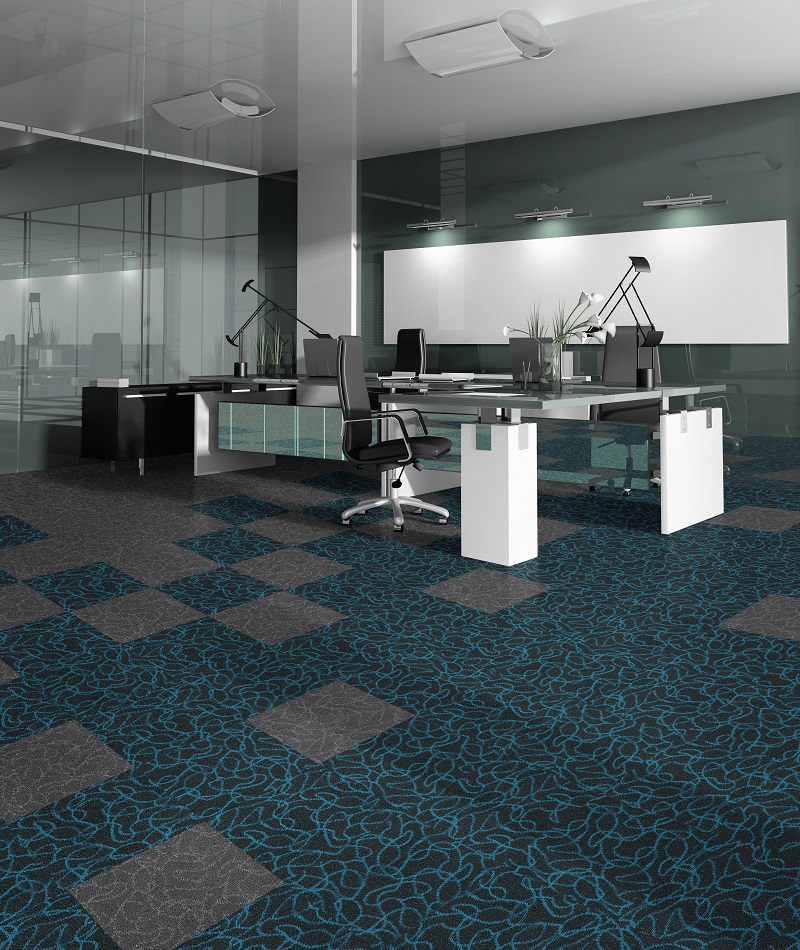 Factors in play when choosing the best office flooring
Not all floor finishes are ideal for all locations. According to Gino Devolder of UNILIN a flooring manufacturer in Belgium mainly known for its quick-step floors, several factors come in play when choosing your floor. "A floor should not only be easy and fast to install, but it should be long lasting and require minimum maintenance. All these factors combined will determine the performance of a floor," he adds.
Therefore, managers should be proactive and partner with industry professionals like the architects, interior designers and manufacturers to determine the best flooring for their offices. Partnering with the professionals will help them take into account the numerous factors that they might overlook when planning on their own to install flooring:
Traffic levels into the office

High-traffic offices require flooring that can withstand the heavy traffic into the offices. University buildings, airports and areas of public congregation often feature flooring types like terrazzo, marble or even granite flooring. These are hard surfaces that can withstand wearing and the heavy traffic into the buildings for years. Traffic levels also depends on the function of the office thus affects the cleanliness and maintenance of the office.
Repair flexibility

When choosing a type of flooring, the ease of its repair when it starts to wear out should be at the center of focus. An observation into the hallways of most offices reveal that most walking take place in this area and is therefore likely to be the first to wear out. The flooring plan chosen should be easy to repair or replace without inconveniencing the employees, clients and the business as a whole.
Ease of maintenance

Most of the common types of flooring need significant and a close attention. Spills on carpets for example, need to be removed as soon as possible and vinyl composite tile (VCT) often have to be stripped of old floor finish and replaced with a new one. Terrazzo might also require regular buffing, and marble might require polishing. Therefore, the cost of labour to maintain flooring acceptably over time will be many times the installation cost.
Rated service life

The life expectancy of any floor surface often depends on issues that the manufacturers cannot predict, such as the level of maintenance for that finish. A well maintained floor type may last longer than the rated life expectancy period.
Recycling or reusing the flooring

Some flooring types have higher levels of volatile organic compounds than others. The contents of flooring not only have a direct impact on indoor air quality but also on the ability to recycle the end product and the industry's ability to reuse the end product.
Money factor

The old saying about penny-wise and pound-foolish is not appropriate when considering the most suitable flooring type for an office. One should consider the life-cycle costs of the flooring types; products with lower initial costs might not remain cheaper over time than products with higher initial costs. Choosing inexpensive flooring plan during the design stage is false savings.