Information technology (IT) is a crucial aspect for most firms. You need technology to send documents, communicate, store data, etc. Most industries have adopted IT in their operations on a large scale, with other industries, such as construction, believed to be lagging. There are many ways you can handle the IT aspect of your operations; the two major ones being hiring an in-house managed IT services team or outsourcing. Each of these has its advantages and disadvantages.
Do you run a construction company?  Are you wondering which of the two options you should adopt?  This article will help you decide by discussing how managed IT services will benefit your construction firm. Read on for the answers.
Access To Technology
Search for construction leads
Today, most companies rely on technology in running their operations, your construction firm included. But, technology keeps changing, and you might find it challenging to keep up due to a lack of financial resources and time.
A managed IT team that serves construction companies will ensure you're utilizing the latest technology to ensure efficiency. Since they serve the construction industry, they know your needs and will suggest the best tools you should adopt. Depending on the tools you choose, they'll ensure they run well to ensure your operations run smoothly. You may check this out and other similar sites if you want to learn more about managed IT companies serving the construction industry.
The construction process involves many parties. Thus, they should be in sync with one another to ensure any information gets relayed in the right manner despite these parties' geographical locations. The outsourced IT team will design your tools to allow remote access to data, with others providing hardware, such as mobile phones, to allow for smoother communication. When working independently, you're likely to find it challenging to adopt such systems.
Reduced Downtime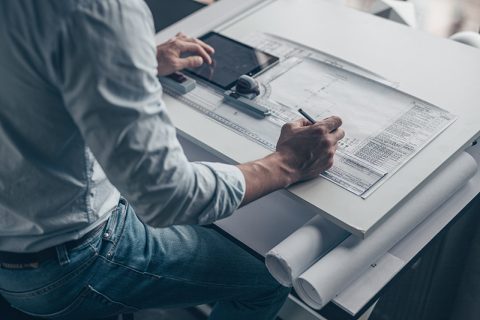 Downtime is any company's worst enemy. During this time, most operations are dormant, reducing income. In the construction industry, downtime means a delay in giving clients deliverables, which isn't desirable.
Managed IT services can help reduce your construction firm's downtime. How?  Most outsourced IT teams adopt a proactive approach to managing your operations. Through this approach, they'll perform periodic preventive maintenance, which enables the team to identify and rectify any possible source of issues. Therefore, in no case shall you experience unexpected breakdowns. Your construction team will always be working on designs, holding virtual meetings, etc., without interruptions.
However, it's good to acknowledge that even with all measures in place, issues may arise. Should they arise, your managed IT team still got you covered. Since they're experts in the field, they'll promptly solve your issues. You'll resume operations within no time.
Increased Security
Security has become an issue in most companies with the rise in digitization. Hackers are taking advantage and using digitization to steal data through networks and the Internet. As a construction firm, data theft is a sensitive matter. A hacker could steal your designs before implementing them and sell them to your competitors. This isn't good for business.
A managed IT team increases the security of your firm. As part of their proactive approach to fulfilling your needs, most will give you 24/7/365 support. They'll monitor your systems to identify any suspicious activity. This team will counter the attack and revamp your systems to prevent future occurrences if there's any suspicious activity.
As previously stated, breaches can occur even with security measures in place. It's best to be ready for such an incident; the outsourced team will help you be ready. This team will prepare an incident response plan, which contains details of how they'll retrieve the stolen data, in order of importance, including the communication chain. In most cases, there's a likelihood of confusion after a cyberattack. Confusion is likely to make things worse, so it's important to have an incident response plan as it keeps everyone on track.
Reduced Operational Costs
Running a construction firm consumes many financial resources, from the building process to paying workers on-site and suppliers. You want to keep your expenses to the bare minimum. An outsourced managed IT services team can help reduce your expenses. How?
You'd have to hire an entire in-house IT team without the outsourced team. This team will require you to pay more wages, insurance coverage, and other benefits. You also have to invest in extra office space to accommodate them, increasing your rent. The team also requires equipment to fulfil their responsibilities, which is an added expense. All these costs cumulatively make a great impact on your profits as a construction company.
However, you won't worry about very high expenses with a managed IT team. You won't need to worry about hiring an in-house team, acquiring extra office space, and investing in new technologies. The outsourced team has experts and equipment. You'll also pay them a fixed amount of money for various services, which doesn't include insurance and benefits. You'll spend less, availing more money to fund your construction projects in the long run.
Conclusion
The discussion above has shed light on the benefits of managed IT services for your construction firm. With this information, you can make an informed decision whether or not to adopt this IT management approach. Whichever decision you make, ensure it's the right one for the good of your operations.