Updated plans for the Blackfriars tower blocks at London's Blackfriars Bridge's southern end have been unveiled. The project site had already had permission for a residential tower of 53 stories and an office tower of 34 stories.
A year ago, the site was purchased by the current developers, Hines and the National Pension Service of Korea. Foster + Partners were hired to revise the plans for the 18 Blackfriars Road site.
Search for construction leads
A public consultation has been held before the plans are submitted to Southwark Council before year-end.
Read Also: Plans in for Phase 2B of Aylesbury Estate regeneration project in south London
An overview of the Blackfriars tower blocks design
According to the latest designs, the land will be constructed with a cluster of three brick-clad high-rise structures. Each structure will be stepped to create a plethora of green terraces and roofs, reflecting the nearby OXO tower.
The highest structure will be an office building with a height of 210 meters. The second tallest, on the other hand, will be a 160 meters residential tower dubbed Stamford Building. Lastly, the third building, "Paris Building", will be a high-rise edifice with inexpensive apartments that can reach a height of 100 meters.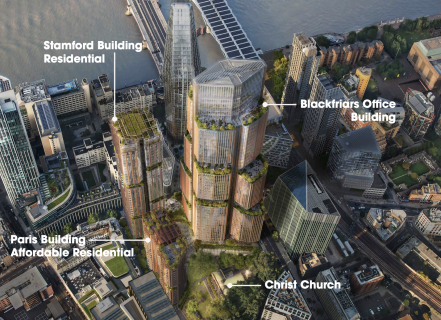 The Blackfriars tower blocks will be grouped around a central plaza that will connect to the upgraded Christ Church Garden. The ideas seek to generate half as much carbon during construction. Additionally, it will accomplish less than half the energy use during operation as compared to current benchmarks.
Foster's design departs from the firm's more traditional all-glass structures. Arup is the project advisor. The JV hopes to begin construction as early as next summer, pending planning permission. The consultant for the project is Lipton Rogers.