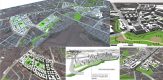 The government of Kenya has unveiled plans to construct 117,000 affordable houses to replace 15,000 old ones in an infrastructure development plan sprawling 3,000 acres in Eastlands estate, Nairobi.
The multi-billion project dubbed 'Eastlands Urban Renewal Plan' unveiled by the Ministry of Housing proposes to construct flats, bungalows, maisonettes and recreational centers in the estate. The Ministry has therefore given stakeholders 60 days to give their input concerning the project before being adopted by the Nairobi County government for implementation.
Modernizing Nairobi city
Search for construction leads
In addition, the mega housing and infrastructure project is in line with President Uhuru Kenyatta's Big Four Agenda which seeks to construct 1 million houses by 2022. According to the Ministry's Principal Secretary Charles Hinga, the project has already started in Parklands area which will be linked as part of the elaborate revival of the area.
"In the spirit of President Uhuru Kenyatta's big four agenda we are moving with time to redevelop Eastlands to be in tandem with the current plan to modernize Nairobi City," said PS Hinga. Eastlands Estate which was developed in the colonial times is occasioned with inadequate housing and insufficient infrastructure with the majority of the city's middle and low-class citizens residing in the area.
Also Read:Kenya to construct affordable housing units in Murang'a county
Funding the project
Through the development plan, the project targets 18 estates including Ngara, Buruburu, Makadara, Kimathi, Eastleigh, Mbotela and Majengo. The project will be funded by the national government, county government, a Public-Private Partnership (PPP) and Kenya Mortgage Financing Company. Other models to finance the project are foreign investors, tax increment, tenant purchase schemes, Sacco's purchase, and municipal bonds.
PS Hinga noted that during the project period the government will fund relocation options for those affected by the project. The revival plan will also see the redevelopment and expansion of health centers and roads in the estates to match the growing population.