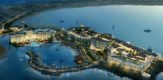 A casino resort is on the verge of being constructed in Cape Verde by Macau Legend which is a gaming operator.
According to the company, they are looking to set up a gaming facility in Cape Verde which is a group of Islands and build a gaming facility that will cost the company approximately US$ 275m.
Search for construction leads
The first phase of the project has already commenced and if all goes according to plan, the casino resort will open by 2019.
Macau Legend is building a complex that is spread across 1.6 million square feet and will consist of a number of gaming and non-gaming facilities. The resort which is being developed in Praia- the capital city of Cape Verde will include a casino, a museum, a resort and office buildings.
A portion of the land on which the resort is being constructed was once under the sea but was reclaimed and turned into real estate. A seawall has already been constructed and construction work on the hotel will commence soon.
Even though Cape Verde has a population of over a half a million, Macau Legend is not depending on this market segment to visit its casino resort.
Macau Legend has led from the front and will definitely have an advantage over its competitors at least for the first few years as it will not be very long before other gaming operators look to establish their presence in West Africa.
Back in 2015, when Macau Legend confirmed its intention of venturing into Cape Verde, the company's CEO stated that the Silk Road project will encourage small and medium businesses in Macau to take advantage of the new connectivity and expand their business relationships.