The project management consultancy (PMC) services contract for Masdar City Square (MC2) Project in Abu Dhabi has been awarded.
The contract was awarded to a member of the SNCC-Lavalin Group, Faithful+Gould. The firm will offer support to the development of the project, located in the heart of the city. Additionally, the firm will manage the project's delivery and lead all its aspects on behalf of Masdar city. Particularly, the firm will manage quality control and environments, and quality assurance.
Search for construction leads
Moreover, Faithful+Gould will manage design and construction activity, health, and safety. In addition, the firm will manage the project's close-out, which will include the evaluation and selection of other, required consultants.
Masdar city square (MC2) project overview 
The Masdar city square (MC2) project is being developed on an area of 29,000 square meters.
Also Read: Fifth Phase/Aldhay of Abu Dhabi Bloom Gardens Project on Track
It includes the construction of seven single and multi-tenant office buildings with a gross floor area of well about 50,000 square meters. Six of the buildings in the project will be built to the highest green construction specifications. They will be 4-Pearl Estidama Leed Platinum and WELL Gold certified. Moreover, a parking facility that reflects an innovative design will also be available.
The project will be constructed in coordination with its consulting partners, Faithful+Gould and Woods Bagot. 
Reported earlier
Jun 2022
Masdar City Square (MC2) Project in Abu Dhabi Kicks Off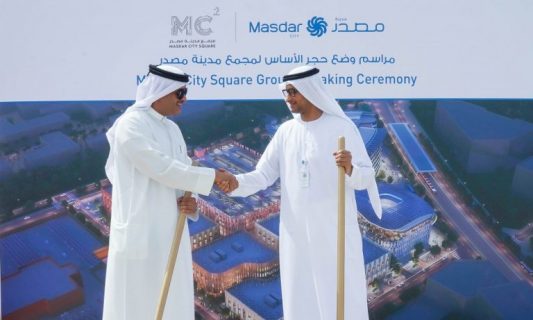 The implementation of the Masdar City square project in Abu Dhabi has officially kicked off. The project, which is part of the country's advances toward the Net Zero by 2050 Strategy, was announced by Masdar City.
Masdar City is a pioneer in sustainability and a hub for research and development. Spearheading the innovations to realize greener, more sustainable urban living the company is the developer of the city which is home to a rapidly growing clean-tech cluster, business-free zone, and residential neighborhood with restaurants, shops, and public green spaces.
MC2 to feature the city's ever first net-zero energy office building
Upon completion, the headquarters of Masdar City Square will be the city's ever first net-zero energy office building. This means that the building will use no more energy than it produces. This will be achieved via the integration of energy-efficient focused systems. Not forgetting, energy-efficient focused designs as well as renewable energy technologies.
The acting Executive Director of Masdar City noted that the city is already home to one of the world's largest clusters of green buildings. The Masdar city square (MC2) therefore will be a step closer to achieving Abu Dhabi's Net Zero Energy Goals.