Designed by Adjaye Associates, an award-winning architectural and design firm with studios in Accra, London, and New York, the National Cathedral of Ghana is an interdenominational Christian cathedral set to be constructed in Accra, the West African country's capital.
This one-of-a-kind 21st-century monument in which religion, democracy, and local tradition are all harmoniously and symbolically linked, is expected to be a rich, authentic celebration of Ghanaian heritage and culture, as well as a place of inspiration, reflection, and collective devotion.
Search for construction leads
According to finance minister Ken Ofori-Atta, who delivered the mid-year budget review in July 2021, the cathedral is expected to be commissioned officially on March 6, 2024. The initiative is the outcome of a pledge President Nana Akufo-Addo made to God before winning the elections in 2016.
An overview of the design of the project
The design of the National Cathedral of Ghana is inspired by traditional symbols of adoration and veneration, referencing both Christian symbolism and Ghanaian culture.
Also Read: Appolonia City Development Project Updates, Ghana
The configuration is inspired by symbols such as the nation's seat of power, the Stool, the shade of celestial authority, the Boaman, ceremonial canopies, and the Tabernacle. The National Cathedral democratizes these regal and religious symbols by transferring them from the individual to the public.
The cathedral will be built on 14 acres of newly landscaped gardens near Osu Cemetery. It will include a baptistery, a 5000-seat two-level theatre, a grand central hall, a music school, choir rehearsals, an art gallery, a shop, and multi-use rooms.
What the National Cathedral will bring
The government of Ghana maintains that the new Ghana National Cathedral will bring new skills, technology, and employment to the country, as well as serve as a tourist attraction for national, regional, and global tourism despite concerns that the project was a waste of money.
It will also be home to Africa's first Bible Museum and Documentation Centre, which will focus on Christianity and Ghana's development. In conjunction with some of Ghana's most well-known and progressive artists, Adjaye Associates will design the cathedral's religious decoration and furnishings.
Independence Square, Osu Cemetery, the State House, and Africa Unity Circle will all be connected to the Cathedral site by a new ceremonial route and environment. Reported earlier Aug 2019
Ghana to begin construction of Cathedral National Park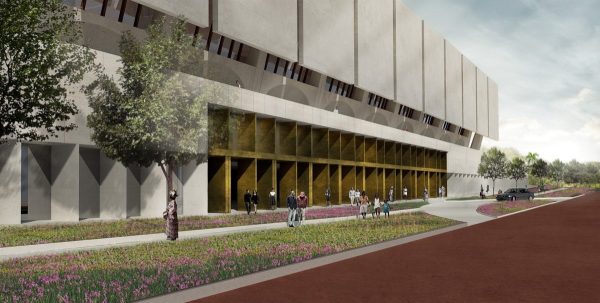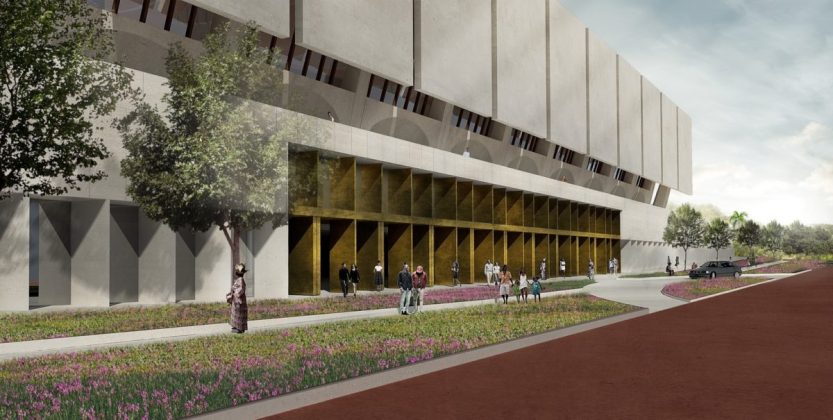 Construction of the National Cathedral in Ghana is set to commence following the demolition of buildings made up of offices and residential apartments for state officials to pave way for the development. Court of Appeal judges who occupied some of the residential facilities constructed by the Judicial Service some five years ago, were evicted late last year and given a temporary accommodation set to cost the state some 168,000 dollars in 18 months.
All buildings within the Ridge enclave from the Ridge roundabout to the Scholarship Secretariat, the Judicial Training Institute, and the Passport Office will be pulled down. President Nana Akufo-Addo on March 6, 2017, announced plans by his government to build an interdenominational Christian cathedral as part of Ghana's 60th-anniversary celebrations.
National Cathedral
Adjaye Associates, led by British-Ghanaian architect Sir David Adjaye, designed the new National Cathedral. The development according to Sir David will be a gathering place for all faiths to worship and celebrate "in a spiritual accord," and it shall act as a "physical embodiment of unity, harmony, and spirituality." The design concept for the building establishes a unique, 21st- century landmark where religion, democracy, and local tradition.
The design celebrates the Ghanaian heritage as well as Christian symbolism. The Cathedral will sit on a 14-acre landscaped plot, adjacent to Osu Cemetery in Accra, and it will comprise a number of chapels, a baptistery, a music school, a choir rehearsal, a grand central hall, as well as a two-level auditorium with 5000 seats. That is in addition to an art gallery, a shop, multi-use spaces, and Africa's first Bible Museum and Documentation Center.
The Cathedral will be linked to the capital city's most prominent landmarks, such as the Independence Square, Osu Cemetary, State House, and Africa Unity Circle, via a new ceremonial route and landscape.
"The Cathedral will address the missing link in our nation's architecture by providing a Church of national purpose. It will be an inter-denominational house of worship and prayer, as well as serve as the venue for formal state occasions of a religious nature, such as presidential inaugurations, state funerals, and national thanksgiving services," said President Nana Akufo-Addo.
https://constructionreviewonline.com/news/ghana/ghana-to-begin-construction-of-cathedral-national-park/