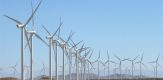 The South African Department of Environment, Forestry and Fisheries has given its approval for the development of the Boulders wind farm project. The wind plant will be implemented on the west coast of South Africa near Paternoster, a former fishing village.
The project involves construction of 45 turbines 165m high installed on 44 hectares of land. It will produce a total of 140MW of power which would make it possible to boost the network of the Western Cape province.
Boulders wind project
Search for construction leads
The wind farm will be situated next to the slightly smaller 47-turbine, 94MW West Coast One wind energy facility that has been operational since June 2015, creating what will in effect be one giant renewable energy facility on the high-point of the West Coast Peninsula, although the two wind farms will be separately owned and managed. 900 jobs will be created during the construction phase which will take 2 years and more than 60 jobs during the operation of the future facility.
Also Read: Namibia allocates land for construction of 44MW Diaz wind farm
Although the project has been approved, Vredenburg Windfarm, the project developers will have to revise its copy, including the site development plan. The government is also forcing a review of the environmental management plan. The proponent of the project would have to submit new proposals to the Ministry of the Environment, Forestry and Fisheries for consideration.
"The negative impact of the wind farm on birds and bats has been raised as a crucial issue by opponents, and one of the changes required by the Department of Environment, Forestry and Fisheries is the establishment of a post-construction bird monitoring plan in line with the most recent guidelines of the bird conservation NGO, BirdLife South Africa, for wind farms," says the South African Department of Environment.