Nestled along four kilometers of gorgeous, unspoiled Indian Ocean beachfront – encompassing 410 hectares of tropical scenery on Zanzibar's north-eastern side – Blue Amber resort comprises residential, hotel, tourism, community, and public services, as well as luxury homes for sale.
The development features a mini-Stone-Town with shop space on the ground floor and 22 two-bedroom apartments above, as well as sporting amenities such as a football pitch, tennis courts, squash courts, beach volleyball courts, basketball courts, archery, and a skateboard park.
Search for construction leads
A tiny grocery, outdoor-indoor-and-beachfront restaurants with roof-top bars, a gym, liquor shop, sports bar, health and beauty store, bike rental store, hairdressers, and laundry services, to mention a few retail facilities, will be available at the resort. Blue Amber, when finished, would also have an amazing coastal aqua recreational resort with full water sports facilities.
Blue Amber's first villa residences are currently under construction (with completion scheduled for early to mid-2023), and 54 luxury villas are available for purchase, with prices starting at US$ 197 125 for a 2-bedroom, 2-bathroom unit with a roof-top terrace, or US$ 319 USD for a double-storey 3-bedroom, 3-bathroom villa. There are also 4 and 5 bedroom houses available on the property.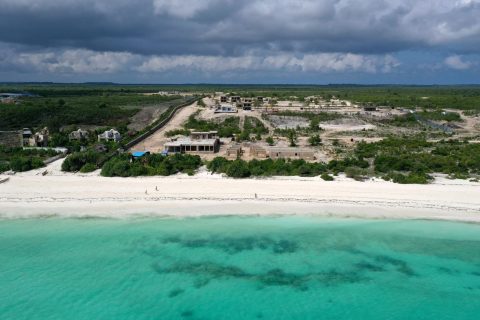 Buyers at Blue Amber Resort in Zanzibar to enjoy slew of tax breaks
According to Grant Anderson, CEO of Blue Amber, buyers enjoy a slew of tax breaks when they buy within the Blue Amber complex, as well as residency permits for themselves and their immediate families.
Blue Amber is designated as a Strategic Investment Project, which entitles property owners to considerable tax breaks, including a 15% tax rate on local income produced, no tax on international revenue, and no capital gains, stamp duty, or inheritance tax on properties acquired. Furthermore, buyers, their wives, and their children under the age of 20 are eligible for residence permits for the life of their ownership of a property.
Reported earlier
Jun 2021
Construction of Blue Amber Resort in Zanzibar resumes
Construction of the biggest resort in East Africa has resumed. Zanzibar Amber Resort Manager Murtaza Hassanal and the project director of the Pennyroyal (Gibraltar) limited Saleh Mohamed Said made the announcement and explained unavoidable problems that led to the project delays.
The mega-resort dubbed 'Zanzibar Amber Resort' is being developed in Matembwe coastal village, north of Unguja in Tanzania. The development will be home to five five-star hotels and it will comprise of an equestrian center, a private jet airport that will have a 3,000m runway, an international school, and modern medical facilities that will serve all the customers.
The electricity between 25 and 30 megawatts will be generated at gas and wind energy plants that are set to be built near the mega-resort. Apart from the resort construction, the company is looking forward to investing in Corporate Social Responsibility by planning to build a community arts center so as to promote the culture of the region as well as a police station so as to guarantee the residents good security.
Planning decisions
Pennyroyal Gibraltar, a British Architect developer based in Gibraltar partnered with 3DroneMapping Company in mapping the proposed 2000ha project, orthomosaic images, and high-resolution DTM mapping which allowed the developers to make accurate and precise cost estimations and spatial planning decisions.
The overall cost of the Zanzibar Amber Resort is estimated to be US $1.6bn. Phase one construction is scheduled for completion by the end of 2022. It includes the construction of the 5-star hotel with at least 50 rooms and a four-room presidential suite, recreational center, golf course, and 60 modern houses for sale in the area. The houses will be sold based on square meters and each square meter will cost US $1600
"We had unavoidable problems which contributed to the delay of the project. For example, we were supposed to get our lease in 2015, but it was not possible until late 2018," Said explained.