IKUSASA Office Block is a four-storey building sitting on three basement levels of approximately 10 326 m2 that is being constructed at Oxford Park, a vibrant mixed-use precinct comprising offices, bespoke retail, and an array of residential apartments in the city of Johannesburg, South Africa.
Also Read: Paarl Rock- Conradie Park development in Cape Town, South Africa
With four office levels totaling approximately 7 555m2 gross leasable area, the IKUSASA Office Block is being constructed by Concor Construction (Pty) Ltd, a diversified infrastructure construction company with core competencies in infrastructure development, building, property development, and opencast mining.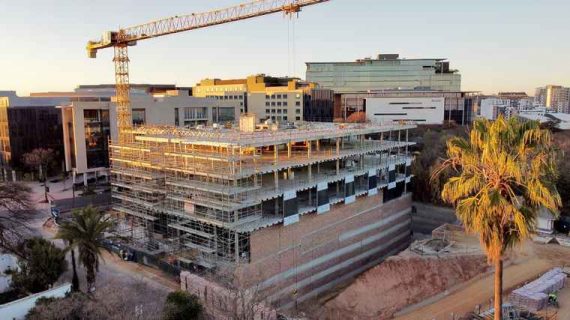 Construction of the three basement levels started in January 2021, and the concrete structure for the four-storey building topped out in August. In total, the IKUSASA Office Block is expected to take in 814 tons of rebar and some 8 707 m3 of concrete.
Upon completion, the building will house Anglo Global Shared Services (AGSS).