Sitting on 22 acres piece of land in the Kuramo Waterfront District of the up-and-coming Eko Atlantic City in Victoria Island, Lagos, La Definition is a 3 tower mixed-use development with a particular emphasis on residential and hotel.
Two of the three towers (Towers A & B) are residential towers that have a total of approximately 224 apartments, while the third tower (Tower C) is a 70 keys hotel tower that supports additional 71 branded apartments and penthouses.
Also Read: Emerald Continental Hotel Development in Victoria Island, Lagos, Nigeria
Recreational and sports facilities, such as a swimming pool, private gymnasium, tennis court, and a clubhouse are integrated into the master plan to support the residential complex.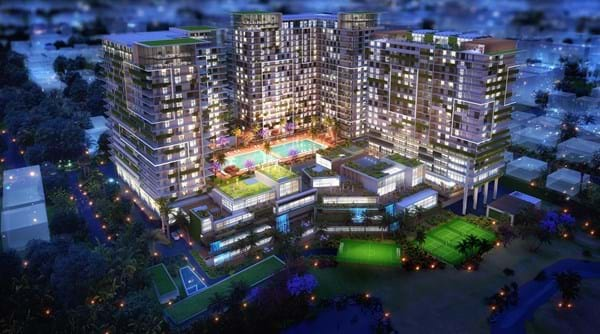 Furthermore, due to the limited availability of grid infrastructure, La Definition features some unique solutions including a water recycling system that will utilize UFRO technologies to reduce demand for borehole water by up to 80% through the use of rain and greywater.
An energy center based on the gasification of sustainable waste streams i.e. dewatered sewage sludge, ground tires, etc., will be developed at the site to produce clean syngas and generate electricity and heat for the development with zero CO2 emissions. In addition, ~750kWp of PV, and BIPV as shading for facades, will also be integrated.
Upon completion, the development is expected to be the first one in the West African region to be certified under the new EDGE sustainability rating introduced by the IFC/World Bank.
La Definition project team
Developer: Total E & P Nigeria Limited
Project Manager: Laurus Development Partners
Architect: Benoy Architects
Quantity Surveyor: Fo & Ab Partnership
Main Contractor: ITB Nigeria
Elec Engineer: Chapman Bdsp
Structural Engineers: Morgan Omonitan & Abe Limited