PRS 400 is a concrete block making machine From the PRS family. It is the smallest member of the PRS family. The PRS name is driven from the pressing process that is used to produce concrete blocks. Bess has designed PRS block making machines and manufactures it using German brands and using cutting edge technology in its workshops.
Bess started its international business in 2005 and up to now, it has installed more than 350 working plants in 32 countries. Bess is a well-known brand in the block making industry thanks to its premium quality block making machines, free installation services, and efficient after-sales system.
Consider that the PRS400 block making machine is a single-hopper machine, single-hopper machines are also called hollow block making machines, we have also prepared an article about hollow block making machines if you are interested to have further information about them.
The double hopper machines are mostly called paver block machines because the second hopper is used to produce colored paving blocks. We have prepared an article for paver block machines if you need to get further information.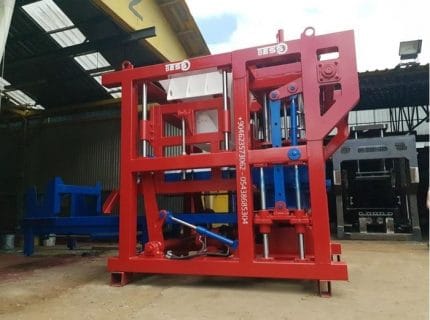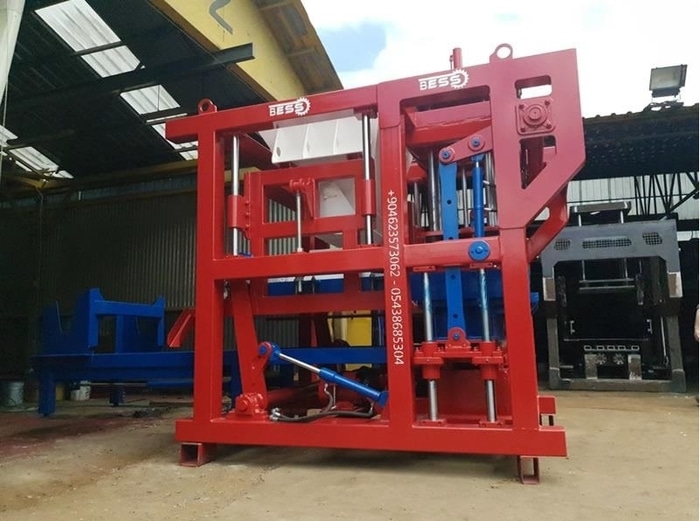 PRS400 block making machine capacity
The PRS 400 block making machine can produce more than 400 shapes of concrete blocks by changing the molds. It can produce hollow blocks, solid blocks, curbstones, lawn blocks, and paving blocks. All you need to do is to change the mold to produce your desired blocks. Depending on the shape the capacity of the machine changes.
For smaller blocks, the capacity rises and for bigger blocks, the capacity drops. So how should we use a standard sizing system for this purpose?
The standard size of the concrete block that the capacity of the machine is explained with is a hollow block with the dimensions 20cm width x 40cm length x 20cm height.
The PRS 400 concrete block machine produces 4 pieces of these hollow blocks in one press and a total of 4000 pieces in 8 hours.
The table below shows more details about capacity.
| | | |
| --- | --- | --- |
| Block Type | capacity in one press | capacity in one shift |
| 20cm x 40cm x 20cm hollow block | 4 pieces | 4000 pieces |
| 15cm x 40cm x 20cm hollow block | 5 pieces | 5000 pieces |
| 10cm x 40cm x 20cm hollow block | 6 pieces | 6000 pieces |
| I-shape paving block | 12 pieces | 300 m² |
| rectangular paving block | 20 pieces | 400 m² |
| curbstone | 1 piece | 1000 pieces |