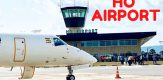 Ho Airport is a regional airport built to serve Ho in the Volta Region of Ghana. The construction works for the Ho Airport Project began in 2015 and were completed in 2017. The project was in line with the Ghanaian government's goal to have airports in each of the West African country's regions.
As part of the project, the airport received a runway 1900m long and 30m wide, aprons, one ATC tower, and a new passenger terminal building with the capacity to handle 150,000 passengers p/a. It was also equipped with a commercial area for retail outlets, an underground fire safety area, a water storage tank, and a security fence not to mention baggage handling systems, boarding gates, and a CCTV system.
Search for construction leads
In total, the National Democratic Congress (NDC) spent $25 million to build the airport which did not open for commercial operation upon its completion until 2021.
Reported On Oct 06, 2015
Ghana To Start Ho Airport Construction Project This Month
Volta Regional airport construction at the Tritrinu near Ho in Ghana will commence this month. This was revealed by the Volta Regional Minister, Ms. Helen Adjoa Ntoso during her presentation on the airport's plan and design. The Volta Regional Minister handed over the construction site to the contractor on Tuesday this week to see preliminary works kick-off.
In his presentation, Mr. Samuel Kofi Diame, the Falcom Crest Investment CEO, stated that the Ho airport project will be complete by end of 2016.
The Volta Regional Director of the Lands Commission, Mr. Gershon Tsra, said that 1,500 acres of the land for the airport construction project has been put aside.
Falcom Crest Investment Company won the contract to undertake the airport construction project. In her presentation, the Regional Minister urged contractors to speed up the work. More so, to ensure on-time completion of the project. Since the airport is important to the residents of the Volta Region.
Furthermore, Mr. Samuel Kofi Diame said the Ho Airfield MA School Complex, near the project site, will be relocated to allow for airport construction. Ghana has also been undertaking the Tamale airport construction project to extend the facility. However, the project will need more funding. Thereafter, Tamale strives to complete it by September 2015.