Choosing from the top construction software for your project can transform how you work and its worth looking at what's out there to ease work complexity and inefficiency. For instance come construction software will likely deal with new technologies being used in regards to moving more capabilities to site workers through mobile technology. Increase smartphone and tablet usage is enabling construction workers to capture, organize and track project information directly from site. The following are some of the top construction software that boost efficiency in project delivery.
ToolKitX
ToolKitX was founded to bring exceptional knowledge and experience delivering complex IT solutions to clients in the construction and facility management business. Their founders have over decades of experience managing projects and delivering results in the infrastructure construction and IT industry.
Their ToolKitX  product is a software tailored to streamline construction and facility management processes. It has a number of individual modules such as Electronic Permit to Work, HSE Incident Management and Auditing, QA Management, Mobile Workforce Management, Mobile App Support, Time & Expense Management as well as overall Project Management.
The product is unique in a way that all users of the software are working in realtime on the same data, independent if they are using their web access, app or any mobile device. All data is shared between the workers on site and all managers in the office. They also include dashboards for quick information summaries and analytic modules for mining the data.
It is a tool made and developed by professional HSE and Quality Coordinators, Package-, Permit- and Project Managers for those facing the same challenges. Drawing from the company's long history of successful projects they can help you implement the right IT applications for the success of your business.
Spin Engenharia
Spin Engenharia is a company that works with automation oriented to the electric market (GTD – Generation, Transmission and Distribution), more specifically, developing mission-critical software such as SCADA, EMS, ADMS / FLISR and Gateways.
In addition to software development, Spin works by integrating automation solutions in companies and supporting customers and VARs who use their products. Much of our solutions are based on ActionₒNET, a state-of-the-art SCADA software and the most modern software in the Brazilian market.
Because of that, the company is able to implement projects with the Lean Automation methodology, an agile structure of system integration. Spin has more than 300 SCADA systems installed in industrial substations and in generation, transmission and distribution concessionaires.
ArCADiasoft
ArCADiasoft founded by Jaroslaw Chudzik, has been developing specialized software for the  AEC industry for over twenty years but  has only entered the African market last year and have already appointed over twenty re sellers all over Africa. Africa has become an increasingly important market for them since they have secured several projects. Their proprietary programs are useful solutions in the everyday work of an architect or engineer, simple and intuitive, thought out in the smallest detail, while at the same time technically based on the latest cutting edge technology.
ArCADiasoft offers a very high quality and cost effective way to enter the BIM world of design with a perpetual license. According to Richard Zins the Head of International Sales, they have an excellent traditional CAD program which has been expanded with some architectural features, shortcuts and automation. On top of this program we have over twenty industry specific modules which allow you to operate within one ArCADia BIM environment.
The system enables continuous data exchange between all industry modules in order to, amongst other things, update documents about the latest changes made by designers working on a joint project or, for example, to detect collisions. These modules are all the installations within a building design such as Electricity, Water, Sewage, Heating, Telecommunications and Gas as well as Construction modules for reinforced concrete and static calculations.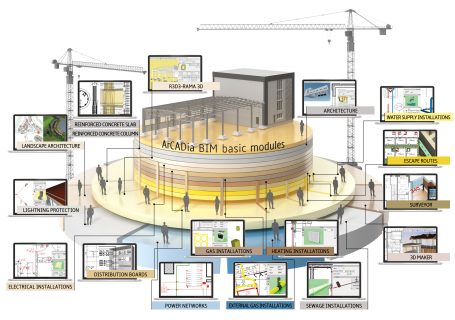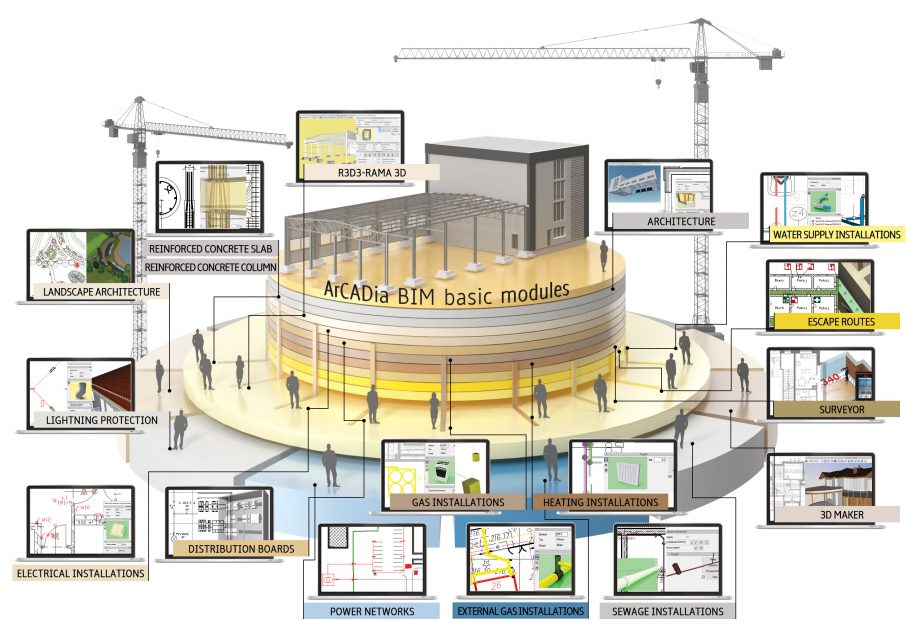 Model Maker Systems
Model Maker Systems was registered as a company to develop and sell software in August 1989. This means 2019 is a very special year for them because they are still going strong while many developers in the same field from the 1980's don't exist anymore.
According to Carel Viljoen, the CEO, further development and a policy of providing affordable software with outstanding support, helped them become one of the leading suppliers of software over the years. "We now have nearly 4000 companies spread over 83 countries using our software. Some of these companies are leaders in their field and of the larger ones around," he adds.
The software consist of:
Model Maker, with its base of survey data from all possible sources and extensive CAD, Design and Quantification functionality is now used by Land Surveyors, Technical Surveyors, Civil Engineers, Mining Engineers, Irrigation Engineers and Roads and Earthworks Contractors.
Road Maker is used for the design and quantification of all types of roads or any project involving cross-sectional presentation of data.
Pipe Maker is used for the design and quantification of township pipe services – water, sewer and storm-water.
Survey Maker has all standard calculations required by surveyors in various applications, but its focus is on Cadastral Land Survey needs to create SG diagrams and Sectional Title diagrams fast and easy.
"This new product will combine our knowledge and experience of the last 30 years in one single package with functionality from all our existing products," affirms Mr. Viljoen.
Skytop Technologies Ltd
SkyTOP Technologies Limited is a software development company whose core business is the development of software solutions for the building and construction industry, the manufacturing industry and the education sector.
The company seeks to enhance the adoption and use of Computer Aided Design (CAD, Computer Aided Manufacturing (CAM) and Building Information Modeling (BIM) software programs used by professionals, trainers and students.
SkyTOP Technologies was founded in 2006 and is the only company worldwide that targets a global audience through its premier product, DemosCAD. DemosCAD seeks to equip current and potential users of AutoCAD software with skills that help them realize their design ideas. They have a Click-a-tool concept which focuses on demonstrating how each tool on AutoCAD works when you click on it.
DemosCAD also has a feature known as DemosCAD Construct, which provides a step by step guide on how to accomplish a complex task e.g. design and construction of a house applying the tools and commands in AutoCAD.

Sitemate
Sitemate's software platform Dashpivot makes it easy for construction companies to transition away from time-consuming and manual processes by digitising and streamlining how they capture, organise and track work with a single system.
The advantage of Dashpivot over other tools and softwares is that Dashpivot is flexible and completely customisable. Construction companies using Dashpivot can easily convert their current standard operating procedures into a digital format to create a fully integrated information management system (IMS) – which provides the benefits of:
Greater efficiency on site
More accessible and reliable project records
Standardized data and information
More informed decision making through real-time analytics
ACCA Software
Founded in 1989, ACCA has established a strong position in developing software solutions for the architectural,engineering and construction industries well known for ease of use, its highly creative and practical approach, its strong attitude for innovation and the ability to provide adequate answers to the growing needs of professionals.
In 25 years of activity, ACCA has developed solutions for a multitude of construction industry needs: architectural design, bills of quantities, structural analysis, maintenance plans and facility management, health and safety, energy efficiency, acoustics, technical systems engineering, fire prevention, renewable energy, technical studies and office management, survey management, and many more.

CADprofi
CADprofi  covers almost all African countries. Algeria seems to be the most popular with 652 licenses, followed by Tunisia (289), Morocco (180) and South Africa (146). They have distributors Kenya, Nigeria and South Africa.
Their products are being used in small, medium and large projects. They mostly cover four industries: architectural, HVAC and piping, mechanical and electrical. Africa as a market is developing quite fast. As the construction market is developing fast there is also a higher need for professional CAD programs and industry CAD add-ons.
Thanks to their software users can easily draw and edit projects using advanced commands
and the largest library of symbols and objects prepared in both national and international standards.
Wood Designer
Wood Designer offers a way to design both furniture and stairs using the woodwork design software solutions Polyboard and StairDesigner respectively. Instead of working like CAD software (where you draw your design out on the computer – very slow), this software is parametric.
You put in basic dimensions then quickly add design elements like shelves, doors, drawers, or string board, newel posts and handrails. All the manufacturing output – cut lists, plans and CNC files – are immediately available. Plus you have instant access to 3D visuals and costs to close the sale with your prospects.
Supporting Polyboard and StairDesigner is OptiCut and OptiNest which optimize the cutting of the parts to minimize material waste and cut production time. Which one you go with depends on your manufacturing set up.
"The software is affordable in comparison with similar high end pro solutions and is a great way to make this step forward. We're happy that so many companies in Africa are utilising our software, often in conjunction with their CNC production process, to work faster and better," said Stefan Zabel, Director, Wood Designer Ltd.

ConstruSteel
ConstruSteel's software is used by steel fabrication companies for structural steel projects worldwide. They consider their software the most efficient in steel fabrication in the world, thanks to good CNC machinery combined with automation software.
Vectorworks, Inc.
Vectorworks, Inc. is a global design and BIM software solutions provider serving over 675,000 professionals in the architecture, landscape and entertainment industries. Since 1985, they have been committed to helping designers capture inspiration, nurture innovation, communicate effectively and bring their visions to life.
With their cross-platform software, designers can build data-rich, visual models without sacrificing the design process, while collaborating efficiently throughout the project life-cycle.
Vectorworks Architect is the industry's only BIM modeling, drafting and documentation software built with the design process in mind. As the architect's BIM tool, the software enables you to tackle complex ideas in 2D and 3D, refine construction details, explore your project's energy efficiency and streamline costs.
Headquartered in Columbia, Maryland, with offices in Newbury and London, England and Vancouver, Canada, Vectorworks is a part of the Nemetschek Group.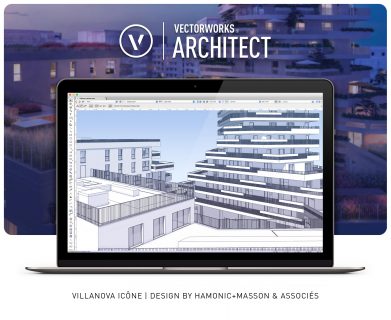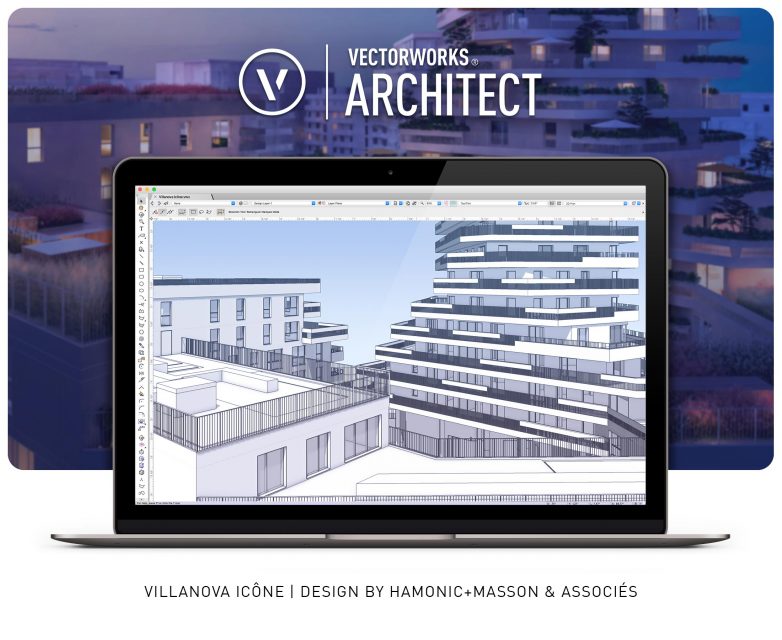 Hexagon Geosystems
Hexagon Geosystems' division's latest reality capture hardware and software solutions are making point cloud technology more accessible. The Leica BLK360 3D laser scanner and innovative supporting software such as Leica Cyclone Register360, Leica Jetstream, and Leica TruView Cloud are making it easier to process, manage, deliver and consume 3D Data.
Leica BLK360 ships as standard with a 1-year subscription of Autodesk Recap Pro, with Recap Pro mobile, making it effortless to create a 3D model or 2D drawing that's ready for further design.
Smart Builder
Smart-builder's software is used to design many different glass structures all over the world and in Africa. Used by thousands of companies in over 30 countries to design millions of structures over the last 20 years. They consider themselves world leaders in making specialized software for the glass industry. Furthermore, as a development company they are constantly updating and creating new features in software.
In addition to their design modules, Smart Builder developed Smart-Toolbox, a job management system built to manage your business. Smart-Toolbox caters for your way of working and comes with a built-in glass panel designer, Smart-Glass."

Winqs/ACE Solutions
Winqs software solutions has been used on large projects in African countries that include: South Africa, Lesotho, Nigeria, Kenya, Ghana, Ethiopia, Tanzania, Uganda, Zimbabwe, Madagascar, Rwanda, Namibia, Angola, Mauritius, Zambia, Malawi, Botswana, Seychelles, Swaziland, and Mozambique.
Their software solutions are a complete quantity system for;
The production of Bill of Quantity Documents
The production of Estimate Documents
The calculation of Monthly Valuations
The Cost Analysis of a project
Contract Price Adjustment Calculations
Tender Analysis
Financial Review Cost Reports
FunBIM
Greater construction efficiencies and more trust and transparency in the work being done on site will accelerate the adoption of new technologies, and with so much construction and infrastructure work set to take place in Africa in the coming years – as well as the constraints of very remote and harsh environments. Africa could become a hotbed for construction software and construction technology development and implementation.
FunBIM's software is a construction management software that helps to monitor construction sites and follow up on progress as well as facilitate the sharing of information between the different trades and between the site and the office. Its founder, Laurent Biancardini, used his own experience as a foreman to develop a tool that would make life on construction sites easier and would therefore improve work efficiency.
The app has features for both 2D and 3D and centralizes it all in a single place accessible from multiple devices (computer/laptop, tablet, phone). With FunBIM you can :
Upload drawings and models (pdf, revit, navisworks, ifc) and annotate them
Make sure your files are up to date with version control
Flag issues, snap pictures and assign tasks to the appropriate teams to resolve them.
Follow up on progress thanks to an adaptable workflow
Fill in, sign and send all the related forms
Generate automated site reports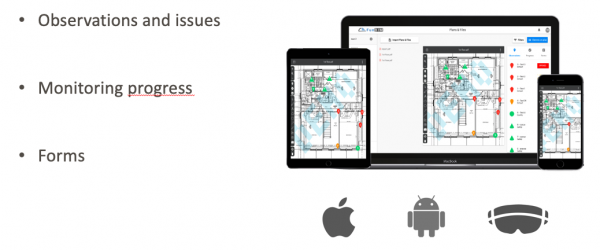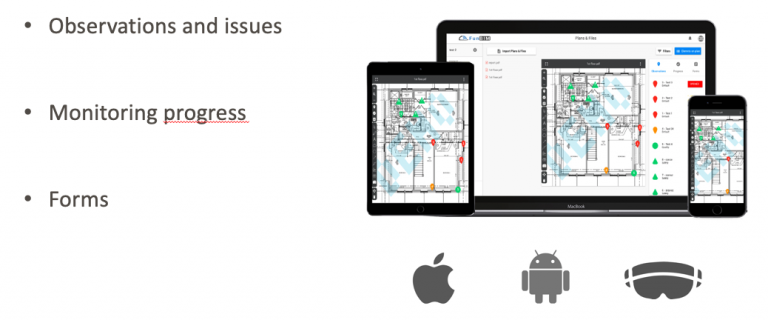 Construction Computer Software (Pty) Ltd (CCS)
CCS develops specialized software solutions for the construction & engineering industries – developed by contractors, for contractors. That's been their mission at for over 35 years and they have built an international reputation for excellence in doing just that.
The solution CCS provide include; CCS's complete construction and engineering management software, where Candy and BuildSmart software solutions seamlessly integrate, provides an interactive link between their estimating and project control and their enterprise accounting and operational costing tools. It shares critical information in real time. And the results?
Improved cost and schedule performance and certainty
Increased productivity

Growth of financial returns with lower volatility
Proactive management of project risk
CivilGEO Engineering Software
GeoHECRAS software from CivilGEO is an easy-to-use engineering software that provides 2D/3D graphical user interface and is used by civil engineers throughout the world for doing flood studies, bridge and culvert design, stream restoration, and dam failure analysis.
The software provides a data wrapper to the US Army Corps of Engineers HEC-RAS software. It builds upon the HEC-RAS software and provides a single platform to rapidly construct and visualize a HEC-RAS 1D and/or 2D model, saving engineer's time by finishing their work.
Engineers can quickly build 1D and 2D HEC-RAS models using the provided CAD/GIS tools that are integrated within an easy to understand user interface and perform 1D steady flow, 2D unsteady flow modeling and combined 1D and 2D unsteady flow modeling. Complex 2D modeling, such as 2D bridge modeling and 2D dam breach modeling, can also be handled with ease.
Advantage of GeoHECRAS is that it cuts down engineering time to half, is very easy to learn and has an easy-to-use drag and drop graphical interface, supports GIS, AutoCAD and Microstation CAD drawings, can incorporate various cloud based maps from Google, Bing or other sources. Having this in a single package is highly beneficial as this allows the engineer not to have to shuffle between three different engineering applications.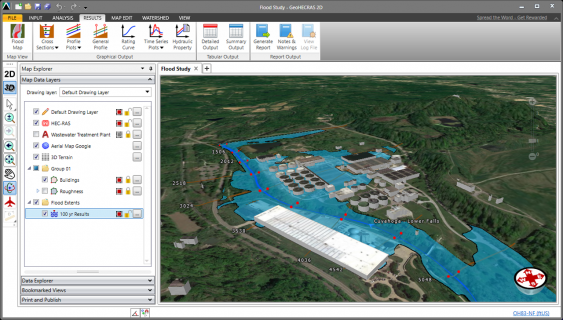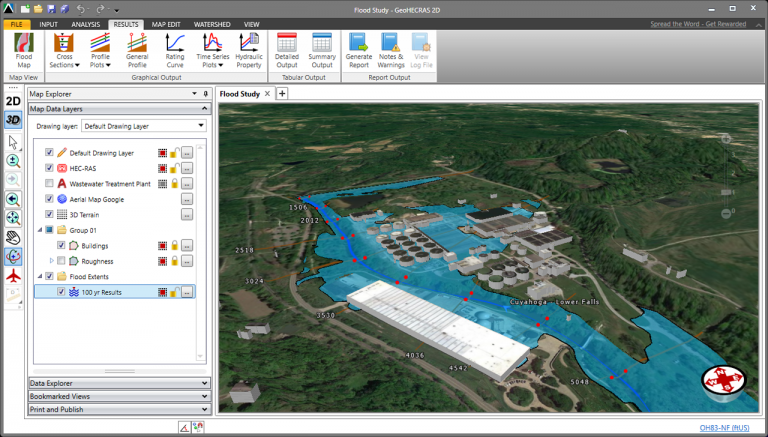 CADENAS
CADENAS' tailorable software solutions act as a link between component manufactures, their products and the buyers. 70% of the top 50 manufacturers who are demanded by engineers, rely on eCATALOGsolutions from CADENAS as a CAD catalog solution (DVD, Web, Print, Mobile) for their products.
One of the company's latest technologies is the 3D Search for Products which will also be included in the upcoming search engine "3dfind.it". This is a brand new search engine for engineers that offers lots of different intelligent search methods. E.g. Beginning with a reference part or the rough sketch of a 3D CAD part engineers can use the shape search, just like any other search engine, to browse a database with hundreds of catalogs for needed CAD part.
Analist Group
Analist Group is a company that offer end-to-end solutions for a range of applications which go from land surveying, land management, precision farming, thermographic inspections, wind turbine inspections, software for the building industry, software and mobile applications for companies and municipalities.
The company provides software end-to-end solutions for professional applications in the building industry for;
Efficiency enhancement
Cost effectiveness
Reliability and accuracy
Data acquisition and processing
It is essential to keep up with the pace of the fast growing technological innovation in order to be competitive and efficient in their job. That is why  ANALIST GROUP are always close to their customers by not only providing excellency in their products but also by supporting and assisting and providing them with adequate top of the class training.
UDA Technologies
UDA Technologies provides construction management software solutions for more than 550,000 construction professionals in over 75 countries worldwide, including Namibia, Kenya, Egypt, and South Africa.
The UDA family of products is designed to meet the needs of growing residential, commercial, industrial, & specialty construction companies around the world with a variety of options, including;
ConstructionSuite UDA's desktop software suite; Delivers advanced Estimating, Job Costing, Scheduling, Contracts, & Specifications and sets the standard in construction project management to give users total control over their projects.
ConstructionOnline, UDA's web-based project management platform; Provides for easy-to-use Cloud File Management, Estimating & Job Costing, Change Order Management, Daily Logging, and Project Communication tools such as RFIs, Submittals, & Transmittals to make project communication & collaboration a breeze.
RedLine PlanRoom; Allows for effortless upload, markup, and sharing of project plans. Combined with ConstructionOnline, RedLine PlanRoom support comprehensive plan-centric management of construction projects.
UDA Cloud Services provides managed cloud hosting for ConstructionSuite, QuickBooks, PlanSwift, and other necessary software in partnership with Amazon Web Services, the most reliable cloud network in the world with 54 availability zones in 18 geographic regions.

ELPLA 
ELastic PLAte software is mainly used for piled-raft foundation design and hundreds of skyper/ tower foundations have been designed by ELPLA.
The software, which is currently being used by universities due to its capabilities allows users to solve complicated foundation design problems using an easy to use interface. The software is currently used in many universities for its capabilities.
4M
4M provides the Architecture & Engineering Community with Advanced Verticals since 1986 and with Innovative BIM Solutions since 1994. Today 4M has more than 35.000 Active Users in over 65 Countries Worldwide.  
Latest Generation of 4M BIM Suite introduces new industry standards with innovative BIM (Building Information Modelling) technology, powered by high-performance CAD engines offering an unrivaled compatibility with AutoCAD ® by using DWG as their native file format.
The company's latest BIM generation software is equally applied in Africa as well. So the opportunities for the African construction companies to take advantage of the latest technology developments are equal.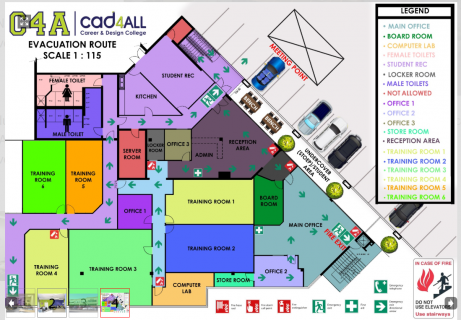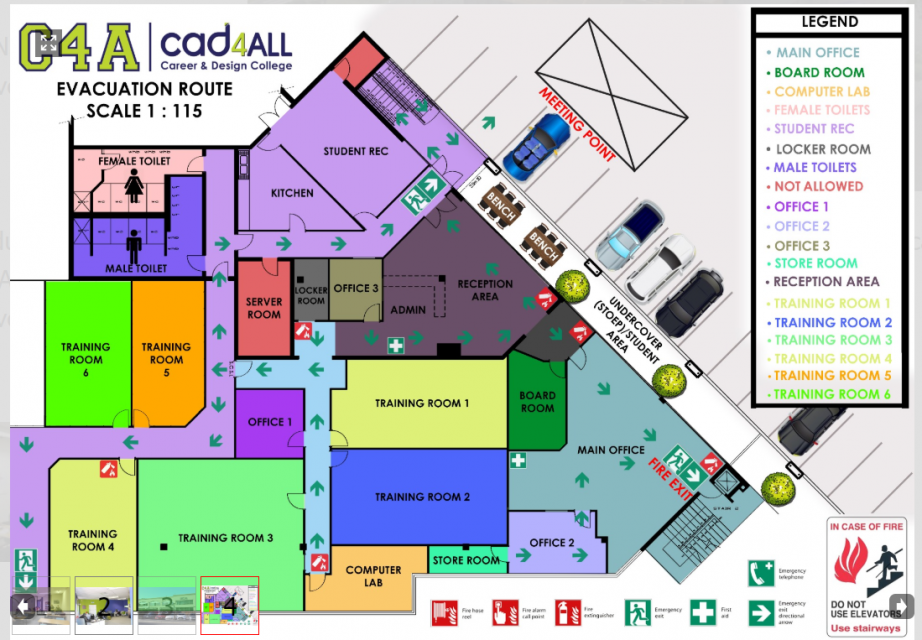 Prota
With over thirty years of experience, Prota's leading structural software solution Prota Structure is a fast growing structural engineering software with more than 3000 users globally and over 300 employees all around the world
It is developed by a highly experienced team of professional engineers, leading technical experts and software developers across the world and has entered the African market last year. ProtaStructure has already succeeded in African market, enables to model simple or complex concrete and steel buildings with speed and ease. Engineers take advantage of features including Finite Elements, Rigid Zones, Staged Construction, Seismic, static and non-linear approaches to solve both simple and complex projects.
BIM and Steel Design are growing in Africa. Collaboration and sharing knowledge is becoming a necessity in the way of doing business in construction sector. Prota has cultivated close relationships with leading technical research associates and with world's major BIM players such as Autodesk® to offer leading solutions for integrated design and project BIM integration and coordination, so engineers can save hours with the pioneer BIM integration. In addition, to produce high quality drawings and all design documentation from ProtaStructure automatically using included ProtaDetails and ProtaSteel.
OnSite Control Systems (OCS)
South African company Onsite Control Systems, through an extensive 13-year joint venture with UK software developers, provides a unique industry specific construction collaboration system founded on the OnSiteIMS™ Solution.
OnSiteIMS™ marks a turning point in the construction industry by enhancing standard building practices and Contract and Project Management methods. It re-engineers information creation across all channels and disciplines, allowing the distribution and tracking of all information types – instructions, correspondence, documents, actions, drawings, requests, QA/inspection/completion lists – between the Client, Developer, Consultants, Contractor and onto Subcontractors in a manner that is manageable, productive, efficient and traceable, via both mobile app and online platforms.
OnSiteIMS provides flexible pre-build, construction phase and post-build collaboration solutions across all disciplines. Utilising online and mobile software and hardware infrastructure options for Clients, Developers, Project Managers, Architects, Consultants and Contractors.
Creation, distribution and management of all activity through one online platform: OnSiteIMS™ reduces complexity, increases accountability and streamlines key processes in real-time.
They pride themselves in solving industry challenges while eliminating risks and improving financial returns for any development.

SkyCiv
SkyCiv is an online structural analysis and design software which is 100% cloud based. It works seamlessly on Mac, PC, and even mobile tablets! No more license keys, no more version issues or costly updates – just clean, powerful and easy structural analysis and design software. Get started in only 30 seconds.
SkyCiv offers a wide range of Cloud Structural Analysis and Design Software for engineers. The powerful, yet easy-to-use online software allows engineers to work quickly and efficiently, with professional support provided.
Softree
Over the past few years, Softree has seen a significant increase in customers using DEM data and imagery acquired from UAVs, commonly referred to as drones. This form of mapping has a wide range of applications such as surveying right-of-ways prior after felling and prior to construction, construction monitoring, and as-built surveys.
Softree's software is focused on keeping everything simple and user-friendly, but that being said, they also want to ensure that the latest data collection technologies are either integrated or work seamlessly with our software. For survey data collection, drone data is the latest and greatest technology for high quality and routine data collection.
The company has ensured that our product RoadEng works with drone data. While RoadEng (Terrain Tools) is not a drone-post processing software solution, you can take full advantage of working with the data within their software.

Touchplan Software
Touchplan software has lean methods that seek to develop and manage a project through relationships, shared knowledge and common worthwhile pursuits. Traditional silos of knowledge, work and effort are broken down, experimented on, and reorganized for the betterment of the project rather than of individual participants. The result? Significant improvements in schedule with dramatically reduced waste.
Lean construction is a way to define, design and build. Lean can be applied to any project, with any project delivery model. From its history in production and manufacturing, Lean Design & Construction applies the same foundation principles to improve productivity in the Built Environment.
Lean Design and Construction differs from other forms of project management in some key ways:
Control is redefined

from "monitoring results" to "making things happen." Planning system performance is measured and improved to assure reliable workflow and predictable project outcomes.
Performance is maximizing value

and minimizing waste at the project level.
Project delivery is the simultaneous design

of the facility and its production process, or concurrent engineering.
Value to the customer is defined, created and delivered throughout the life of the project.

In current practice, the owner or client is expected to completely define requirements at the outset for delivery at the end, despite changing markets, technology and business practices.
Coordinating action through introducing pull-systems and continuous flow

— as opposed to traditional schedule-driven push with its over-reliance on central authority and project schedules to manage resources and coordinate work.
Decentralizing decision making

happens through transparency and empowerment. This means providing project participants with information on the state of the production systems and empowering them to take action immediately.
Benefits
Lean Design and Construction is a production management-based project delivery system emphasizing the reliable and speedy delivery of value. It challenges the generally-accepted belief that there is always a trade-off between time, cost, quality and safety.
IrisVR
IrisVR works with 3D software you already use to give a true sense of depth and space before anything has been built. Virtual reality (VR) and augmented reality are two relatively new technologies that are changing how the AEC industry performs design review and model coordination.
Prospect by IrisVR allows you to perform VR walkthroughs and host collaborative design review meetings in virtual reality using your 3D models. Up to 12 people can all meet together in VR from anywhere in the world and walk through SketchUp, Revit, Navisworks, Rhino, Grasshopper, FBX, and OBJ files. The software's in-VR toolkit allows everyone in the meeting to view BIM in VR, make markups, measure, and examine their models in true 1:1 scale.
VR meetings and design reviews are incredibly powerful because they allow everyone involved to communicate in one language – traditional design assets like BIM and 2D drawings can be difficult for non-technical individuals to interpret, but space is a language everyone innately understands. By keeping everyone on the same page and avoiding communication errors, less money is spent on rework and other costly mistakes. Additionally, meetings can help cut down on the time and money firms traditionally have spent on travel.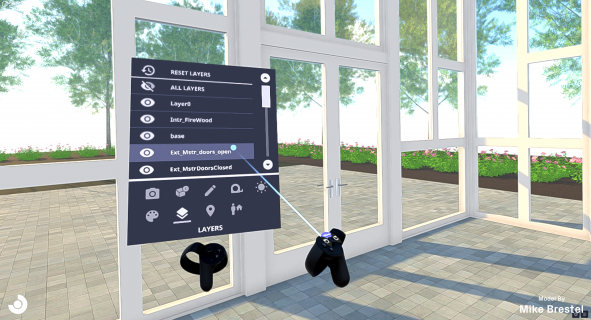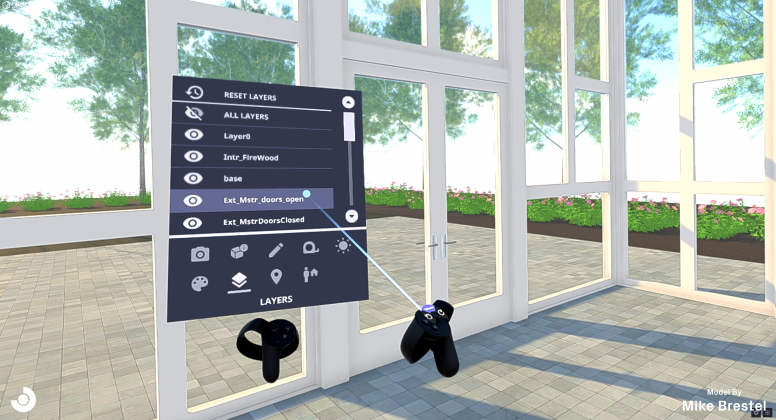 SierraSoft
SierraSoft is a software company specialized in the development of innovative BIM software solutions for land surveying, infrastructure design and construction. SierraSoft Land one of their products is a BIM software for land restitution, modeling and analysis.
With SierraSoft Land, you can handle land survey of any size carried out with various types of tools, such as total stations, GPS, laser scanners, and drones.
The entire flow of rendering of acquired data, 3D surface modeling, and section and volume calculation is managed in SierraSoft Land in a simple and comprehensive way.
They also produce their SierraSoft Roads, which is a BIM software for planning, designing and managing roads and highways. The ease of use, outstanding performance and functional design offered by SierraSoft Roads mean that the design of any kind of road, roundabout, junction, intersection, sliproad etc., is both rapid and precise.
SierraSoft Roads automates entire stages of the design and makes everything extremely easy; the designer always has complete control over the design data and constant access to all its information. Based on a powerful BIM modeler with other applications and sharing information via open file formats. SierraSoft Roads complies with 2014/24 / EU Directive from the European Parliament.
COMAN
COMAN Software's IT experts were motivated to prevent the resulting errors, loss of time and waste of resources. Their digital solution COMAN visualizes for the first time the entire process chain from procurement through setup to production start in real time by means of graphic "Smart Objects".
The software, which was developed over five years, links scheduling of involved parties, defect tracking and progress processes in a central database. Thanks to end-to-end digitalization, it shows deviations from the plan immediately and enables those responsible to eliminate undesirable developments at an early stage. This leads to time and cost savings in all project phases.
Whether the construction of a new production plant, individual plants or conversions – COMAN users can see the current project status of integrated contractors and suppliers at any time. For the first time, this innovative tool automatically combines the digital layout of construction planning, i.e. 2D and 3D CAD drawings, with detailed scheduling of the individual objects and the project participants.
"Each object on the construction site is assigned attributes and dependencies, which the system clearly displays and which the intelligent algorithms monitor in real time," explains founder and managing director Timur Ripke.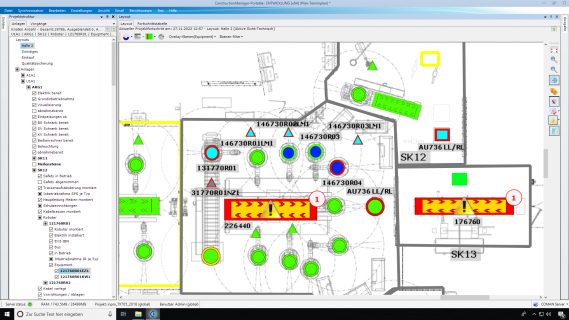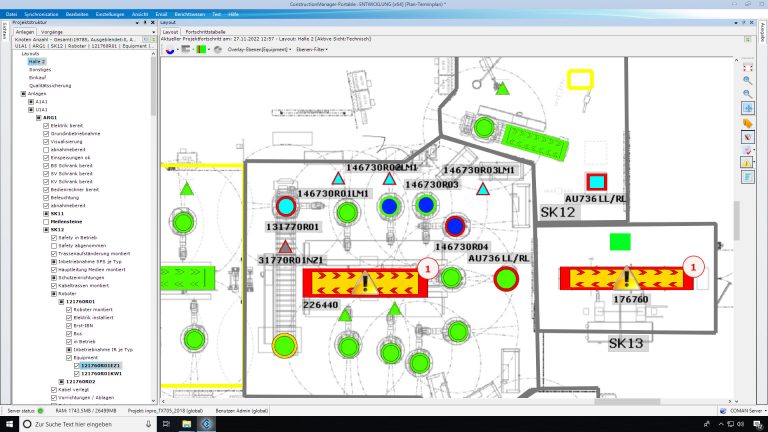 Cadvilla
Cadvilla stands for innovative planning and design software packages. It is a CAD application for the construction of buildings and creating of building floor plans.  The architectural software from cadvilla now exists more than 10 years and is available in over 10 languages.
The Software is suitable for architects, selfbuilders and homeowners and is a must for anyone involved in building planning! To be compatible with other CAD Systems, Cadvilla company offers modules for 2D DXF/DWG and IFC/BIM Export. With the new professional programs, you construct and design on the basis of a three-dimensional model.
Each planning step, each design element is transferred into a spatial representation, presented and integrated into the overall picture. Thus, Cadvilla gives your ideas form from the first moment, transforms them into designed space, and lets you visually experience the creation of your desired object from the first "stroke" to completion.

Lula Build
Lula Build is a state of the art web-platform, specifically designed for project teams who need to collaboratively manage and control the budgets of complex construction projects. It not only facilitates the development of competitive estimates for project bidding, but also helps project managers ensure that they stay within budget during project execution.
With centralized data storage and real-time reporting functionality, Lula Build enables teams to proactively manage projects on a level never before imagined possible. Their product has been used to price and manage several large projects in Africa. The most recently completed project is a large roadworks job in South Africa.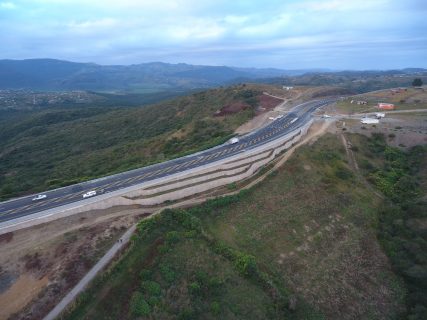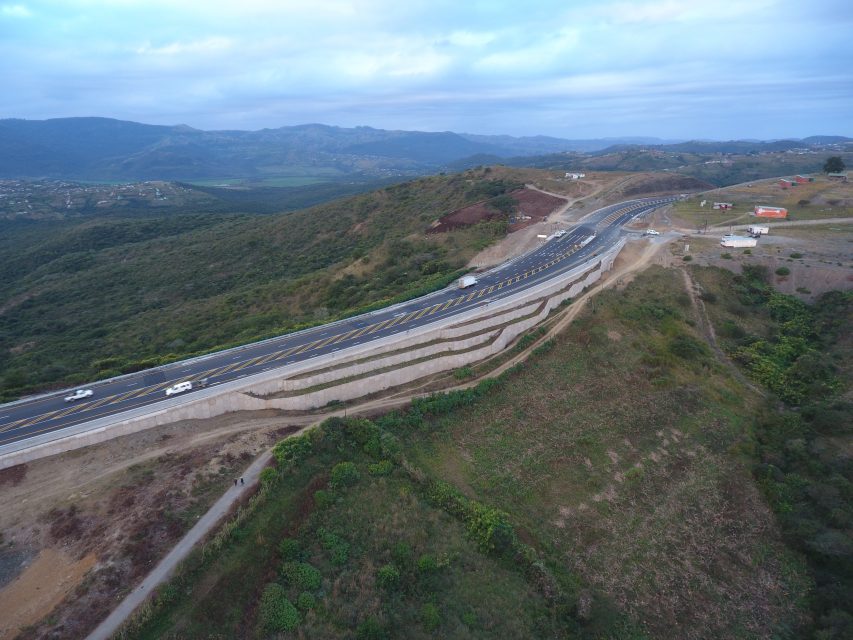 CADS
CADS is a leading international software company specializing in civil, geo-technical and structural engineering design, analysis and detailing software. Their applications are used worldwide by consulting engineers, civil engineering contractors, builders, national and local governments, structural steelworks and rebar fabricators.
The company offers CADS RC3D for Revit , their latest software which has been designed to enhance the placement, annotation and bar marking of reinforcing steel in all kinds of RC structures. CADS RC3D takes the 3D modelling functionality of Revit to the next level allowing rebar to be divided into particular groups (bar ranges), bar marks to be be created and managed, detailed reinforcement to be created with a single click.
The CADS RC3D for Revit is building on the heritage of the global industry leading CADS RC which has been the market leading reinforced concrete detailing software in the UK and around the world for more than 20 years.
CADS RC can detail anything and has been successfully used on all sorts of building, transportation, water, process and power projects including precast concrete elements.
The company boasts of  software being used on the Liquified Natural Gas Plant in Bonny Island Nigeria and also on the UAP Old Mutual Tower. The MASS Design Group is using their software on project in Rwanda.

FINALCAD
FINALCAD transforms, the way we build through their flexible software that can be adapted to each client and industry. The company's platform is made of 3 product lines: FINALCAD Field, FINALCAD Analytics and FINALCAD Plug-Ins.
Their software can be used for various projects such as buildings, infrastructure, energy networks, operations and maintenance, and plays a role from early stages of the construction process until final handover and completion.They have flexible products for the field to handle and optimize construction process and to collect insightful data.

Avontus Software
Avontus Software is used by the majority of the top 10 industrial scaffolding companies in the world. Their inventory management tool, Quantify, manages about 80% of the refining capacity in the US.
One of the biggest bottlenecks in making sure a scaffolding job is done right the first time is ensuring that your designs are well-understood by everyone involved. Whether you're a scaffold designer, salesperson, builder or customer, reviewing a scaffold in augmented reality, virtual reality, and interactive 3D is now possible with Scaffold Viewer from Avontus.
Easily upload your scaffold drawings from Scaffold Designer with the cloud and review for free with Scaffold Viewer on Windows Desktop, iOS, Android, and Microsoft HoloLens. Now you can walk through the scaffold at your desk, in a meeting, or on the job site while being perfectly safe on the ground.

ISETIA
ISETIA
helps people to plan, manage, collaborate, execute and create reports from documents on projects, programs and portfolios. It helps automate consistent and repeatable processes, increase efficiency, improve visibility and better utilize resources.
ISETIA is designed to help small, medium and large organizations manage their projects, programs and portfolios successfully. Its unique character is based on covering needs at the same high standard at all levels of organization with micro and macro planning, extraordinary multidimensional visualisation and interactive methods.
ISETIA is run on the cloud/on premises and offers a number of pre-configured modules aligned to different project environments and needs, allowing users to begin benefiting from the solution immediately.
The product is constantly under development and can be tailored to particular organization's specific needs.
Several modules are available: Document Management, 3P Management, Cost Management, Process Management, BIM Module. Also including Risk Management, Issue Management and Lesson Learned.
Advantages of ISETIA
Easy-to-use but extremely powerful
Full scalable so suits projects and portfolios of all sizes
Integrate project stake holders working on the same central database
Cost-effective licensing options
Enterprise option for multi-user, multi-project, real-time access
Provides dashboard reporting for quick executive summaries of progress
Easily integrates with other software
International support for multiple location
BIM support for 3D
Fully web base system
Support PMI and AGILE Project Management Methodology

Novade
Novade
focuses on mobile and cloud-based technology to help boost productivity and digitize processes in the field. Through speedy deployment and adoption, their app is used to improve on-site productivity, quality, safety, and more.
Their software is made up of several module applications that work separately on their own or together as a full platform, to address the various needs of a project. The company believes in boosting productivity which helps builders deliver affordable homes and infrastructure for everyone plus, delivering higher quality projects and well-maintained buildings improves our daily lives. 
Novade believes new technologies should benefit everyone. Digitization can help improve productivity, quality, and safety on sites. This matters not only for businesses, but for everybody.
The company's platform include modules that help manage your site processes:
– Quality: A complete solution engaging all key stakeholders on the project involving Inspections, Checklists and Handovers.
– Safety: Helps your business to manage safety procedures on construction sites such as Permits To Work (PTWs) or Non Conformity Reports (NCRs).
– Logistics: Manage various types of assets – equipment, tools, materials – on multiple sites .
– Maintenance: Helps schedule and automate inspections, track repair activities.
– Workforce: Manage and monitor workforces in the field and access real time information on resource allocation, location and activity.
– Activity: Manage and monitor a set of activities on site allowing Operators and Manager to keep track on status and generate reports.
They utilize cloud-based technology to ensure that all projects' data is synchronized across digital platforms, but work can continue even when there is no Internet connection. The data captured provides insights to real estate developers, contractors and engineering services providers to improve site operations.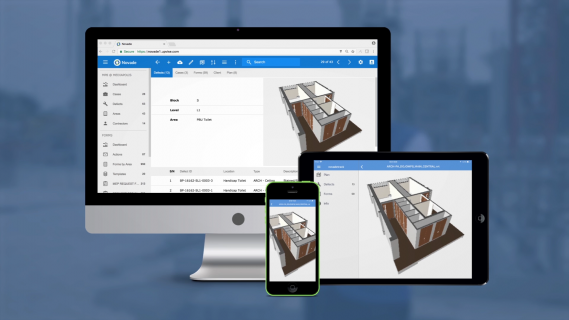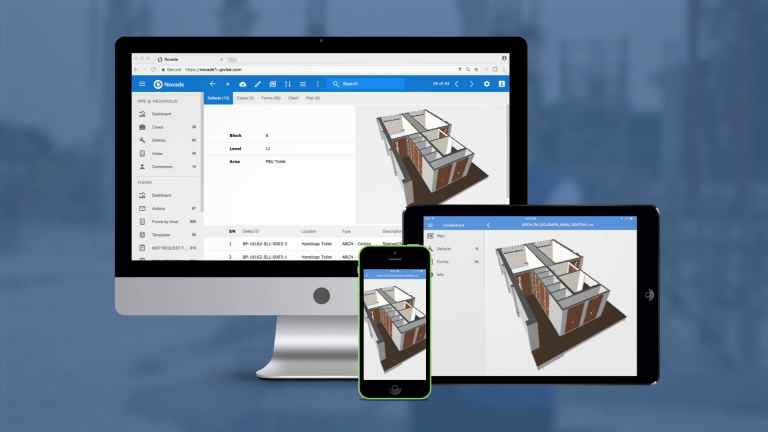 AnkiSOFT
Since 1985, AnkiSOFT has developed infrastructure software and upgrading them according to latest technologies and latest approach as in the world
The infrastructure software are;
isuCAD, "Water Supply Network Design Software"
pissuCAD, "Wastewater Network Design Software"
yasuCAD, "Stormwater Network Design Software"
isaleCAD, "Water Transmission Line Design Software"
All the software are developed for to draw/modelling/planning/design/analyse the network under AutoCAD or ZWCAD. It is possible to arrange the drawing style by using STYLE MANAGER. So you can use different drawing style in different projects and in different country standards.
You can define/draw/edit/delete/move Node, can change some/all properties of Nodes. The software will write; Nodeno and the elevation for each Node on the drawing.
You can find any Node by searching the Nodeno, can change the location of Nodeno, can renumber some/all Nodes from a specified number.
You can define/draw/edit/delete pipes, can change the direction of pipes, can change some/all properties of pipes. The software will write; diameter, length and the other properties of each pipe on the drawing.

ARES Project Management, LLC

ARES Project Management, LLC,, is a world-class provider of integrated project cost management software solutions. Organizations in more than 30 countries rely on ARES PRISM to manage the complete project life cycle of capital projects to lower cost, mitigate risk and improve project performance. With more than 95% repeat business each year, ARES is a results-oriented business partner with a drive towards 100% customer satisfaction.
What sets ARES apart from other technology project management companies is that ARES is the only complete solutions provider solely dedicated to the advancement of Project Cost Management. Successful projects involve comprehensive planning and mindful execution to ensure company profitability. Their complete solution empowers you to eliminate or reduce the obstructions that impact efficiency and performance through integrated Project Management capabilities.
The company has just launched their latest software technology 'PRISM Go',  a web extension complement to PRISM G2's enterprise project controls software, allowing remote access into the core data set. PRISM Go lets field members easily update project data in real-time to greatly improve project efficiency and accuracy, as well as increase visibility to management.