Looking at warehousing and distribution centers where business falls under, Africa is going through a fundamental transformation from the traditional (Gowdown) to Grade (A) Modern warehouse facilities. This gradual change can be attributed to the various leading shelving and racking companies across the continent.
The following are the top shelving and racking companies
Temesist Warehouse Engineering
Search for construction leads
Temesist® became a leading company in Industrial Warehouse & Racking Systems in the global markets with its innovative and entrepreneurial vision.  Temesist® proves its success by exporting products to 55 countries, among which Senegal, Algeria, Morocco, Nigeria, Burkino Faso, Somali, Egypt, Libya  and many other African countries take their places. 
They produce below racking systems :
Back-to-back racking system (Conventional)

Rack Clad Warehouse

Drive-in racking system

Mezzanine racking system

Shuttle racking system (Semi automated)

Dynamic pallet racking (Pallet flow)

Cantilever

Light duty racks

AS/RS racking systems (Full Automated)
Temesist® Company was founded in 1980 with 100% Turkish capital and, is still a leading provider of Industrial Warehouse Systems Technologies. Temesist®, has a production area of ​​17.000 m2 under one roof, in Bilecik Organized Industrial Zone, is complying TS EN ISO 15512 standards. Our rapid growth in a short period of time has turned Temesist® into  one of the most respected and reliable organizations at racking industry.
The company gives vital importance to R&D Operations at Industrial Rack & Storage Systems. The new products offered by our company to the market, approved by prestigious national and foreign universities which designed by our expert R&D Engineers. These studies are carried out in coordination with the relevant universities where the new products we design  are transferred from our R&D unit to those universities for final tests.
Their new product designs and patents are certified as TSEK (as a designer company ). In this context, our company  has received the International Global Quality Award.
Temesist® offers proven racking experience, providing best solution to its national and international customers in project management with expert staff and teamwork. Temesist® is a trusted business partner whom moving forward confidently towards its goals with superior technological capabilities and preferred by customers for many years to work together.
It is their priority to match the demands of customers in a timely manner with best suitable projects which are worthy of our credibility in the sector. The company; has embraced continuous growth in principle, through its projects which are developed and completed by fellow employees via adopting modern technologies sensitive to public health and environment to ensure job security.

Barpro Storage 
Barpro Storage is South Africa's mobile racking storage specialist, with approximately 25 years' experience in ambient, cold, & freezer storage applications Sub-Saharan Africa, Australia and Mauritius.
Their Cape Town and Johannesburg branches service all areas, offering mobile and fixed storage system design, supply, installation, maintenance and repairs. They also repair non-STORAX mobile systems, and consult on all storage-related issues.
The company specializes in mobile racking systems that have the following unique advantages:
Capacity: mobile racking accommodates almost 100% more pallets in the same volume, as compared to using fixed selective racking.
Accessibility: all pallets positions are immediately accessible which is great for stock control & rotation.
A major market for STORAX mobile systems is in chilled & freezer stores which are relatively expensive to build & run.
Barpro's fully-equipped Cape Town workshop can manufacture and dispatch top quality mechanical spares within 48 hours. Specialist parts are imported from international suppliers and stocked at affordable rates. When it comes to designing a new store, the company advises one increase the height in preference to increasing the footprint.

Akdenizrack  
Akdenizrack  Storage and Rack System, provides Turn-key solutions to warehouses, factories or office environments who require, warehouse storage racking, raised floor or rack clad buildings. 
Since its inception in 2004, AkdenizRack has proven their expertise internationally, by providing project management solutions with presence of expert staff and teamwork all over the world. Our company is a trusted business partner, moving forward confidently toward its goals with superior technological capabilities and offering the same to customers.
Having partnered with  Achelis Material Handling Limited to provide a total warehouse solution in the East Africa Region, We look at utilizing the space by adding a racking system that can double the amount of goods you're able to handle in your warehouse and adding forklifts or Reach trucks to a basic warehousing operation resulting to a leap in efficiency. 
Akdenizrack's unique aspect is that they have a production area of 17,000m2 which is producing racking systems according to approved international standards i.e. TS. EN. ISO15512.
The company use the most advanced techniques in manufacturing of their wide range of products i.e. Pallet Racking, Mezzanine, Flow Rack, Drive In, Rack Clad etc. They are here to help organizations increase efficiency, boost productivity and grow their business by maximizing space and improving storage systems.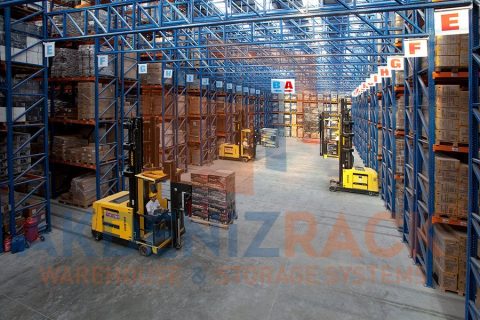 SSC
SSC has been in the new and second hand shelving and racking industry for over 30 years offering their services to both small and large companies. They install, repair and even relocate racking from one place to another.
SSC takes pride in offering decades of quality services in new and second hand shelving and racking manufacturing industry. Their clients benefit from low-priced shelving & racking, convenient & faster delivery as well as service excellence in the greater Gauteng (Johannesburg & Pretoria) and South Africa at large.
One of the unique aspects the company boasts of is having their second hand shelving load tested, checked, refurbished before it leaves their workshop.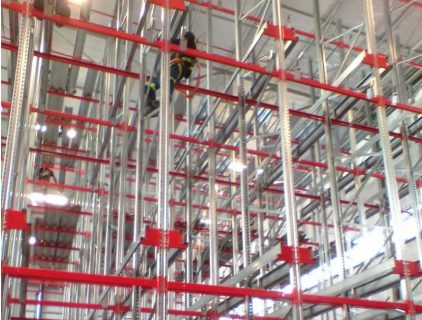 Universal Storage Systems
Universal Storage Systems, is a leading manufacturer of industrial racking and shelving  systems. The company, through the use of its own research, technology and highly trained engineers, plus access through international relationships, has a reputation for being able to find solutions to most storage challenges.
Serving the Republic through a network of company branches and distributors, Universal Storage Systems has developed a reputation for excellence in South Africa. Top Management and all employees of Universal Storage Systems (SA) Pty Ltd are committed to maintain and further improve the Company's Quality Management System, which has been developed and established in accordance with the requirements of ISO 9001 International Standards. All installations conform to SEMA Code of Practice and tolerance grades.
The company advises clients to deal with the manufacturer directly, as you will then have all the design, manufacturing and logistical backup that will be needed. Also ensuring that you are able to maintain the system you have, should MHE damage the system or you need to add-on or change the configuration. Certification is now paramount as this has a direct influence with regards insurance, health and safety, which is standard with manufacturer supplied and installed systems.
LinkMisr international
LinkMisr International is a leading Industrial company specialized in the manufacturing of Shelving and Racking systems serving the Egyptian, and the International Markets for over 25 years and since 1993.
LinkMisr International caters for complete solutions from presales consultancy, design, supply, installation, and after sales services managed by a highly qualified, versatile, creative and professional team locally and backed by our Joint Venture partners. 
Their product ranges include shelving systems for diverse applications to meet different customer's requirements including:light load shelves, medium load shelves, and heavy load racks which is quite complementary with your product range. These are manufactured under license of Link51 (UK) and Lista AG (Switzerland). Link51 is a shareholder in the Joint-Venture Link Misr International.
The company has expert engineering team for the design & verification of steel storage rack using modern engineering powerful tools for design and in-home test lab for testing components & connections.
"Try to use the vertical space before investing in new buildings and new distribution centers. This will mean better utilization of cubic meters and will reduce overall cost of storage per units. Calculate the amount of space needed to store a single pallet and hence calculate the overall highest number of pallet positions you can store in the same area and volume," Mohamed Elhusseiny Export Development Manager suggests.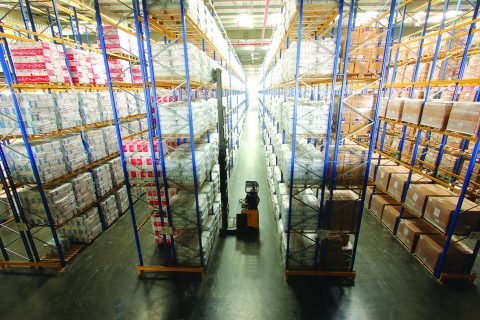 ESE Manufacturing
ESE Manufacturing is a proudly South African shelving and racking company established in 1998. It is owned by Mr Stanley Aucamp and supported by a professional team all working to a common goal and that is to provide the trade and retail industry racking, gondolas and bolted shelving at the best price with the best service possible.
Through the years they have added more products like baskets lockers, display units and counters. All their bolted shelving, gondolas, racking systems are made from the best material available in South Africa.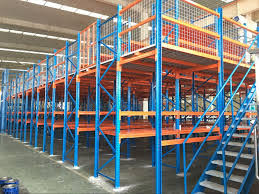 Acrow
Acrow  is one of South Africa's largest storage and construction equipment manufacturers. They have been the pioneers of new ideas for reliable and efficient storage, materials handling and construction solutions since 1946.
With a global reach, Acrow has appointed representatives and agents available in South Africa, Africa and Internationally. Acrow is an SABS accredited company and has manufacturing facilities in Johannesburg, Cape Town, Durban and Italy.
Acrow focuses on warehouse design and turnkey projects by supplying racking, shelving, scaffolding, formwork, wire trunking, cable reticulation, and strut. This means that all Acrow products are available in component form for self-assembly or are supplied as part of a professional design and installation service provided by Acrow.
With the wide range of options and components available, all Acrow systems can be tailor-made to meet precise needs and requirements, ensuring the best value and customer experience.
All Acrow product batches are laboratory tested and manufactured following SABS ISO 9001: 2015 standards which is monitored for full traceability. In addition, Acrow manufactures according to SEMA, FEM and BS EN 15512:2009 standards.
Acrow products are developed constantly and are customized to the ever-changing needs of warehousing, distribution and construction markets both locally and internationally. The company's advice to a potential customer is " Don't buy the most technologically advanced racking because a consultant has sold it to you. Consider your business case and decide what best suites your needs. Sometimes an advanced system of automated picking and high-density storage will be optimal, but sometimes simple racking will do the trick."