The African continent has in the recent past awakened and as the rest of the world, it is now gradually switching over to the "Go Green" revolution with the increasing awareness about environmental pollution and degradation of natural resources.
The continent is now turning from hydroelectric, geothermal, coal and other hazardous sources to more environment-friendly, cheap and feasible option i.e. solar power.
Search for construction leads
This sudden increase in the popularity of solar products in Africa has given solar product manufacturers, distributors and installers around the world numerous growth opportunities in terms of sales and innovations in the recent past.
Below is a list of top solar companies from around the world that have tapped into the African market and which are committed to enable the Sub Saharan Africa realize her full power potential:
Trina Solar
Founded in 1997, Trina Solar is the world leading global PV and smart energy total solution provider. The company engages in PV product research and development, manufacture and sales; PV project development, operation and maintenance; smart micro-grid and multi-energy complementary system development and sales, as well as energy cloud-platform operation.
This year, Trina Solar has been recognized as a top bankable module supplier based on the annual survey of Bloomberg New Energy Finance (BNEF), four times in a row. It means Banks are comfortable providing non-recourse loans to solar projects that use PV modules from Trina Solar. The company has also been named a "Top Performer" for its outstanding module reliability and power generation performance among global module manufacturers for the fifth time in a row. This was based on the annual PV Module Reliability Scorecard, published by PV Evolution Labs (PVEL).
As one of the most experienced PV suppliers, Trina Solar has a comprehensive product portfolio of highly efficient solar panels to meet various needs of application scenarios worldwide. Supported by the  State Key Laboratory of PV Science and Technology of China, which has achieved 19 world records in terms of conversion efficiency and output power, Trina Solar has led the industry  with multiple innovative PV technologies including N-type i-topcon, IBC etc. It also has strong capabilities to solve the difficulties of technology integration, in order to better minimize the LCoE for customers.
On top of the high-efficiency modules, the company also provides value-added integrated solar solutions, including TrinaPro for utility-scale installations, commercial and industrial solutions, as well as residential solutions.
TrinaPro is a smart PV solution which is designed for utility scale ground mount, floating solar projects and commercial applications by systematically integrating 3 core components: highly efficient modules, smart tracking systems and reliable inverters. TrinaPro achieves innovation in hardware and software service process plus cloud platform.
Trina solar business has covered more than half of the African countries including South Africa, Egypt and Morocco among others.
Managing Director/VP Middle East &Africa from Trina Solar, Jimenez Antonio says " I would like to advise customers that when considering the cost-effectiveness of PV products, not only the price, but also the reliability, quality and efficiency are core metrics for lowering the BOS and LCoE of PV projects,  in order to get a robust return on investment."
In addition he says, "Due to the working environment, it is also important to consider that different solar application scenarios requires different types of PV modules for the best performance of power generation in products' lifecycle. For instance, some regions of Africa may have high temperature and high humidity working environment for PV modules, there for, customer could consider to choose modules in glass-glass structure with highly reliability, which could well protect modules from the environmental erosion like UV aging and micro-cracking."
"Moreover, power warranty is also important. Trina Solar provides 25-year power warranties for its most products, and even a 30-year warranty for its Doumax and Doumax twin series." he concludes.
Haining Sunfull Solar Technology Co., Ltd
Located in Haining City in Zhejiang Province of China, Sunfull Solar is a hi-tech enterprise which is specialized in the research and manufacture of solar vacuum tubes, solar water heaters and solar collectors by the use of advanced technology and comprehensive facilities.
The company has been devoted in assisting the world to collect and convert energy from the Sun into hot water. It has been actively exporting their products to the African countries including but not limited to the following countries; Burkina Faso, Mauritius, Somalia and South Africa.
The Sales Manager at Sunfull Solar, Amy says the most valuable advice is: "Although most of solar water heaters look similar to each other, the manufacturing details will be different inside. And our factory can provide the most reliable quality to our customers, which can avoid many after-sale troubles for you for 100% sure."
Elsol – Solar Energy Systems Ltd.
Elsol is a solar company based in Israel that specializes in designing, producing, marketing, installing and servicing solar hot water systems, solar thermal systems, cogeneration and energy saving products.
The company has long experience in solar thermal field of producing hot water to large systems that can be applied in hotels, hospitals and the industry as well as vast knowledge in supplying economical and individual systems of high quality in reasonable prices without compromising the quality of their products.
Elsol solar systems can be found all over the world including South Africa, Kenya, Rwanda, Ghana and Zambia in Africa.
Eli Shilton, the Elsol's Managing Director says, "I would advise customers to look into the experience and knowhow of their supplier and more importantly to look at their record in service."
YIWU GREENWAY IMP & EXP CO., LTD
(Greenway Solar Energy Co., LTD) is the one stop supplier for solar irrigation and solar off grid home systems located in Zhejiang china.
Yiwugreen is the only company that can provide water irrigation (whole solar water pump system) from china. Their main products are Solar Dc brush submersible pump, Solar Dc brushless submersible pump, AC 220V / 380V submersible pump, AC/DC solar water pump inverter, Solar home system, Mono and Poly new and china top brands Stock solar panels. The solar pumps range from 100watt to 110 kW and they come at economical price and a long life span.
These company has the capacity to deliver their products to customers around the world. In the last four years, Yiwugreen has installed more than 400,000 solar water pump systems in Middle East, Africa and East Asia.
"Normally people have problems with solar pumps, pump inverters, or they do not know how to match the complete system, and that's where our whole system products come in, saving customers the headache. It is a onetime expenditure that sets you free from maintenance, on grid bills and oil costs giving you the freedom to enjoy free, green and new energy." Says Mr. Noori the sales director in Yiwu Greenway Co Ltd.
JLS (Huizhou) Co., Ltd
JLS-CHINA solar is a vertical integrated solar LED Street light & LED lighting Manufacturer based in China.
Their solar lights are a stand along Off Grid Outdoor Lighting System that enable a customer to install in any remote location. They have Dual Axis Rotation on the Solar Panel itself, and have unique design that maximizes the ability of the panel to direct the light exactly where it is needed while giving optimum solar efficiency in a single unit. The products have LiFePO4 Battery & MPPT Smart Control System plus 5 YEARS WARRANTY.
JLS China has provided solar lighting solutions to facilities in African countries including Somalia and their products can be found in Morocco, Tanzania and Rwanda as well. Tanny Lian from JLS-CHINA solar company marketing department says, "A customer should look for a company that specializes in solar energy and that has long term experience in providing products and services. Also focus on products quality and guarantee, sample test first."
She also added that when looking to buy street solar lights focus on battery type products and also on the performance of the solar light.
Sidite New Energy Co., Ltd.
Sidite New Energy is a solar water heater and solar collector manufacturer founded in 1999. For over 15 years, the company has not only accumulated leading technology and rich experience in manufacturing products according to client's different demands, but also supplied more than 20 million sets of solar water heaters worldwide.
In Africa, Zhejiang Sidite New Energy Co., Ltd products are present in Egypt, Kenya, Morocco, Mauritius and South Africa just to mention a few.
William Lu, the sales manager for Zhejiang Sidite New Energy Co., Ltd says that solar power is a great investment for a customer to put their money in.  "You only Invest once and gain more for over ten years."
Besides Solar power products, Sidite New Energy now has Wind turbine systems as well.
UKSOL Ltd
UKSOL is a British solar energy specialist with global reach and visionary ambition, delivering high quality, affordable solar technology supported by a secure 30-year warranty.
The global market for solar equipment and installation is in its relative infancy and, as such, is too often characterized by opportunists with little sense of fidelity to the customers they serve. Against this backdrop, UKSOL recognizes the importance of bringing the sincerity, adaptability and commitment often associated with British business practice to solar panel projects around the world. It is this quintessentially British approach that allows the company to do things differently and support their customers with the first-class care they need and increasingly expect.
UKSOL has developed a growing network of exclusive solar technology resellers worldwide, including Africa's Morocco, Kenya, South Africa, Ghana, Gambia, Ethiopia, Mali, South Africa, Nigeria, Mauritania, etc., with the United Kingdom branch serving as the network's hub.
UKSOL's Catherine Moore says it's high time for customers to value British Solar products due to their competitive prices and long-term warranty.
The company sees its future at the heart of global developing markets, leading Britain and the world in delivering safe, low-cost solar energy and laying the foundations for economic freedom and prosperity in the 21stCentury.
Macro-Solar Technology Co., Ltd
Macro-Solar is a professional solar panels manufacturer established in 2006. The company has fully automated production line with high quality and stable working performance, a strong R&D team to ensure customization solution, and 10,000 square meters factory guarantees fast delivery time plus adequately satisfactory technical support and after-sale service.
Macro-Solar PV modules have been delivering strong operating performance, providing clean & reliable solar electric power to on-grid and off-grid residential, commercial, industrial and utility scale applications to a wide range of clients from around the world including but not limited to Kenya, South Africa, Congo, Lebanon and Syria in Africa.
"Solar is the best energy in the world, why not go solar?"  Jack Ma, the sales manager of Zhejiang Macro-Solar Technology Co., Ltd poses a challenge.
Anern Industry Group Limited
With over ten year's existence in the solar industry, Anern is the leading manufacture of LED Lighting and Solar Applications systems based in China. The company owns professional factory, equipped with advanced production equipment, specialized production line, talented R&D team and it adopts worldwide leading technology, through international standard management and strict quality control to ensure the stable-performance and high-quality for their products.
Their products range from solar lights, solar power system and all kinds of LED lights as well as solar garden lights. The company can in addition offer OEM services as per clients specific requirements, customize the solar system and LED lighting solutions in the practical application.
Anern has the highest solar sales growth on Alibaba and has exported their products to over 200 countries worldwide.
Qixin New Energy Technology Co., Ltd
Qixin New Energy Technology (QXPV) was established in 2005 in Xiangshan County, China. It is a company that integrates the research and development of photovoltaic products as well as the investment, construction and operation of photovoltaic power plants.
Currently, the company has 6 automated production lines with cell and module capacities of 300MW and 700MW respectively which can be used in Industrial and commercial photovoltaic power station, Public building photovoltaic power station, Photovoltaic poverty alleviation station and  Centralized photovoltaic power station not to mention Household photovoltaic power station
Never the less, QXPV has over five years' experience in installation and operation of all sorts of power plants, from commercial to house hold PV power plants, and it has a total of over 200MW installed.
In Africa, the company has established branches in Kenya, Tanzania, South Africa, Egypt, Uganda, Djibouti, Benin, Nigeria, Ethiopia and Morocco among others.
The overseas Sales Manager for QXPV Mr. Mahad says "Solar Energy is an Investment. Like any other investment, initially it feels very hard to put your money in it because it sounds a lot, but if you think about the returns it guarantees, you find that it's worth taking the risk. So pay once and enjoy uninterrupted benefits for at least 25 years"
Qixin New Energy is devoted in "creating a green and environmentally friendly living environment for the world". Adhering to the core values ​​of "integrity, pragmatism, efficiency, innovation" and the business policy of "creating value for customers, benefiting employees, and contributing to society".
Ib vgot GmbH
ib vogt is a family-owned company established in Germany in the year 2002. It focuses on designing, engineering, developing and delivering high-quality large-scale turnkey PV plants around the world in conjunction with a strong network of local development partners.
For Turn-key Investors and Customers, ib vogt delivers turnkey PV assets with attractive risk-weighted returns. They also offer an all-round service from project development to end of lifetime, accompanied by thorough documentation and certification. Nevertheless, the company selects the best suppliers and components, and combine them with German engineering for longevity, high performance and reliability.
ib vogt is present in more than 55 countries. With its headquarters in Berlin, Germany, the company has other offices in UK, USA, Australia, Panama, Poland, Spain, India and South East Asia, as well as several joint ventures across Africa.
Zheijiang Jiajiare New Energy Co,.Ltd
Jiajiare is an integrated enterprise specializing in the development, research, production and sales of solar water heaters. The company began research and development of solar water heaters in 1995.
The company's "Jiajiare Hot" brand water heater has become the company's leading product and is the recommended green product. Other products include Heat pipe solar collectors, Compact pressurized solar water heaters, Split pressurized solar systems, flat plate solar water heaters, compact non-pressurized solar waters heater and solar manifold projects.
Jiajiare Hot New Energy has distributers in Kenya, Zimbabwe, South Africa, Uganda, Zambia, Tanzania etc. At the same time, the company meets domestic demand and exports to Europe, North America among other countries and regions.
Vincent Xiao, the sales manager at Jiajiare advices customers to, before purchasing solar system, present the details of their needs and the region they want to install the solar systems to an expert, so that they can be advised accordingly.
"This is because solar systems are made for different purposes, and without proper guidance you might land on a product that will disappoint you after installation." He concluded.
POWER-SOLUTION IND CO., LTD
Power-Solution is a professional and Quality manufacturer and supplier of various kinds of solar lighting solutions based in China.
The company mainly manufacturers/supplies solar reading lamps, solar lanterns, solar kits as well as solar home lighting systems all of which are of good quality standards based on ISO, SGS, BV, COC, PVOC, SONCAP, SASO, CIQ, CE, RoHS, etc and they all are practical, reliable and come at affordable prices.
Power Solutions also offers OEM & ODM services, professional support services and after sales support services for their clients. Shenzhen power-solution ind co., ltd products have been used mostly in East Africa and some parts of Central, South, and West Africa. Alva Peng, the Partner Manager for Power Solutions says, "a customer should consider quality products first, with good service and that will be durable, and practical for them."

SHENZHEN SACOLAR NEW ENERGY CO., LTD.
Sacolar is a technology-oriented new energy technology enterprise based in china, dedicated to solar power product design, development and production. The company covers both high frequency and low frequency power inverters, MPPT solar charge controller, solar pump inverter, off-grid solar inverter, UPS and many more.
Most of Sacolar products are fitted with monitoring function which enables clients to keep track of the PV system by using a computer website or mobile APP. Sacolar Company has resellers in South Africa, Zambia, Zimbabwe, Nigeria, Morocco, Algeria, South Sudan and Burkina Faso.
For the other countries in Africa the company has not settled a distributor yet, but it has sold products to them including East Africa's Kenya and Tanzania, Mozambique, Congo, Côte d'Ivoire, Mauritius, Mali, Ghana and others.
Leo Tian the sales Manager for Sacolar Company says, "If you are an installer or into DIY, strive to learn how to match the most suitable system, e.g. how to match inverter, battery or solar panel based on the house loads and If you want to be a distributor, don't look for service providers to provide a whole system, try to get the products from a manufacture and learn how to match each part of the system as well."
GTC Solar Industry and Trade Inc.
GTC Solar Industry is a PV module manufacturer established in 1995 at Istanbul, Turkey, as an independent company.
All of GTC's products comply with the highest quality standards and stand out through high performance and top design.
For instance their 6X modules have a service time of up to 50 years with minimal external degradation. They minimize required land, maximize output per m2, reduce mounting system cost, and drive up strings Voltage to 1500 V. This modules can be used in Rooftops (Flush) and Ground Mounting where they dispose of grounding to minimize cables used and decrease set-up time.
On the other hand, their panels are dual glass bifacial enabling them to capture light from 360˚ boosting yield up to 20% with an ideal Albedo as well as optimizing customer's power plant with higher string voltage – 1500Vdc while maximizing the area used with high power modules and they reduce CAPEX for the solar system to balance. They also decrease heat power loss, preserve their performance and structural integrity across time and different weather conditions (6x higher than IEC standards), protect cells to crack even with extreme glass bowing under load (up to 5400 pa). Never the less, they avoid edge pollution and allow snow or sand/dust to slide down easily due to their frameless design.
GTC products can be installed as Sun breakers / Canopy, and Façades/ building envelopes. They can also be used in Carports, Greenhouses and Water Floating PV plants.
Ayse Besen, GTC's CEO advises customers not to be intimidated by high prizes, but instead focus on the long term returns. She says, "It is OK to pay just 10% extra on quality products and enjoy more than 40 years' service."
GTC's aim is to improve the reliability of their products, the continuity of the supply chain and customer satisfaction by minimizing all risks by producing the highest quality technological products.
LINUO RITTER INTERNATIONAL CO., LTD.
Linuo Ritter International is a subsidiary of Linuo Paradigma – the first Sino-German joint venture in solar thermal market since 2001 and one of the industry-leading companies in China.
Linuo Ritter product portfolio ranges from evacuated tube and flat plate solar collectors to solar thermo siphons for solar water heating, process heating and solar cooling to electric water heaters, gas water heaters, air source heat pumps and other water heating solutions. It also offers OEM services to customers who prefer it.
The company provides their services to customers in more than 40 countries worldwide, and has since 2010 exported more than 1 million sq. solar thermal products to overseas market including Africa.
Sunny Wang, the Sales Manager at Linuo Ritter International Co., Ltd tells customers looking to go solar to "Just go Ahead" as green energy is always the right form of energy.
ZILAN SOLAR TECHNOLOGY CO., LTD
Zilan Solar is a Chinese company that produces and supplies solar water heaters, solar collectors, solar panels and LED lights. The company has a big team working on design and development every day, real material for their products and promised warranty services.
In Africa Zilan Solar products can be found in Kenya, Zimbabwe, Nigeria, Egypt, Morro, Malawi, Senegal and Tanzania among others. The sales manager for Zilan Solar, Krista Zhang, says "Don't save money to experience headache maintenance. Value is always equal to the quality!"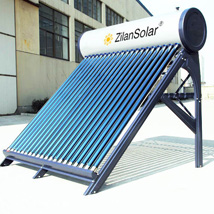 Azuri Technologies Ltd
Founded in Cambridge in the United Kingdom, Azuri Technologies is a commercial provider of pay-as-you-go solar home solutions specifically designed for off-grid households.
The company has uniquely combined cutting-edge solar innovation, mobile payment and management technology as well as machine-learning technology to deliver small, affordable solar systems that enables off-grid families, without access to main electricity, to generate clean and reliable power for their homes.
With Azuri solar solutions, customers have a stand-alone solar system in their house, with a panel, control unit including batteries and consumer devices such as LED lights, rechargeable radio and television. The system is paid in 2-3 years small increments by use of mobile phone, making it the most affordable for low-income families who no longer have to rely and purchase harmful fossil fuels.
The two most popular Azuri solar solutions include Azuri Quad solar home lighting system and AzuriTV. Azuri Quad comes complete with 4 LED lights, 10W solar panel, rechargeable radio and rechargeable torch and mobile phone charging facility while, AzuriTV features 24-inch or 32-inch solar smart TV with over 60 satellite channels, complete with 4 LED lights, rechargeable radio and rechargeable torch and mobile phone charging facility.
Unique to Azuri is HomeSmart, machine-learning technology designed and developed by the company, which monitors the customer's usage and regulates the amount of power throughout the day to ensure households have the energy they need when they most need it. So even on cloudy days, the Azuri systems will ensure 'light at night' and not shut down, which typically conventional solar systems do.
This products are available in over 12 African countries to date including Nigeria, Kenya, Tanzania, Uganda and Zambia. Azuri works closely with local distribution partners who understand and have in-depth knowledge and experience of the Africa continent challenges, particularly last-mile distribution. Furthermore, Azuri technologies does not believe in distant call center service. It has therefore employed local agents on the ground, who are able to visit and be in contact with the customer on a regular basis.
Gina Ghensi, the Head of Marketing at Azuri Technologies Ltd says, "Solar offers customers affordable, immediate and reliable access to energy. At the moment many households use harmful fossil fuels such as paraffin to fuel lamps or use candles in the house which pose a danger to families. Solar is a clean and affordable energy source."