Surveying play an integral role in the construction industry. As in most things technical, advances in technology and systems have brought about dramatic changes in surveying as laser mapping and scanning systems for topography. All these advanced surveying equipment promise greater accuracy and precision, durability, and robustness. The following firms are the top surveying equipment manufacturers in the world.
Robert Bosch GmbH
Robert Bosch GmbH, or Bosch, is a world leading multinational engineering and Electronics Company headquartered in Gerlingen, near Stuttgart, Germany, founded by Robert Bosch in Stuttgart through his early desires to be self-employed in 1886.
Search for construction leads
Right from the start, Bosch Company was characterized by innovative strength and social commitment through performing all the precision mechanical and electrical engineering work that came his way, such as installing telephone systems and electric bells back in the 80s.
Bosch Service Solutions is a leading international supplier of business process outsourcing solutions that facilitate customers' needs both private and commercial. The company communicates honestly and responsibly to deliver value-added services to clients who share in their goals of quality, growth, and profit.
They offer services in areas such as; multimodal transportation services, brings together vehicle technology, the data cloud, and services to offer complete mobility solutions, provide solutions for complex, technology-driven services, develop and operate new and innovative business models with clients.
Bosch develops innovative, high quality power tools that are guaranteed to produce professional results in all fields of craftsmanship. The tools are reliable, powerful and robust, fulfill the highest demands, and make your work easier. The company has Bosch cordless tools which excel especially due to their long lifetime, high performance capability, and very long runtime.Bosch software solutions help companies improve the way they run their businesses and bring new revenue channels and products to life.
Topcon Inc.
Having a core business founded on the surveying instruments, Topcon Inc. have maintained a leading rank in survey equipment manufacturing since establishment in 1932.
The company operates in three segments; the Positioning Business, which uses high-precision GNSS positing technology to achieve the automation of civil engineering construction and farming, the Smart Infrastructure Business, which applies the surveying technology the company have developed since their founding in the fields of infrastructure development and structural maintenance and management, and the Eye Care Business, which offers advanced solutions in the field of ophthalmology.
Thanks to the company's network of production, development, and sales locations, Topcon products and services are used throughout the world with overall sales ratio of 79% in FY 2015. They have also expanded business domains through M&A and alliances.
Topcon's major hit product was in 1978 when the company released the DM-C1, the worlds smallest and lightest electro-optical distance measuring instrument and theRM-100, the world's first refractometer to utilize near-infrared light and enable measurements utilizing on-screen operations via a TV monitor. These two products became explosive hits which brought about dramatic changes in Topcon's company structure.
Turner Morris Autobuild Africa
Turner Morris was established in 1936 and has grown into a substantial company servicing the survey and construction industry. The company has acquired some of the top Chinese and Italian suppliers and distributors for their equipment.
The company supplies stonex GPS systems and Total Stations, Topshot Theodolites, Geo Allan Total Stations, Lesai Lasers and Precision Theodolites and Dumpy Levels and Giant Precision Instruments Lasers which guarantees highest quality products with survey accuracies and the ruggedness and durability to handle most conditions at extremely affordable prices and the backing of the suppliers to aid and assist in your workings.
Moreover, they also have the Agency for Mobile 3D Scanning from Gexcel. The Turner Morris group have branches in Namibia, Mauritius, Mozambique, Eswathini, Zimbabwe, Zambia and Mauritius and 15 branches in South Africa and currently have state of the art survey calibration and repair facilities in Johannesburg, Durban as well as Cape Town.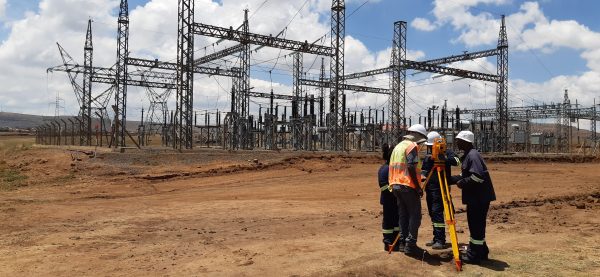 Trimble
Trimble develops and manufactures products that allow surveyors to do their jobs with more accuracy, efficiency and collaboration than ever before. For example, surveyors around the world utilize Trimble's high-performance and rugged total station surveying solutions to maximize productivity while offering scalability to adapt to future challenges and opportunities. 
Trimble is also the leader in GNSS, with a suite of products that address the full range of GNSS needs, from entry-level solutions to highly configurable GNSS systems. 
The Trimble TSC7 Controller brings a powerful tablet experience to the field, with a 7-inch touchscreen that supports pinch, tap and slide gestures. The Trimble Siteworks Positioning System for Construction Surveyors and Trimble Siteworks Positioning System for Supervisors provide next-generation survey software for construction workflows and allow users the ability to work with larger, more complex 3D data sets more effectively in the field.
Trimble Siteworks software also features full GNSS tilt compensation functionality in standing, walking and vehicle modes. This allows construction surveyors to capture accurate points without levelling the pole, making surveying in areas such as building corners accurate, fast and easy. Trimble's products and solutions allow the surveyor to take on a broader role within the overall project. 
SokkiaCorporation
Sokkia Corporation is the United States subsidiary of Sokkia Co., Ltd., Tokyo, a world-leading manufacturer of precision measuring systems and provides diverse product line of complete solution for surveying, mapping and GIS, industrial measurement and construction applications.
For more than 85 years, Sokkia's complete line of surveying instruments, GPS products and accessories have provided its customers with quality the company boast that it's found nowhere else. With decades of experience, the company backs its products with the industry's most complete service and support capabilities, including regionally-located sales managers, technical support, online help, product training and a factory-trained repair staff and service facility.
The company's promise of 'precision and reliability' is displayed by their commitment to deliver products and solutions that are highly accurate, reliable, and developed to meet the needs of customers in their business areas: surveying, construction and industrial measurement.
Leica Geosystems
Formely known as Wild Heerbrugg, Leica Geosystems is a Switzerland based company that produces products and systems for surveying and geographical measurement (geomatics). Its products employ a variety of technologies including GPS satellite navigation and laser range finders to enable users to model existing structures, terrains in computer based systems to high accuracies, often under 1 cm.
The company has a team of well-qualified and competent team of engineers and consultants supports who have rich experience in the field of Scientific and Electronic instrumentation, control systems and Surveying Instruments that meet the exact requirement of their customers.
Gottlieb NESTLE GmbH
Gottlieb NESTLE GmbH – Germany is manufacturer of high quality and reliable equipment and accessories for land and construction surveying such as tripods, prism poles, GNSS poles, controller holder, measuring wheels, scan spheres, warning pyramids, levels, rotating laser and further more.
Since over 80 years the company is well known for strongest equipment and accessories on the surveying market. Gottlieb NESTLE GmbH is proud to offer one of the completes range of products for the surveying market.
Regular innovations help their customers solve their daily surveying tasks. One example are the carbon tripods GEO and JUMBO for surveying instruments.
Somsurvey instrument
Somsurvey mainly sell GPS equipment for an extremely affordable price. The company has full survey ready system including software and controllers with all accessories. Their system offers interchangeable capability as well as NTRIP capability. They also sell photogrammetry software(3D Survey) as well as drones
One of the products the company boasts about is the Reach RS2 which is engineered to be waterproof and impact-resistant. Its body is manufactured in a two-step injection process and is made out of shockproof polycarbonate covered in a special elastomer for extra protection. The receiver has an industry-standard 5/8'' mounting thread.
The LiFePO4 battery of Reach RS2 is designed for 16 hours work as 3.5G RTK rover on one charge regardless of weather conditions. No more need to carry spare batteries with you. Reach RS2 can charge from a USB wall charger or a power bank over USB-C. RS232 interface allows to connect Reach RS2 directly to external hardware and output position in NMEA.
V.I instruments
V.I instruments distributes Ruide, South, GeoMax (survey equipment and accessories) and Troxler (nuclear gauges) throughout the Southern African region. It is a member of the Hudaco Group, a J.S.E. listed company and a division of Rutherford.
The company supplies 3 Brands of Survey equipment: South, Ruide, and Geomax. One of it's unique aspect is having developed an underground mining survey package that allows for the installation of Survey pegs in the hang wall, Taking of sidewall offsets, Installing of Grade Lines, staking of reference lines, and performing 2 point free station to set up at a convenient location. These instruments are specially converted and certified as intrinsically safe for use in fiery mines.
Afgen
Afgen was established in 1946 and are importers and distributors of surveying equipment and related products to the surveying, construction, mining and earth moving industries and we manufacture alignment laser products for underground mining and tunneling applications.
The company's unique aspect include;Quality, Reliability, High precision, User Friendly, Survey equipment for all applications, Latest Technology, Free Support and Accredited Service Centre.
Their ISO 9001:2008 Accreditation covers the supply, manufacture, service and repair of all our products. Along with this accreditation the company is proud to have received several SABS Design Awards and was first selected as one of South Africa's Top Technology companies in 1992.