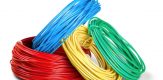 The following are the top wire and cable brands in the USA
Belden Inc.
Belden Inc. delivers a comprehensive product portfolio designed to meet the mission-critical network infrastructure needs of industrial and enterprise markets. With innovative solutions targeted at reliable and secure transmission of rapidly growing amounts of data, audio and video needed for today's applications, Belden is at the center of the global transformation to a connected world. Founded in 1902, the company is headquartered in St. Louis and has manufacturing capabilities in North and South America, Europe and Asia.
Alpha Wire
Search for construction leads
For over 95 years, Alpha Wire has developed products designed to offer superior performance and reliability across demanding applications. From the harsh environment of a factory floor to advanced medical device cabling, Alpha Wire solutions meets and exceeds your application's requirements. Alpha Wire is certified to the ISO 9001:2015 and ISO 1345:2016 standards.
Lake Cable
Lake Cable is a privately held wire and cable manufacturing company specializing in Instrumentation, Tray, Thermocouple, HVAC, Fire Alarm, Broadcast, Communication, Utility and custom made wire products.
The company serves the following markets: Power Generation, Substation Control, Renewable Energy, Commercial Construction, Petro-Chemical, Marine, Oil, Gas, Pulp & Paper, Iron & Steel, Food & Drug, Waste Water Treatment, HVAC, Transit, Security, Fire Alarm, Automotive, OEM, Broadcast, Industrial Automation and Building Management Systems.
Also Read: 7 proper steps to follow when wiring your house
Philatron
Philatron is a major wire and cable manufacturer in the USA, and is a leader in technology, creativity and innovation – offering a full range of bulk wire & cable supply options and molded electrical cable assemblies – specializing in extra large size flexible cables and coiled cables/cords. Capability: From 12 volts to 35,000 volts / From 28 AWG to 4,000 MCM / From 1/16" to 3.75" diameter cables.
As a full service custom wire and cable manufacturer, Philatron offers FREE DESIGN service for cable solutions. Markets served are Airport Ground Support Electrical Power, Automobile /Heavy Duty Trucking, Consumer, Electrical Distributors, Electrical Vehicle, Entertainment, Medical, Military, Mining, OEM, Oil & Gas, Transportation, and Utility/Power.
LÜTZE
A tradition in automation for over 60 years; with countless pioneering achievements, LÜTZE is today one of the leading firms in the wire and cable industry worldwide. Mr. Friedrich Lütze founded Friedrich Lütze GmbH in Weinstadt near Stuttgart, Germany, in 1958. Since then, electronic and electrotechnical components and system solutions for automation and high tech for rail engineering have been designed and produced there.
Since the founding of the firm, it has been the corporate philosophy to be among the leading suppliers in the automation industry featuring highly innovative and efficient products. LÜTZE is investing considerably more in research and development than the industry average. The family business is managed by the second generation of Mr. Udo Lütze.