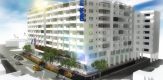 Carlson Rezidor which is a Brussels-based global hotels group is planning to open an additional four hotels in Kenya in the next three years.
Also read:16 hotels in Kenya to be constructed in the next five years
This initiative will lead to the creation of almost 1, 000 jobs. Carlson Rezidor presently employs about 400 people at the already operational Radisson Blu outlet in Upper Hill, Nairobi and construction workers at Park Inn, and Residence hotels in Nairobi.
According to plans, the company is targeting to open the upper mid-market Park Inn and Residence hotels by the end of April and December, respectively. Park Inn was initially scheduled to welcome its first guests in the fourth quarter of 2013, but the date has been postponed several times due to unavoidable circumstances.
Apart from the mentioned hotels, the firm is also eyeing two additional outlets at the coast and Nairobi regions; this is according to the senior Vice President, Business Development, Africa and Indian Ocean, Andrew McLachlan
"We are looking for space along the coast for our next project and we are looking into having it in Mombasa or Diani beach," said Mr. McLachlan.
"In Nairobi, we are planning on setting up our latest brand, the Radisson RED, that targets tech savvy and young people. We feel that the city is ready for a smart hotel and the market would most definitely understand the casual brand," he added.
The fast growing firm, which has two hotels under the RED brand and is set to open the third outlet in Cape Town in September, also has interest in bush tourism. It sees Kenya as a key target for its hospitality business as it remains a center of attraction for companies setting up operations in the region.
"Nairobi is an alternative to Johannesburg. The city's security has improved making it a good place for leisure and business. It is a great Mice (meetings incentives conferences and exhibitions) destination which drives a lot of business for us.
"Africa is currently our most important emerging market and we are looking to grow to 23,000 rooms from the current 16,400."
The firm is set to grow the Quervos collection, a luxury brand, in Africa aggressively and has begun by unveiling The Pearl of Africa Hotel in Kampala.
The hotel is set to be opened in the second quarter of this year. The 296-room property is being developed in partnership with the AYA Investment Group.
Carlson Rezidor was named the fastest-growing hotel company in Africa in a recently published hospitality report.