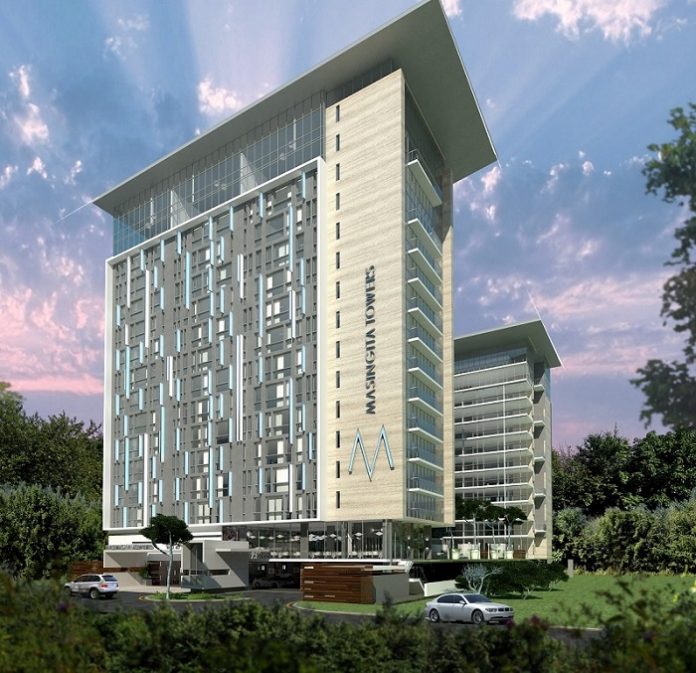 The development of luxury apartment skyscraper, Masingita Towers has been completed. The US $17.5m dollar apartments located in West Road South in the Sandton central business district, South Africa was not only completed in time buts also within budget and has already achieved more than 50% occupancy.
Last month, the property development company, Masingita Properties (a subsidiary of Masingita Group) hosted a roof wetting to celebrate the completion of the project. The 174-unit property that sits on 10,300 square meter land comprises of two towers- one comprising of 12 levels and the other fifteen; with an entrance level incorporating a restaurant.
The buildings, which was designed by AMA Architects MD Adriam Maserow, also has a gym, a swimming pool, business and conference centers, a concierge, a fitness ceter, and a secure basement parking. Apartment options range from two-bedroom en suite units to three-bedroom en suite units with balconies and four-bedroom penthouses.
Also Read: South Africa to construct first green-certified hospital in Africa  
Collaborative effort
The project was a partnership between Masingita properties and Careline Living Space Property Development with Nedbank shareholder. During the ceremony, Absa Group Limited commercial property finance head Mike Mortimer offered his appreciation for being part of the project saying it was 'a good opportunity'. Absa Group Limited funded the project.
Mortimer further added that Absa cherished the relationship that the two entities had developed during the course of the project. "To see what's been developed in the time that it's been developed is an incredibly rewarding experience. If every deal we did was as smooth as this, I probably wouldn't have a job," he said.
The project however experienced some challenges in its course. Main contractor Stefanutti Stocks' Contract Director, Brad Nortje said this was because the project was in a built-up area. He however lauded his team for delivering a high-end quality product for the client.