As part of the Edinburgh Granton Waterfront reconstruction project, city planners have authorized plans for Silverlea. The latter is the second "net zero" housing development for the £1.3 billion project following the 444-home Western Villages announced early this year.
Plans for the Silverlea at Granton Waterfront include 3,500 new homes, at least 35% of which will be affordable. In addition, the project also includes a school, medical facility, new walking and cycling paths, and improved sustainable transportation connections to the city. All will significantly advance Edinburgh's goal of becoming a net zero carbon city within the next ten years.
Search for construction leads
In order to build 142 homes, including wheelchair-accessible ground-floor residences, Cruden Building (formerly Hart Builders) will begin construction on site in 2023 at Silverlea. These homes will be a mix of social rent (91) and mid-market rent (51) with each having access to a park and coastal views.
Read Also: Design unveiled for the Blackfriars tower blocks in London
Remarks on this milestone 
"We've accomplished another significant milestone on our Granton Waterfront project,' stated Cllr Jane Meagher of the City of Edinburgh Council. "Thus we will build much-needed sustainable affordable housing in the area. I recently visited our adjacent Western Villages development. I was very happy to learn that construction on the site's 444 net zero houses has already begun."
"The homes that we construct here will significantly improve the lives of people who use wheelchairs. This will include other people with disabilities who struggle to obtain housing that is suitable for their needs. Our plans for the property have been carefully created to enhance the neighborhood's open space. Additionally, it will be simpler for people to go around on foot or by bicycle.
Reportedly, the Council is committed to investing about £196 million to speed up the redevelopment. It will bring in considerable public and private sector funds to realize the ambition.
Granton Waterfront Redevelopment Project Overview
Granton Waterfront is located approximately three miles north of the city center. The site is a 'necklace' of coastal communities from Cramond in the west to Portobello in the east. Moreover, it is reportedly one of Scotland's largest brownfield sites set on a dramatic urban coastal green space.
The aim of the project according to the developers is to create sustainable growth. In addition to helping Edinburgh become a greener, fairer economy. High-quality design and place-making principles have reportedly been used to develop a framework for how the development could look in the future.
Upon completion, Granton Waterfront shall feature around 3,500 new net zero carbon homes, business start-up space, and commercial opportunities. It will also be home to Europe's largest coastal park. This is all thanks to the proposed creation of new and enhanced green spaces creative arts, culture, and leisure space. Furthermore, Granton Waterfront will offer key services such as a school and health center.
Granton Waterfront will, therefore, be the blueprint for urban development and regeneration in Scotland.
Reported earlier 
March 2022
Scotland's Largest Net Zero Housing Project, Western Villages Approved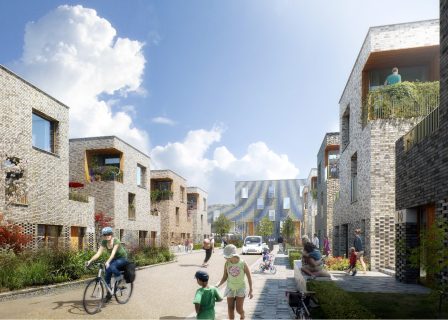 The implementation of Western Villages at Granton Waterfront, Scotland's Largest Net Zero Housing Project has been approved. The councilors elected to serve on the City Council of Edinburgh. The project is a part of the council's US$ 1.6bn Granton Waterfront rehabilitation plan.
The project will be carried out by CCG (Scotland) Ltd, an industry leader in innovation in construction. CCG is also one of the largest privately-owned construction and manufacturing companies in the United Kingdom country.
CCG's net-zero home standard which involves improved insulation, low-carbon heating, and renewable technologies will be utilized for the construction. It will enable the company to make "significant progress" in developing sustainable housing for its residents according to the council.
Read also: Plans Approved for Next Phase of Middlewood Locks Scheme in Salford
Western Villages at Granton Waterfront features and amenities
Upon completion, Western Villages at Granton Waterfront will feature a total of 444 one, two, and three-bedroom apartments. In addition, it will have wheelchair-accessible homes and a variety of tenure options. These include social, mid-market, and for-sale properties.
Western Villages will also enjoy active mobility, electric car charging points, car club spaces, and public transportation. Furthermore, they will have access to sea vistas and neighboring parkland. The project is designed by Cooper Cromar, a leading and multi-award-winning UK architectural practice that is also behind the concept for the region.
The project to serve as a model for future new construction throughout the city
The deputy leader of the City of Edinburgh Council Cammy Day stated, "Especially in light of COP26 and our own 2030 Climate Strategy, approving this tender will offer us the certainty that we'll be able to create this major aspect of the council's Granton Waterfront regeneration.
Housing will be critical to achieving our net-zero goals by 2030, and Western Villages will serve as a model for future new construction throughout the city. As part of the larger regeneration project, one of Europe's largest coastal city parks will be built, allowing residents and visitors to reconnect with the city's waterfront by providing more leisure and outdoor experiences, civic spaces, and sustainable housing."
Jul 2022
Contractor selected for Edinburgh's Granton Waterfront redevelopment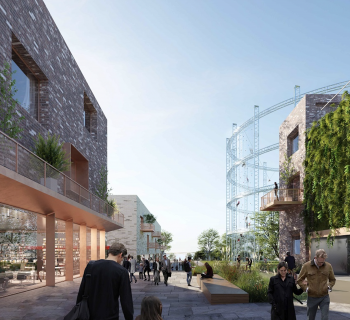 An important milestone has been reached in the development of a new, sustainable, and well-connected coastal town at Edinburgh's Granton Waterfront. Following a competitive procurement process, the City of Edinburgh Council has chosen The Cruden Group as the preferred bidder. Thus, they'll advance the ambitious outline business case for Edinburgh's Granton Waterfront redevelopment. It is hoped that the contract will be signed by both parties in the coming weeks.
The Council and Cruden will collaborate to advance pre-development work over the next couple of years, including detailed plans for about 750 net-zero homes for sale and rent, commercial space, new and improved sustainable transportation infrastructure, and a public realm that will connect the surrounding neighborhoods with the Waterfront. A new school and medical facility will also be built as part of the project's first phase.
Read Also: Plans Set for Confederation Park Community Centre Project in Vancouver
Edinburgh's Granton Waterfront redevelopment
The Council will also collaborate with its new development partner to propose a low carbon energy option for the project's initial and subsequent phases, furthering its goal of achieving net-zero emissions by 2030.
Smith Scott Mullen, a local award-winning architect, will join the Cruden Group. Edinburgh's Granton Waterfront redevelopment project will also be worked on by renowned Scandinavian architect C. F. Moller, who will bring their vast international experience in implementing large-scale coastal regeneration.
In order to create a blueprint for the Capital's 20-minute neighborhood model, they will set extremely high standards using exemplary design, ensuring that residents have access to all the amenities they require, including workspace, retail, and cultural opportunities close to home.
Edinburgh's Granton Waterfront redevelopment has already experienced Great progress. Over 500 net-zero affordable homes are currently being built at Western Villages off Marine Drive. Another 75 were built behind the former Granton Station building. Additionally, three commercial buildings with frontage on Waterfront Avenue are also being built. All of these projects will create new, improved routes for active transportation as well as high-quality new public space.