Did you know that 4 of the top 5 longest bridges in USA are found in the state of Louisiana? The following are the longest bridges in USA:
Also Read
Lake Pontchartrain Causeway, Louisiana

The Lake Pontchartrain Causeway, or the Causeway, is considered to be the longest bridge in the United States and the longest bridge in the world over water (continuous). It consists of two parallel bridges crossing Lake Pontchartrain in southern Louisiana, United States. The longer of the two bridges is 38.35 km long. There was some controversy with Guinness over the title of the longest bridge over water. For over 10 years, Lake Pontchartrain Causeway was listed in the book for being the longest bridge over water.
Chesapeake Bay Bridge–Tunnel, Virginia
It is officially known as the Lucius J. Kellam Jr. Bridge-Tunnel, this 37km long bridge, is a famous traveling destination, crossing the Chesapeake Bay. The northbound of the bridge opened in 1964 while the southbound in 1999. While the southern part of the bridge is close to Norfolk Botanical Garden, Atlantic Wildfowl Heritage Museum, and First Landing State Park, the northern part gives easy access to Eastern Shore National Wildlife Refuge and Kiptopeke State Park. Presently the bridge is under the supervision of the Chesapeake Bay Bridge and Tunnel Commission.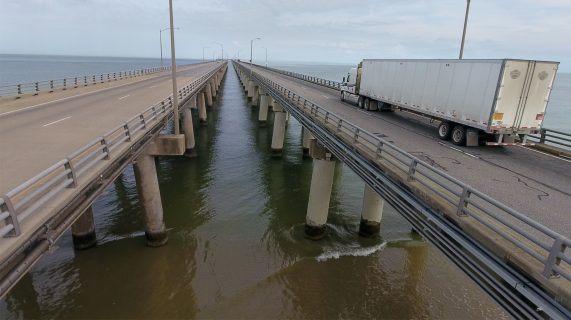 Manchac Swamp Bridge, Louisiana

The Manchac Swamp Bridge is a twin concrete trestle bridge in the US state of Louisiana. The 36.7km bridge is located around Lake Pontchartrain, a lake well known for its incredibly long bridges. Although the bridge is totally safe to drive on, Louisiana legend says that the bridge is haunted by a Cajun werewolf known as a "Rougarou" and a voodoo princess. However, despite these spooky tales, the only thing that drivers should be cautious of is not to get too close to the alligators that make a home on the waters under the bridge.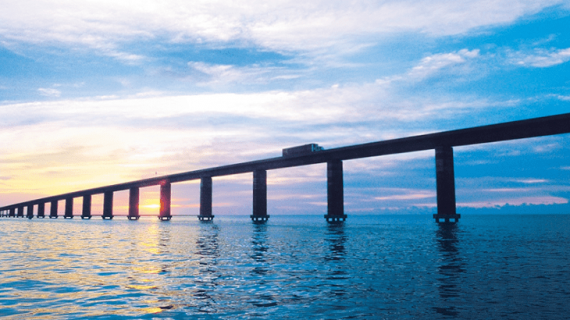 Atchafalaya Basin Bridge, Louisiana
Carrying Interstate 10, this is a couple of bridges stretching for more than 29km. Opened in 1973 it links Lafayette and Baton Rouge with its length. As the name suggests, this is constructed over the most significant wetland of the country, the Atchafalaya Basin.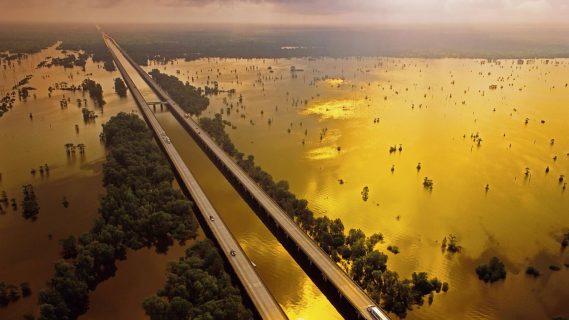 I-10 Bonnet Carré Spillway Bridge, Louisiana
The I-10 Bonnet Carré Spillway Bridge is a 17.70km-long twin trestle bridge in Louisiana, USA. The bridge carries Interstate I-10 over the Bonnet Carré Spillway – a flood control setup in the Lower Mississippi Valley, Lake Pontchartrain, and LaBranche Wetlands and a portion of St. John the Baptist Parishes. The I-10 Bonnet Carré Spillway Bridge was opened in 1972.