Megaprojects are large-scale, complex ventures. Typically they cost billions of US Dollars, take many years to build, involve multiple public and private stakeholders, are transformational, and impact millions of people.
Also Read: Top 16 largest construction projects in the world
They could include bridges, tunnels, highways, railways, airports, seaports, power plants, dams, wastewater projects, Special Economic Zones (SEZ), oil and natural gas extraction projects, and public buildings, et al.
In this article, we look at the 5 ongoing mega projects in Asia.
Bharatmala Pariyojna in India (Cost US$ 130bn+)
Delhi–Mumbai Industrial Corridor Project in India (Cost US$ 90bn+)
Chūō Shinkansen Maglev Line Project in Japan (Cost US$ 85bn+)
New Clark City Project in Philipines (Cost US$ 58.3bn+)
Melaka Gateway Project in Malaysia (Cost US$ 40bn+)
Top 5 Ongoing Mega Projects in Asia
1. Bharatmala Pariyojna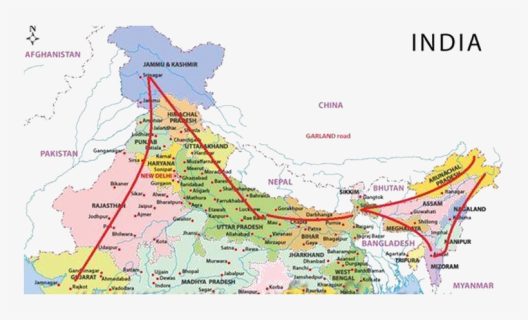 The Bharatmala Pariyojna is the largest project in Asia. The over US$ 130 billion project is developed, sponsored, and funded by the Government of India. This makes it the single largest outlay for a government road construction scheme.
The project involves the development of road connectivity to border areas and the development of coastal roads including road connectivity for non-major ports. Additionally, Bharatmala Pariyojna includes improvement in the efficiency of national corridors, development of economic corridors, inter corridors, and feeder routes among others.
The project was proposed by Prime Minister Shri Narendra Modi and announced back in 2017.
2. Delhi–Mumbai Industrial Corridor Project (DMIC)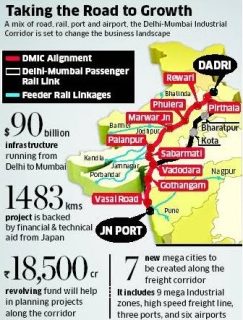 Delhi–Mumbai Industrial Corridor Project is a US$ 90 billion-plus industrial development in India. Designed as a high-tech industrial zone, the development stretches from India's capital, Delhi, to its financial hub, Mumbai, and passes through a total of six states.
The aim of the project is to create a strong economic base with a globally competitive environment and state-of-the-art infrastructure. As a result, this will activate local commerce, enhance foreign investments, and attain sustainable development.
DMIC Development Corporation (DMICDC) is the implementing agency of the Delhi–Mumbai Industrial Corridor Project.
3. Chūō Shinkansen Maglev Line Project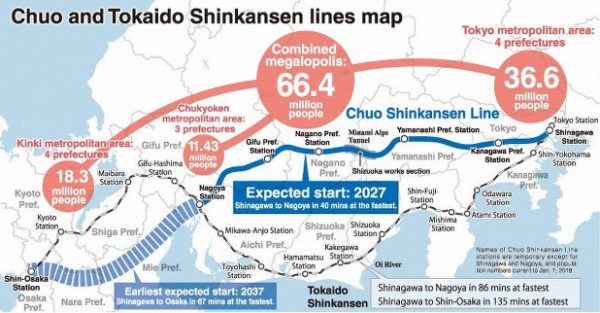 The Chūō Shinkansen Maglev Line project is also known as the Tokaido Shinkansen Bypass or Japan's Maglev High-Speed Rail project.
The project the cost of which is upwards of US$ 85 billion, involves the construction of a new rail line between Tokyo and Nagoya, with plans for an extension to Osaka. The rail is being constructed using Maglev technology.
Chūō Shinkansen is the third largest project in Asia. It is developed by Central Japan Railway Company (JR Central).
4. New Clark City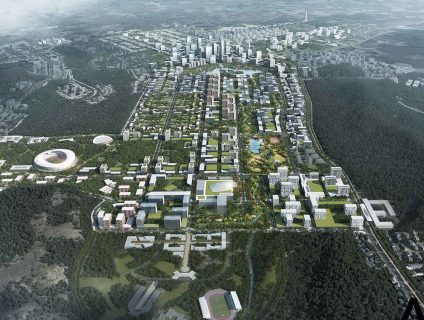 This is a US$ 59 billion-plus community project that is being developed in the Clark Freeport and Special Economic Zone (CFEZ).
Divided into two areas, the Clark Freeport Zone (CFZ) and the Clark Special Economic Zone (CSEZ), CFSEZ is an area in Central Luzon, Philippines. The New Clark City is part of the Clark Special Economic Zone which covers the area of the former United States Air Force facility, Clark Air Base.
Plans for the development of the New Clark City project were made back in 2012. However, it was not until April 11, 2016, that construction began following a groundbreaking ceremony led by then-President Benigno Aquino III. Upon completion, the city which spans approximately 23,400 acres, will be home to 1.2 million people.
New Clark City, which is the fourth largest project in Asia, is owned and managed by the Bases Conversion and Development Authority (BCDA).
5. Melaka Gateway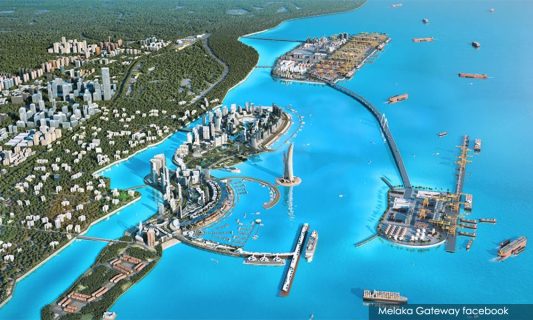 Valued at US$ 40 billion-plus, Melaka Gateway is an off-shore development project of artificial islands in Malacca, Malaysia. It is the fifth-largest project in Asia.
The project was conceptualized as a a 546-hectare, seaport-driven new urban area spanning four artificial islands. The area would be home to shopping malls, tourist resorts, luxury condos, and theme parks.
In addition, it would include a business district, a robust marina, a giant "Malaysia Eye" Ferris wheel, the largest cruise ship terminal in Southeast Asia, and a seven-star hotel. All of this would be built around a massive industrial port.
The Melaka Gateway project was launched in February 2014. KAJ Development Sdn Bhd is the master developer of the project.