By area, Canada is the second-largest country in the world after Russia. With a size of almost 10 Million km2, you can imagine how travel distances in the North American country can be long. In that case, flying is often the best and almost the only option which is why the country has a lot of airports (1620). In this article, we look at the largest airports in Canada by area out of the total of 1620.
Calgary International Airport (IATA: YYC, ICAO: CYYC) in Alberta
Search for construction leads
Branded as YYC Calgary International Airport, this is located approximately (17 km) northeast of downtown Calgary in Alberta.
The airport covers an area of 20.82 km2 or 5,144 acres, making it the largest airport in Canada and the first on our list. It has a total of four runways, two terminal buildings with 5 concourses for passengers, warehouses for cargo handling, and other infrastructure.
Also Read: Top ten largest airports in the USA
In 2019, Calgary International Airport had a total of 17.96 million passengers and 238,843 aircraft movements making it the busiest airport in Alberta and the fourth-busiest in Canada by both measures.
Edmonton International Airport (IATA: YEG, ICAO: CYEG)
Located approximately 26 km south-southwest of Downtown Edmonton in Leduc County on Highway 2 opposite of the city of Leduc, this is the primary air passenger and air cargo facility in the Edmonton Metropolitan Region of the Canadian province of Alberta.
The airport offers scheduled non-stop flights to major cities in Canada, the United States, Mexico, the Caribbean, Central America, and Europe.
Halifax Stanfield International Airport (IATA: YHZ, ICAO: CYHZ)
This is a Canadian airport in Goffs, Nova Scotia, a rural community of the Halifax Regional Municipality that serves the Halifax region, mainland Nova Scotia and adjacent areas in the neighboring Maritime Provinces.
Opened in 1960 the airport has a single passenger terminal with three levels, namely the main, lower, and departure levels and two runways.
The first runway (05/23) is 2,682m long and it features instrument landing system (ILS) category II standards while the second runway (14/32) is 2,347m in length and conforms to ILS Category I standards.
Lester B. Pearson International Airport (IATA: YYZ, ICAO: CYYZ) 
Also known as Toronto Pearson International Airport or simply Toronto Pearson, Pearson Airport, or just Pearson, this is one of the largest and the busiest airports in Canada, the second-busiest international air passenger gateway in the Americas, and the 30th-busiest airport in the entire world by passenger traffic, handling approximately 50.5 million passengers according to a 2019 report.
The airport is located 22.5 kilometers northwest of Downtown Toronto with the majority of the airport situated in the city of Mississauga and a small portion of the airfield, along Silver Dart Drive north of Renforth Drive, extending into Toronto's western district of Etobicoke.
It features five runways and two passenger terminals along with numerous cargo and maintenance facilities spread over a 1,867 hectares (4,613 acres) piece of land.
Montréal–Trudeau International Airport (IATA: YUL, ICAO: CYUL)
Opened in 1941, Montréal–Trudeau which was formerly known and still commonly referred to as Montréal–Dorval International Airport, is located in Dorval, Quebec. It serves Greater Montreal and adjacent regions in Quebec and eastern Ontario, as well as the states of Vermont and northern New York in the United States.
The airport features three runways, two parallel runways aligned in a northeast-southwest direction and a single runway in an east-west direction as well as one two-storied terminal, divided into four different zones which are the public area (departures and arrivals level), the domestic jetty, the international jetty, and the trans-border jetty.
Ottawa/Macdonald–Cartier International Airport 
Also known as Macdonald–Cartier International Airport (IATA: YOW, ICAO: CYOW) this is in Ottawa, Ontario, in the south end of the city, approximately 10.2 km south of downtown Ottawa.
The airport used to be a military base known as CFB Ottawa South/CFB Uplands and although it is no longer a Canadian Forces Base, it is still home to the Royal Canadian Air Force's 412 Transport Squadron, which provides air transport for Canadian and foreign government officials.
It has two distinct airfields connected by a taxiway and a total of three Runways measuring 3,050m × 60m, 1,006m × 23m, and 2,438m × 60m.
St. John's International Airport (IATA: YYT, ICAO: CYYT)
St. John's International Airport is located approximately 5.6km northwest of St. John's, the provincial capital of both Newfoundland and Labrador. The airport was opened in 1941, and is owned by Transport Canada and operated by St. John's International Airport Authority (SJIAA).
It has a single terminal with a total area of 175,000ft2 and three floors, plus three runways paved with asphalt and concrete.
The first runway (02/20) is 1,533m in length while the second runway designated 11/29 is the main runway of the airport with a length of 2,591m. The third runway (16/34) on the other hand is 2,135m in length.
Vancouver International Airport (IATA: YVR, ICAO: CYVR)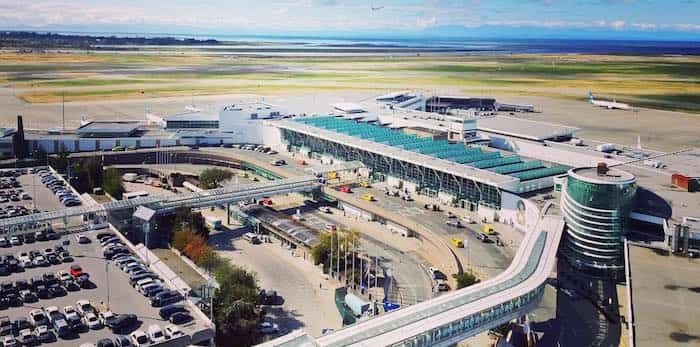 This is located in Richmond, British Columbia approximately 12 km from Downtown Vancouver. It is the second busiest airport in Canada by aircraft movements (306,799) and passengers (25.9 million) behind Toronto Pearson Airport.
With a total of three terminals (the Domestic Terminal, International Terminal, and the South Terminal) and 3 runways, the airport is also one of the few major international airports to have a terminal for scheduled floatplanes.
Victoria International Airport (IATA: YYJ, ICAO: CYYJ)
Located approximately 22 km north northwest of Victoria on the Saanich Peninsula, with the bulk of the airport (including the passenger terminal) in North Saanich, and a small portion of the airfield extending into Sidney, this airport serves Victoria, British Columbia.
It has a three-story single passenger terminal building that has 12 gates, two air bridges, and 11 aircraft stands. In addition, the airport has three runways paved with asphalt, the first of which (09/27) is 2,133m in length while the second (02/20) and the third (13/31) are 1,532m and 1,524m in length respectively.
93