Thwake is a multi-purpose dam designed to increase water storage for rural and urban domestic use, irrigation, livestock and for hydropower with a principal focus on the semi-arid counties of Kitui and Makueni where the dam is located. At least 1.3 million people are expected to benefit from the Thwake Multi-purpose Water Development Program (TMWDP).
Thwake Multi-purpose Water Development Program (TMWDP)
The Thwake Multi-purpose Water Development Program (TMWDP) comprises a multi-purpose dam for water supply, hydropower generation and irrigation development. It will also provide regulation of flows on Athi River downstream of the dam for flood and drought mitigation. The TMWDP targets broad improvement in productivity and livelihoods over a ten-year period, ending 2023.
The Program recognizes the symbiotic relationship between Kenya's water secure and water
insecure regions by spanning both the lower and higher levels of the economy to ensure national economic growth is both inclusive and sustainable. The Program is sub-divided into four phases. Estimated cost of all four phases of Thwake Multi-Purpose Water Development Program is UA 487 million.
Phase 1 is estimated at UA 179.3 million, and includes: consultant services for design and supervision of works; a panel of dam experts; construction of a 77m high rockfill dam and associated structures; catchment rehabilitation/protection; studies and designs for subsequent phases and to enhance phase 1 implementation; climate change training; and technical assistance. For phase 1, ADB Group allocated a total of UA 60.00 million from ADF-12 resources and the Government committed to provide the remaining UA 119.3 million.
In phase 1, the program will increase water security by providing 681 million cubic metres (MCM) of water storage, earmarked for phases 2, 3 and 4 as follows: 34 MCM for human consumption, 625 MCM for double usage (power generation and downstream irrigation), 22 MCM for upstream irrigation, and an allocation for downstream conservation flow. The target population will benefit from an abundant supply of potable water which will lead to improved health and spur economic development throughout the area and in Konza City.
The Thwake Multi-purpose Dam is located immediately downstream (1km) from the confluence of Athi and Thwake rivers in Mavindini Division (on the Makueni side) and Kanyangi Division (on the Kitui side) while the flow back will extend into Kathulumbi Division of Mbooni district to the northwest of the dam site.
The dam will cover an area of approximately 2,900ha spanning Makueni, Kitui and Mbooni districts with a catchment area spanning about 10,276km2 reaching as far as the Ngong hills, Kikuyu escarpments and the lower reaches of the aberdares. The Dam is a rock-fill dam characterized by an impervious concrete face, 80.5 m in height, with a crest at 920.5 m a.s.l. The foreseen reservoir storage volume is 688 Mm3.
It is designed to serve among other locations Mavindini, Kanthuni, Kitise, Kithuki, Kathonzweni and Mbuvo in Makueni district and other areas within Kibwezi district downstream of the dam site as well parts of Kitui district that are favoured by the topography of the project site. Below is the project's timeline and all you need to know:
Also Read: Baihetan hydropower project timeline and all you need to know
2017
The county governments of Makueni and Kitui respectively signed a contract to construct the Thwake Multi-Purpose Dam. The contract was between the Government and China Gezhouba Group Company.
Water Cabinet Secretary Mr. Eugene Wamalwa, said that the dam was the largest project of its kind in East Africa and construction will commence in the following 3 months.
2020
In May, the contractor China Gezhouba Group Company (CGGC) announced that construction of the dam was on course and allayed fears that work will stall in light of effects of the Covid-19 pandemic.
Representative Apopo Lentana said engineers had embarked on major works including erecting a mega tunnel to divert water from River Athi to dry land for excavation works at the main river base.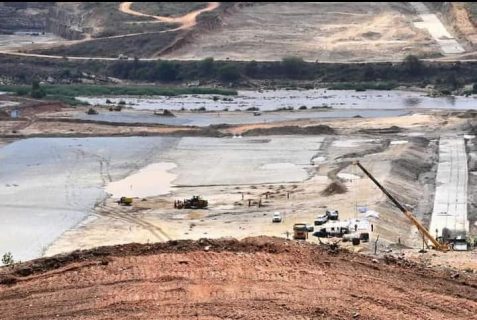 2021
In early June, President Uhuru Kenyatta inspected the project and assured the nation that The Multipurpose dam project will be completed by June next year (2022).