The River Estate is a residential development situated along Jodongo Road next to Ngara Girls High School in Nairobi, Kenya.
Also Read: Ocean Seven Development in Kikambala, Kilifi, Kenya
Sitting on a 2.302 hectares piece of land just outside the Nairobi CBD, River Estate will comprise eight apartment blocks each with a total of 34 floors, making the estate the tallest of its kind in the Capital City. Each of the blocks will house 340 units comprising 3-bedroom, 2-bedroom, and 1-bedroom units for a total of 2,720 high-rise apartment units.
Other than the apartment buildings, the River Estate will include 875 parking slots for tenants, adequate space for children's playgrounds, and a shopping complex with 60 outlets among other facilities.
In addition, the project developer also pledged to put up a bridge from the estate to Grogan road across the Nairobi River in a bid to ease the movement of people into and out of the River Estate.
The US$ 70M project is being financed jointly by the national government of Kenya and the county government of Nairobi, in line with the government's affordable housing agenda.
Project Team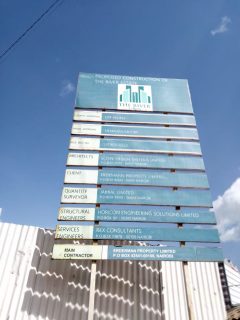 Client: Erdermann Property Ltd
Architect: Scope Design Ltd
Quantity Surveyor: Jabbal Ltd
Structural Engineer: Horicon Engineering Solutions Ltd
Services Engineer: Rex Consultants 
Main Contractor:  Erdermann Property Ltd