Drill and blast tunnelling works contracts for one of the largest transportation and utility infrastructure projects in the world have been awarded by NEOM City developers to two joint venture groups. 
The contracts for the project which is separated by lower and upper geographies were awarded to FCC Construction/China State Construction ENginerring Corporation/Shibh Al-Jazira Contracting Company Joint Venture (FCC/CSCEC/SAJCO JV), and Samsung C&T Corporation/Hyundai Engineering and Construction Co. Ltd/Saudi Archirodon Company Joint Venture (SHAJV). 
Scope of the project 
Search for construction leads
Considered a significant and essential element in ensuring that the Saudi megaproject continues to meet its set development schedule, the project mainly entails drilling and blast tunnelling works for two 28-kilometre-long tunnels. The excavated rock will reportedly be processed for subsequent reuse within the permanent concrete lining of the tunnels and other projects within the NEOM City to ensure minimal impact on natural landscapes.
The works will provide separate tunnels for high-speed and freight rail services which would contribute to ensuring that the movement of goods and people is safe, easier, and faster.
The CEO of NEOM, Nadhini Al-Nasr, stated that the project's sheer scope and scale of the tunnelling work(s) that is to be undertaken is further proof of the complexity and ambition of the project in general. He further expressed that the company aims to maintain its progress as they move toward achieving its vision for a new future which has been established by the Crown Prince and Chairman of the NEOM board of directors, Mohammed bin Salman. 
Neom City Project overview
Neom City Project is a planned cross-border city in northwestern Saudi Arabia, Tabuk Province. It is aimed to have smart city technologies and also act as a tourist destination. The area is in the northern part of the Red Sea, south of Jordan and Israel, and east of Egypt across the Strait of Tiran. It will cover an estimated area of 26,500 km2 extending 460 km on the coast of the Red Sea. Key parts of the Neom project design were acquired from the Gardens by the Bay in Singapore.
Saudi Arabia plans to complete the first phase of the Neom City Project by 2025. The scheme is estimated to cost $500 billion. On January 29, 2019, Saudi Arabia revealed that it had formed a closed joint-stock company called Neom with $500 billion. The company's aim, wholly acquired by the Public Investment Fund, the sovereign wealth fund, was to develop the economic zone of Neom.
The development is aimed to totally be powered by renewable energies. The project emerged from the country's Vision 2030, a plan that aims to reduce Saudi Arabia's dependence on oil, stretch its economy and grow public service sectors. The scheme calls for robots to perform duties such as logistics, security, caregiving, and home delivery.
Furthermore, aiming for the city to get powered solely by solar and wind power. Due to the city's design construction starting from scratch, more infrastructure innovations and mobility have been suggested. Planning and construction will be done with $500 billion from the country's Public Investment Fund and international investors.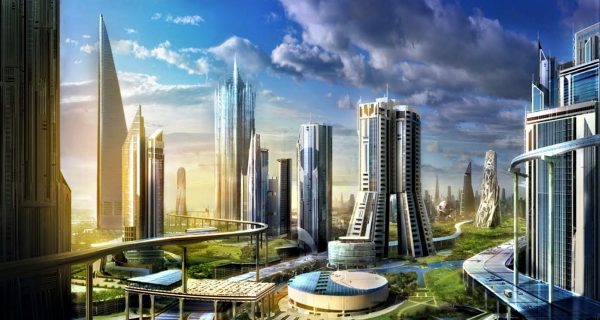 Read also: The Saint Brieuc offshore wind farm project timeline.
Project Timeline.
2017.
In October, Saudi Crown Prince Mohammad bin Salman revealed the city at the Future Investment Initiative conference held in Riyadh, Saudi Arabia. He added it will operate on its own, away from the "existing governmental framework" with its own labour and tax laws and also an "autonomous judicial system."
2018.
Egypt stated that it is contributing some land to the Neom scheme.

2020.
In July, the US's Air Products & Chemicals Inc revealed that it will construct the world's biggest green hydrogen plant in Saudi Arabia. The US$5 billion scheme will be owned jointly by Air Products, NEOM, and Saudi Arabia's ACWA Power.
Jan 2021.
The crown prince of Saudi Arabia has released plans to construct a zero-carbon city at NEOM, the first major construction project for the US$ 500bn flagship business zone aimed at diversifying the economy of the world's largest oil exporter.
Prince Mohammed bin Salman stated that the zero-carbon city known as "The Line" will extend over 170 km and would be able to house a million residents in "carbon-positive urban developments powered by 100% clean energy". He then went on to give the report that the project took 3 years in preparation and its infrastructure would cost $100 billion to $200 billion to bring to reality.
He stated that "the backbone of investment in 'The Line' will come from the $500 billion support to NEOM by the Saudi government, PIF and local and global investors over 10 years," The Saudi Kingdom's sovereign wealth fund, the Public Investment Fund (PIF), is the main investor in NEOM, a 26,500-square-km high-tech development on the Red Sea with several zones, including an industrial and logistics areas, that is expected to complete construction in 2025. An official Saudi report stated that construction would start in the first quarter of 2021 and that the city was expected to contribute US$48 billion to the kingdom's gross domestic product and create 380,000 jobs.
"Throughout history, cities were built to protect their citizens. After the Industrial Revolution, cities prioritized machines, cars, and factories over people. In cities that are viewed as the world's most advanced, people spend years of their lives commuting. By 2050, commute durations will double. By 2050, one billion people will have to relocate due to rising CO2 emissions and sea levels. 90% of people breathe polluted air. Why should we sacrifice nature for the sake of development? Why should seven million people die every year because of pollution? Why should we lose one million people every year due to traffic accidents? And why should we accept wasting years of our lives commuting." stated the Crown Prince.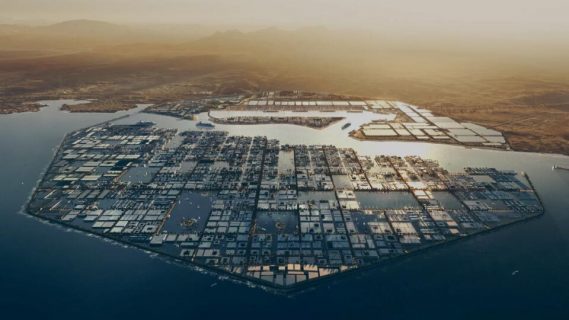 In November, Saudi Arabia's Crown Prince Mohammed bin Salman announced the launch of NEOM's industrial city known as the OXAGON and which is set to be the largest floating industrial complex in the entire world.
OXAGON will be located on the Red Sea close to the Suez Canal, and south of THE LINE, and it will include the current port of Duba. It will establish the world's first fully-integrated port and supply chain ecosystem for NEOM City. The port, logistics, and rail delivery facility will be unified, providing world-class productivity levels with net-zero carbon emissions, setting global benchmarks in the adoption of technology and environmental sustainability.
December 2021
NEOM and Volocopter, the pioneer of urban air mobility, established a joint venture (JV) company to design, implement, and operate the world's first bespoke public eVTOL (electric Vertical Take-Off and Landing) mobility system in the futuristic city.
Under the agreement, a total of 15 Volocopter aircraft are expected to commence initial flight operations within the next 2-3 years. Ten out of the 15 will serve passengers while the remaining five will transport goods.
Arqit Quantum Inc. ("Arqit") and NEOM Tech and Digital Company (via its affiliate, NEOM Company) have entered into a Memorandum of Understanding (MOU) to build a 'Cognitive City' quantum security system capable of defending cognitive cities against cyber-attacks from the most advanced computers to emerge in coming years.
The system will be built and tested at NEOM city during the first half of 2022, after which it could be exported to other cognitive cities around the world, offering billions of users a highly secure means to authenticate, identify and secure all forms of devices while fully guaranteeing their privacy.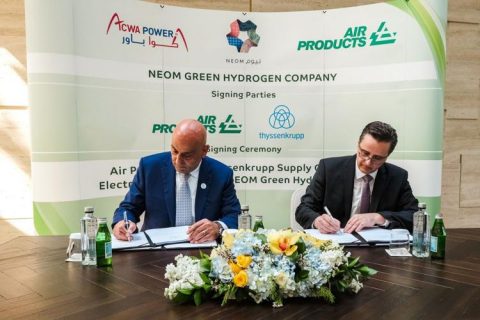 This same month and year, Thyssenkrupp Uhde Chlorine Engineers and Air Products signed a contract for the establishment of a 2GW-plus electrolysis plant at the planned US$ 5bn green hydrogen production facility, the largest of its kind in the world, in the proposed OXAGON complex.
Under the contract, Thyssenkrupp will engineer, procure and fabricate the plant based on its 20MW alkaline water electrolysis module, in what is set to be the world's first giga-scale green H2 electrolyzer. Project partners Neom, developer ACWA Power and Air Products (as Neom Green Hydrogen Company) will operate the 2GW facility upon commissioning after a scheduled production starts in 2026.
March 2022
Saudia Arabia to start the actual construction of US$ 5bn Green Hydrogen Plant in Neom City
The Government of Saudia Arabia has announced plans to start the actual construction of a US$ 5bn Green Hydrogen Plant in Neom City as soon as this month, following the completion of the flattening of the construction site.
This was particularly announced by Peter Terium, the head of energy and water for the project's host region which was chosen due to the abundance of wind, empty kand, and sunlight. 
Terium said that overall, the plans to start selling and exporting carbon-free hydrogen in about 4 years (by 2026) are on schedule. 
Implementation of the project
The construction of the Green Hydrogen Plant in Neom city is led by a consortium that includes, ACWA Power International and Air Products. The companies will make use of 120 Thyssenkrupp AG electrolyzers.
Each of these electrolyzers will be 40 meters long and will be used to split hydrogen from water. When processed, the fuel will be shipped from the plant since it is easier to transport Ammonia than hydrogen in its gaseous state. 
Upon completion, the Green Hydrogen Plant in Neom city will immensely contribute to Saudi Arabia's ambition to become the biggest exporter of hydrogen which is considered to be a pivotal transition to a form of energy that is cleaner. It is less polluting to the environment than oil because the fuel only produces water vapour when burned, making it a better alternative to coal and natural gas.
Technology for producing it on a mass or rather a commercial scale is still not available, however, according to BloombergNEF, the market could potentially be worth US$ 700bn annually by 2050.
Plans for Trojena Mega Tourism Project revelled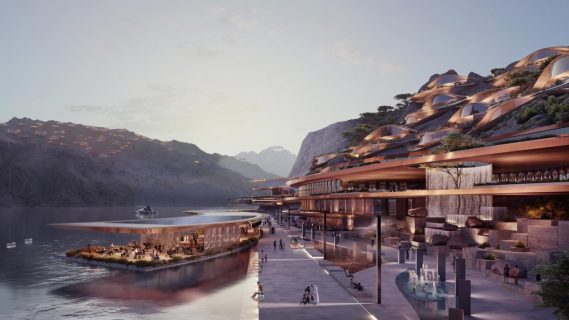 Chairman of the NEOM Company Board and Crown Prince, Mohammed bin Salman has revealed the Trojena Mega Tourism Project that will deliver a tourist destination consisting of a series of facilities including but not limited to wellness resorts, a broad spectrum of retail stores as well as restaurants, a ski village, and an ultra-luxury family resort, all spread across six districts namely; Discover, Valley, Relax, Gateway, Explore, and Fun.   
In addition to the world-class facilities, the project which is scheduled to be completed by 2026, will also offer watersports, ski sloping, mountain biking, an interactive nature reserve, music, art, sports, and cultural festivals. 
Implementation of Trojena Mega Tourism Project to conform to NEOM's commitment to minimizing disruption to the local ecology
According to the Crown Prince, all construction activities of the Trojena Mega Tourism Project, which is located in the centre of NEOM approximately 50 kilometres from the Gulf of Aqaba coast, will adhere to NEOM's commitment to minimizing disruption to the local ecology while ensuring long-term sustainability.
Mohammed bin Salman expressed that the Trojena Mega Tourism Project will redefine mountain tourism for the world through the creation of a place that is based on the principles of ecotourism adding that the project is also aligned with the global effort to protect the environment.
Expectations for the project
The project is expected to attract well over 7,000 permanent residents and its adjacent residential areas by 2030. It is also expected to attract over 700,000 visitors, add close to US$ 800M to Saudi Arabia's GDP by the year 2030, and create more than 10,000 jobs.
The Chairman of the NEOM Company Boardexplined that the Trojena Mega Tourism Project will guarantee that mountain tourism will be another stream of revenue in supporting Saudi Arabia's economic diversification, while at the same time, still preserving the country's natural resources for future generations to come. 
Enowa to establish Saudi Arabia's first Hydrogen and Innovation Centre
Neom energy's water and hydrogen subsidiary Enowa has revealed plans to establish what has been coined as Saudi Arabia's first Hydrogen and Innovation Centre (HIDC). The facility is also said to be one of the first tenants of the Neom innovation and manufacturing city, Oxagon.
The project is focused on accelerating business development across the spectrum of hydrogen as well as the production, utilization, and transport of green fuel. The Hydrogen and Innovation Centre also aims to increase lar to market solutions.
Read Also Damac Lagoons Development Contract Awarded, Saudi Arabia
Pointing reference to a statement made by NEOM, the Hydrogen and Innovation Centre will act as a testing ground for new(er) technologies that are present in the clean energy industry. It will also serve as a collaborative learning community for research institutions that are focused on the circular carbon economy (CCE) as well as hydrogen.
Through the collaborations, the centre will look for ways in which it can adapt and produce clean, synthetic, and decarbonized fuels in partnership with Saudi Aramco. This new facility is said to have the potential to fast-tracking Saudi Arabia's goal of becoming a global hub of clean energy and innovation.
The Hydrogen and Innovation Centre is planned for opening by next year. The facility will gather all operational data from its first 20 megawatts electrolyzer from Thyssenkrupp Nucera. The electrolyzer is also the very same that will be used in what is the world's largest green hydrogen and ammonia plant that is being by Neom Green Hydrogen Company (NGHC).
The facility will also contribute to Enowa's plans with Air Products Qudra in testing advanced hydrogen fuel cell-based mobility and logistics solutions. CEO of Enowa, Peter Terium, expressed his pride in Neom becoming one of the global accelerators for the hydrogen economy, He also added that their ambition was to drive promote the economic implementation of future clean energy supplies as well as drive and encourage innovation.