January 2021
Stephen Ikua has been appointed by the Cabinet Secretary for Ministry of East African Community and Regional Development, Adan Mohamed, to serve as the new Director-General and CEO of the LAPSSET Corridor Development Authority (LCDA) for a period of 60 months.
Mr. Ikua takes over from Maina Kiondo, who has been serving as the acting Director-General and CEO of the LCDA  since January last year (2021).
Search for construction leads
Also Read: The LAPSSET Corridor Project Timeline
The new Director-General brings with him over 30 years of experience in the public sector, having served as the County Commissioner for both Lamu and Turkana counties, which are significant in the implementation of the LAPSSET Corridor Program.
Mr. Ikua also participated in the conceptualization and design of the LAPSSET Corridor program and has vast experience in regional development matters owing to his engagement in various capacities in Government.
Responsibility of new DG & CEO of LAPSSET Corridor Development Authority
At the helm of the LCDA, Mr. Ikua will coordinate and oversee developments of the LAPSSET Corridor Projects including the growth of business and development of the Port of Lamu and Isiolo Airport, and the development of the Lamu Special Economic Zone.
This is in addition o the completion of road infrastructure linking the Port of Lamu to Ethiopia and South Sudan, the development of crude oil pipeline as well as planning for the LAPSSET railway project, resort cities, future airports, and various utility infrastructure.
The new DG & CEO is also be expected to synergize County and National Government efforts in planning for the urban growth and economic development of the LAPSSET Outer Corridor, which traverses a total of seven counties, and champion resource mobilization and investment strategies for the LAPSSET corridor projects, foster strong ties with regional countries as well as manage stakeholders' and community interests.
Before his appointment, Mr. Ikua was in charge of administration at the Ministry of East African Community and Regional Development where he oversaw the Kenya South-Sudan Liaison Office.
The (Lamu Port-South Sudan-Ethiopia-Transport) LAPSSET corridor project, is a transport and infrastructure scheme in Kenya. After completion, it will be the second transport corridor in the country, other being the Mombasa – Uganda transport corridor which passes through Nairobi and parts of the Northern Rift. Some of the basic LAPSSET infrastructure have already been constructed; I.e a harbor office and police station in Lamu and revamping of the Lamu airport runway.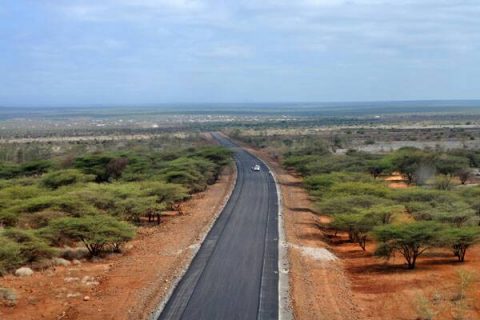 The LAPSSET corridor project plan combines different elements: the construction of a new port at Lamu; a Lamu- South Sudan oil pipeline and roads and railways linking possibly to the west and southern Ethiopia. A new international airport and resort cities along the rail will also be constructed. Any of the elements completion will have a great impact which combination would transform the region. The 200m-wide LAPSSET corridor will join Juba with the Kenya's coast of Lamu, 1,700 km away. It is expected that the corridor will form a part of the future equatorial 'land bridge' connecting Western and Eastern Africa through Juba, and Bangui in the Central African Republic, to Douala, Cameroon. Road links are akso planned to Addis Ababa through Moyale in Kenya. The aim of the scheme is to cut Kenya's main port of Mombasa overdependence and also open up the largely under-developed northern frontier, through creation of the LAPSSET corridor. The project's key towns are Lamu and Isiolo in Kenya, South Sudan's Juba and Addis Ababa in Ethiopia. The seven main infrastructure scheme components in the LAPSSET Corridor Program require quite a higher amount of resources with a budget estimate at US$24.5 billion. It is projected that Lamu Port with the 22 berths alone will have an approximate cost of US$3.1 billion, the Railway with US$7.1 billion and the crude oil pipeline costing a further estimate of US$3 billion in the single Lamu to Lokichar trunk line.
Read also: The Ontario Line in Toronto Canada project timeline.
Timeline.
2012. The government held a ground breaking ceremony for the LAPSSET Corridor project at Lamu Port site on 2 March.
2013 In March, the LAPSSET Corridor Development Authority (LCDA) was formed according to the Presidential Order Kenya Gazette Supplement No. 51, Legal Notice No. 58, The LAPSSET Corridor Development Authority Order 2013 to plan, manage and coordinate the implementation of the Lamu Port-South Sudan-Ethiopia Transport Corridor scheme.
2014. Construction of Marsabit – Turbi (123 km) road. The road starts in Marsabit at the junction with the road C82 and running through the north and terminating in Turbi constituting the 505 km road third section from Isiolo through Moyale to Addis Ababa in Ethiopia. The construction works started in April 2011, under the African Development Bank funding.
August 2014 Africa Leaders summit platform for East African leaders to continue sourcing for US$24bn Lapsset funds
The Us Africa leaders summit kicks off this week with more than 40 African leaders meeting the US president Barrack Obama in Washington DC, USA. The summit is aimed at strengthening the bond between USA and African nations. It will highlight America's commitment to Africa's security, its democratic development, and its people. The theme of the Summit is "Investing in the Next Generation." Four East African leaders from Kenya, Ethiopia, Uganda and South Sudan will take this opportunity to source for funds from investors for the US$24bn Lamu Port-South Sudan-Ethiopia-Transport (LAPSSET) Corridor Project. The project is under Kenya's vision 2030 strategy which seeks to strengthen the country's position as a gateway and a transport and logistics hub to the East African sub-region. Key towns in the project are Lamu and Isiolo in Kenya, Juba in Southern Sudan and Addis Ababa in Ethiopia. Isiolo, in Kenya, is already adjusting its landscape to cater for the corridor once completed, with various construction projects taking place with investors already flocking the area. Lamu, on the other hand has been a thorn with violence rocking the area. The violence was attributed to the illegal allocation of land in the area to a few companies who owed large tracts of land. The president had to revoke title deeds for the 500,000 acres of land that is said to have been grabbed. Despite the challenge, the four countries are hopeful that the project will kick off smoothly and open up the region for more trade. The heads of state form the four countries met at State House Nairobi where the leaders agreed to take a common stand on the project and submit the package to American investors. The summit will be a forum where American investors and African leaders have a platform to interact and find ways of moving the continent forward.
2015. Construction of Turbi – Moyale (125 km) road. Construction works started in October 2012 for a period of 36 months. The section was also funded by the African Development Bank.
December 2015 Construction work at Lamu port slows down over funds
Kenya Ports Authority (KPA) has announced that construction of the first three berths at Lamu Port has been slow due to financial issues.
 KPA says that Treasury has been releasing money for the project intermittently, delaying construction works at the site.
Managing director Gichiri Ndua said that Construction of the three berths at Lamu Port is ongoing but work is continuing at a sluggish pace. He however expressed confidence that the project will pick up
The Lamu Port project was launched by former President Mwai Kibaki in 2012.
Development of the entire $23 billion (Sh2.3 trillion) Lamu Port-Southern Sudan-Ethiopia Transport Corridor project has also been stalled as a result of new infrastructure projects in Ethiopia, Uganda and Tanzania.
According to transport experts, Ethiopia is now more focused on the 700 km Ethiopia (Addis Ababa)-Djibouti railway line which is under construction.
The $4billion (Sh408.2 billion) project is expected to increase Djibouti port capacity by Ethiopia which facilitates 80 per cent of its international trade.
Uganda is also considering an alternative crude oil pipeline route, having signed an agreement with Tanzania for feasibility studies of an oil pipeline from Hoima to Tanzania's Tanga port.
 This could derail the 1,500 kilometre Hoima-Lokichar-Lamu crude oil pipeline deal between Kenya and Uganda.
Vision 2030 acting director general Gituro Wainaina however last month said Kenya will not be deterred by other regional projects.
Treasury CS Henry Rotich also said Kenya is still pursuing the crude oil pipeline deal.
President Uhuru has postponed thrice the launch of the Berth construction with the latest being on May 25.
The LAPSSET project includes a 32 berths port at Manda Bay, Standard Gauge Railway line to Juba and Addis Ababa, road network, oil pipelines (Southern Sudan and Ethiopia), an oil refinery, three airports and resort cities at Lamu, Isiolo and Lake Turkana.
2016 Construction of Merille River – Marsabit (121 km) road. The road forms the second part of the 505 km road from Isiolo through Moyale to Addis Ababa in Ethiopia.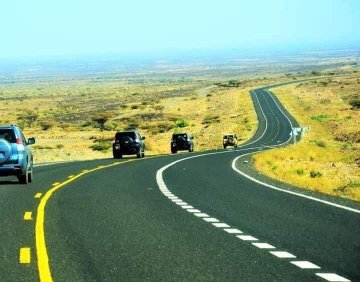 The road starts at Merille River and running north to Marsabit.
October 2016 Lapsset recevies new breath of life
The Lamu Port South Sudan Ethiopia transport corridor (Lapsset) project has received a major impetus after consortium of international investors led by the Development Bank of South Africa (DBSA) said that they will help finance the project. According to State House the consortium has already agreed to inject over ($1.9 billion) to the Lapsset project in the next few months. This is going to be a great boost to the project as recently it has slowed its momentum as there have been insufficient funding and the investors are interested in putting up three berths at the Lamu Port and financing the construction of the 537-kilometre Lamu-Garissa-Isiolo road. According to the State House spokesman Manoah Esipisu both the Kenyan government and the South African had signed an MOU on the Sh2.5 trillion projects during the visit by President Jacob Zuma last week. He said that the visit of President Zuma to Kenya was beneficial and they expect more development to be announced in the next few weeks. The DBSA is wholly owned by the South African government, and has arranged funding for projects in transport, energy, water and ICT sectors. "The Development Bank of Southern Africa remained to be the main consortium as they have already agreed to inject ($1.2 billion) to the project so that it can get going and the three additional berths at Lamu Port. The same consortium would look to fund construction of the Lamu-Garissa-Isiolo road under the annuity programme at a cost of Sh71 billion ($700 million)," said Mr Esipisu. The Lapsset project, which was commissioned by former President Mwai Kibaki in 2012, is expected to open up Kenya's northern frontier for more trade and investment, and has been identified as the long term conduit for Kenya's oil exports through a crude pipeline linking Lamu to the oilfields in Turkana County. But the project has been hit by contraction delays due to financial problems after several financing countries withdrew.
February 2017 South Africa banks on Lapsset to boost relations with Kenya
South Africa has said it will reinforce its economic ties with Kenya particularly in regions of infrastructure particularly Lapsset in an effort to make stronger trade and investment ties.
Also read:Kenya's Lapsset project receives new breath of life
High Commissioner Koleta Anita Mqulwana said both countries stand to gain greatly if they join forces in infrastructure, agriculture, business, tourism, education and health. Ms Mqulwana said South African companies were interested in Kenya's Lamu Port-South Sudan-Ethiopia-Transport (Lapsset). "Late last year, South African President Jacob Zuma met his Kenyan counterpart Uhuru Kenyatta where they signed six contracts among them Lapsset Corridor Project. South African companies are going to contribute in that development; a lot has been done and a lot needs to be done," she said.
Also read:Kenya and Ethiopia agree to construct joint crude oil pipeline
The emissary said the partnership will generate job opportunities for the youths. "If they are not occupied they will end up killing some of us. We need to tackle regions of poverty. That is why I am visiting companies," she said in Mombasa. "You are producing a lot of mangoes here which I am interested in, because if we get mango juice from Kenya it will be less expensive than importing the same from Brazil," she said. She said Mombasa County is a strategic area for South Africa because of the port. "Additionally, it has a sister-to-sister agreement with Durban, we have to fortify the affairs. We have to do business among ourselves as Africans to construct stronger trade and investment ties." She asked Kenyan scholars to study in South Africa, adding they have some of the best universities that are acknowledged across the globe. Ms Mqulwana who was escorted by the embassy's economic counselor Njabulo Mbewe and Gerald Ockotch, senior marketing officer said South Africa is letting-up visa requirements for business people and students to boost relations between the two nations. She said the two states can build and improve social unity in sports and culture tourism, which will in the end generate job opportunities. Ms Mqulwana said Kenya can advance its medical services by constructing the right infrastructure.
May 2017 Lapsset construction project faces legal challenge
2019 The first berth in lamu port was completed in August.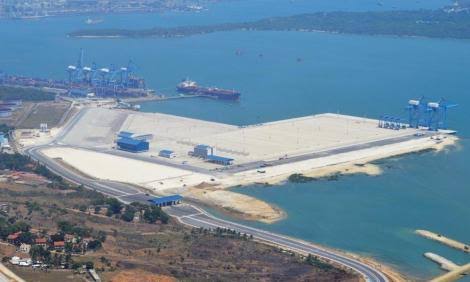 The second and third berths were scheduled for completion in December 2020. The cargo capacity at the fully completed Lamu Port was set to reach 23.9 million tonnes by 2030.
August 2019 Kenya government seeks support of the AU for the Lapsset project
The government of Kenya is seeking support from the African Union (AU) for the US $22.3bn trillion Lamu Port-Southern Sudan-Ethiopia Transport Corridor (Lapsset) project. Lapsset Corridor Development Authority announced the reports and said that a strong case has been made to the AU on the Lapsset project's strategic position to connect not only Ethiopia and South Sudan, but also connecting to Central African Republic (Bangui) and Cameroon, terminating at Port of Douala. "AU's special envoy plans to convene a high level meeting with the countries that fall along Africa's equatorial land bridge later in the year with an aim of forming these crucial transport infrastructure linkages within the continent," said the authority in a statement. Also Read:LCDA announces completion of LAPSSET's first berth at Lamu port
Lapsset project
The Lapsset project was launched in 2012 by former President Mwai Kibaki and is also among the nine Presidential Infrastructure Championship Initiatives (PICI) under the AU. Such projects are championed by respective African Heads of State and Government. It is also a Programme for Infrastructure Development in Africa (PIDA), a strategic continental initiative which has the support of all African countries, for mobilizing resources to transform Africa through modern infrastructure. This mega project consists of seven key infrastructure projects starting with a new 32 Berth port at Lamu (Kenya); Interregional Highways from Lamu to Isiolo, Isiolo to Juba (South Sudan), Isiolo to Addis Ababa (Ethiopia), and Lamu to Garsen (Kenya), Crude Oil Pipeline from Lamu to Isiolo, Isiolo to Juba; Product Oil Pipeline from Lamu to Isiolo, Isiolo to Addis Ababa; Interregional Standard Gauge Railway lines from Lamu to Isiolo, Isiolo to Juba, Isiolo to Addis Ababa, and Nairobi to Isiolo; 3 International Airports: one each at Lamu, Isiolo, and Lake Turkana; 3 Resort Cities: one each at Lamu, Isiolo and Lake Turkana; and The multipurpose High Grand Falls Dam along the Tana River. The project however has since experience cash constraints and lack of political good-will which has slowed down its implementation. Ethiopia is seen to have shifted focus to the port of Djibouti. Road and rail infrastructure between the two countries including the Ethio-Djibouti railway passenger and freight system, which commenced on January 1, 2018, seem to have also shifted interest away from the Lapsset corridor. High Representative for Infrastructure Development in Africa, Raila Odinga noted that Lapsset corridor project has the potential to boost Africa's regional social-economic integration through infrastructure development and trade. "Regional infrastructure projects such as the Lapsset are strong enablers of Africa's continental integration and these coupled with the establishment of the African Continental Free Trade Area, harmonization of monetary policies and other standards such as customs, stabilization of tariff and non-tariff barriers, statistics and labor market information and improved business climate, will attract global trade and investments in Africa," said Odinga.
Also in August 2019 LCDA announces completion of LAPSSET's first berth at Lamu port
The LAPSSET Corridor Development Authority (LCDA), which is in charge of the coordination and management of the implementation of the Lamu Port-South Sudan-Ethiopia Transport Corridor, has announced that the first of the proposed 32 berths at the Lamu port is now 100% complete. This berth is one of the three berths whose construction begun with dredging works in December 2016 with a delivery time of 24 months; and 45 months for the other two, all at a cost of US $480m. LCDA stated that berths 2 and 3 will be completed by December next year. Also Read: South Africa set to operate Kenya's Lamu Port
Financing construction of the berths
The government of the Republic of Kenya is fully funding the construction of the 1st three berths under a plan referred to as the "Short-term Plan" that is estimated to cost US $689m, accounting for: dredging and reclamation; construction of berths and yards; construction of revetment, causeway and road; construction of buildings and utilities including Port headquarters, Port Police Station and Port Management Housing Scheme; procurement of equipment and tug boats; and Electric Power Connection to the National Grid and establishment of Water Reticulation Network among others. The government has structured the remaining 29 berths to be handed over to private sector investors for financing, construction and operation.
Benefits of the Lamu port
Once complete, Lamu port is expected to create job opportunities not only in port operations but also in agriculture, fishery, manufacturing, logistics, transport, trade and commerce. In addition, the port is predicted to appeal to large cargo ships and provide benefits in the region by passing on savings as a result of lower marine costs due to faster ship turnaround time, reducing the cost of doing business.  
January 2020 Kenya, Ethiopia, South Sudan sign MoU to reinvigorate Lapsset
Kenya, Ethiopia and South Sudan have signed a Memorandum of Understanding (MoU) to commit to the re-invigoration of the Lapsset project. Transport Cabinet Secretary James Macharia joined Ethiopian Ambassador to Kenya Meles Alam and South Sudan's Undersecretary in the Ministry of Transport Capt David Martin to sign the MoU, which will see among other things, the initiation of dialogue between LAPSSET footprint States towards a shared approach and support establishment of an umbrella body to coordinate the implementation of the corridor.
According to Ambassador Alam Ethiopia is still fully committed to the implementation of the project despite the peace deal with Eritrea signed in 2018. "Our presence in this meeting testifies the full commitment the Ethiopian government has towards implementation of this project," he affirmed. He further added that Ethiopia has constructed over 500km of tarmac road from Moyale, which is part of the Lapsset project.
"We have also built industrial zones in the Southern parts of Ethiopia. We are now looking forward for the inauguration of the first berth of the Lamu Port, because the southern part of Ethiopia will depend on the Port." he said.
Also Read:Kenya seeks AU support on US $22.3bn Lapsset project
Spurring regional economic growth
Also present at the signing ceremony was African Union High Representative on Infrastructure Raila Odinga who emphasized on how crucial Lapsset is when it comes to spurring trade and economic growth in the region. "A two-day meeting of technical committee was held here in Mombasa. It was convened under the auspice of Africa Union and it was basically to give this project the impetus that it can be implemented quickly," said Mr. Odinga.
South Sudan's Undersecretary in the Ministry of Transport also reaffirmed his government's commitment to the actualization of the Lapsset project.
LAPSSET was launched on March 2, 2012 by the then Kenyan President Mwai Kibaki, late Ethiopian Prime Minister Meles Zenawi, and South Sudan's President Salva Kiir.
May 2021 Kenya National Highway Authority (KeNHA) signed a deal with China Communications Construction Company totalling 17.9 billion shillings (about 166 million U.S. dollars) for the construction of a 453-km road which is part of the Lamu Port-South Sudan-Ethiopia Transport (LAPSSET) corridor scheme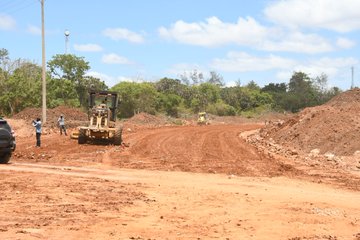 Roads included were 257-km Lamu-Ijara-Garissa part as well as the Hindi-Bodhei-Basuba-Kiunga part which spans 113 km and the section of Ijara-Sangailu-Hulugho of 83 km. August 2021 The completion of the remaining works in the Isiolo International Airport in Kenya is fast tracked to offer swift movement and full operations in January 2022.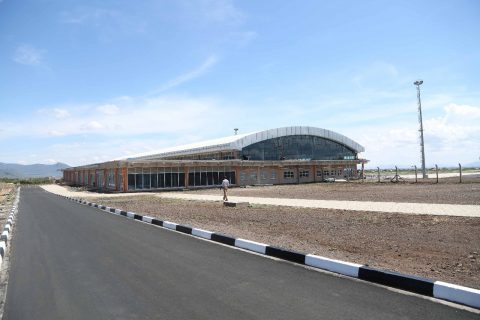 Remaining works included the ongoing cargo sheds construction and runway extension from the current 1.4 km to 2.5 km. The cargo sheds are planned to be completed by the end of September 2021. The construction will allow them to handle at least 10 tonnes of luggage. The extension of the runway is expected to be end by December 2021, giving way for the beginning of the flights operation.
January 2022
Construction of the the first phase of Kenya's $400 million second commercial port in Lamu was completed. The second and third berths construction was completed in December, giving way for the government to float a contract to private companies to develop 20 more berths under a public-private partnership to finish the 23-berth facility.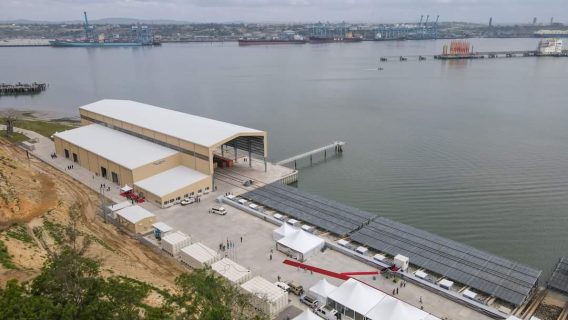 "Yards and the first three berths at the Port of Lamu are completed with plans to commence operations at berths second and third berths in 2022. KPA is obtaining modern equipment as well as three mobile harbour cranes and a ship to shore gantry cranes, complementing the port's operations," stated Kenya Ports Authority (KPA). The first Phase included construction of the first three berths and the infrastructure associated, having a length of 400 metres and a depth of 17.5 metres each. The berths were designed for container, general and bulk cargo.