Ghana has in recent years embarked on several noteworthy mega projects covering infrastructure as well as buildings. These are a testament to the success of both local professionals and partnerships with international companies. We take a look at the 9 top ongoing mega projects in Ghana
Also Read: Top ongoing mega projects in Ethiopia
Search for construction leads
The following are top ongoing mega projects in Ghana
Accra SkyTrain project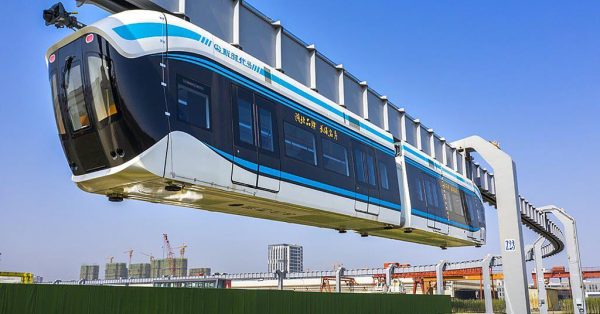 Accra SkyTrain is a planned fully automated, elevated light railway metro network that is intended to serve the Accra city in Greater Accra, Ghana.
The network will have five routes, four of which are radial routes that originate at a new terminal at the Kwame Nkrumah Interchange, and another route that loops around the city centre. The total track length across all routes is 194 kilometres. 
In 2018 the Government of Ghana signed an MOU with AiSky Train Consortium of South Africa and in November 2019, following the completion of a feasibility study, the parties signed a build–operate–transfer concession agreement.
Reportedly, AiSky Train Consortium will develop the system at an estimated cost of US$ 2.6bn dollars.
Marine Drive Accra Project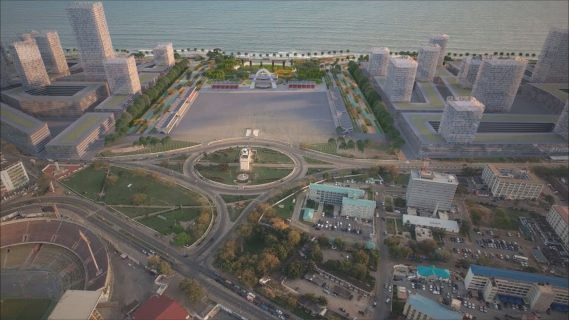 Marine Drive Accra Project is a 241-acre redevelopment plan for Accra's waterfront that stretches from Independence Square to the coastline, culminating in a coastal overlook with broad, dramatic scenery across the Gulf of Guinea, into a new public infrastructure that features commercial, exhibition centres, offices, a beach soccer pitch, recreational, and retail facilities.
The project is developed by Ghana's Ministry of Tourism, Arts and Culture and designed by  Adjaye Associates, an award-winning architectural and design firm with studios in Accra, London, and New York, that is led by Sir David Adjaye, a Ghanaian-British architect known for designing many notable buildings around the world, including the National Museum of African American History and Culture in Washington, D.C.
The main aim of the project is to leverage the tourism sector as a transformative economic entity for the West African country's and people's benefit.
Ghana International Trade Fair Center Redevelopment Project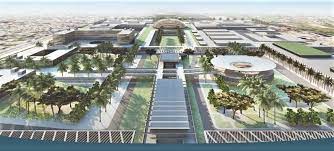 This project seeks to convert the current 140-acre Ghana International Trade Fair Center site into a new modern mixed-use smart, green, and sustainable commercial estate.
The project is set to be carried out in phases, the first of which will focus on the development of the Convention Center and Exhibition Halls for the World Economic Forum, Africa. Facilities such as luxury hotels, high-end malls, and other residential and commercial development will be included in Phase 2 of the Ghana International Trade Fair Center Redevelopment Project.
This new destination will also house a technological hub that will serve as a commercial, research, and high-end manufacturing centre to support the government's industrialization drive into the twenty-first century, as well as a Made-in-Ghana trade hub that will help small and medium-scale enterprises.
The project is spearheaded by the Ghana Trade Fair Company, which was founded to aid Ghana's post-independence trade and industrialization efforts and is positioned to promote and exhibit Ghana's products in order to attract investors.
Appolonia City Development Project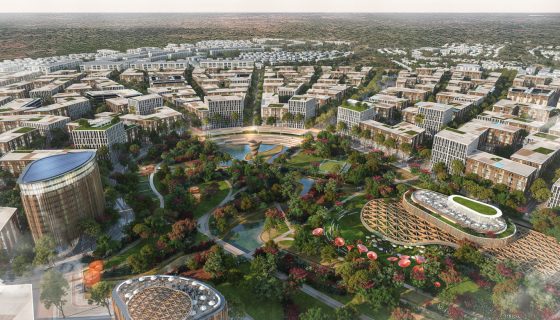 Appolonia City is a new US$ 250M city under development on a 2325 acres piece of land located approximately 20 kilometres east of Accra, between the towns of Oyibi and Afienya, in the Greater Accra Metropolitan Area.
Featuring a place to live, work, shop, entertainment, relaxation, and much more – all in a well-designed natural setting with the highest infrastructural standards, the project is quickly becoming the destination of choice for enterprises and people seeking a healthier environment outside of Accra's congested city borders.
It is developed by Rendeavour, Africa's largest city developer with over 30,000 acres of visionary projects in the growth trajectories of major cities in Kenya, Ghana, Nigeria, Zambia, and the Democratic Republic of the Congo is developing Appolonia City
Accra-Nsawam Railway Project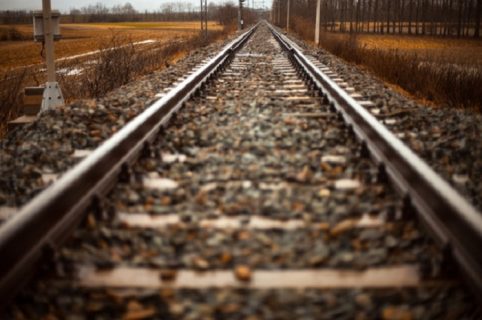 Developed by Ghana Railway Development  Authority (GRDA) in conjunction with the Ministry for Railway Development, Accra-Nsawam Railway Project involves the upgrade of the narrow-gauge railway line that runs between the two towns which are roughly 43 kilometres apart into a standard gauge railway line.
The works are being carried out by KEC International Limited, the flagship company of RPG Group, India's second-largest manufacturer of electric power transmission towers, and one of the largest Power transmission, engineering, procurement, and construction companies in the world.
Petronia City Project
Situated roughly 8 kilometres from Takoradi, Ghana's Western Region capital, Petronia City is a proposed 2000-acre city development project that aims to provide the first fully integrated business centre for the oil, gas, and mining industries in the West African region, by providing residential, office, industrial, commercial, leisure, and hospitality spaces.
The project was founded to solve the above-mentioned infrastructure deficit in Ghana's Western Region following the 2007 oil discovery and associated growth in socio-economic activity in the region.
Wonda World Estates is a joint venture between Ghanaian serial entrepreneur Nana Kwame Bediako and British multi-millionaire property developer Azad Cola, who owns the prestigious Westbury Hotel, and is working on the development.
Hosted by the Beahun and Yaabew communities in the Ahanta West District of Ghana, the Petronia City is set to be carried out in 3 phases over a period of 10 years.
The Signature luxury apartments project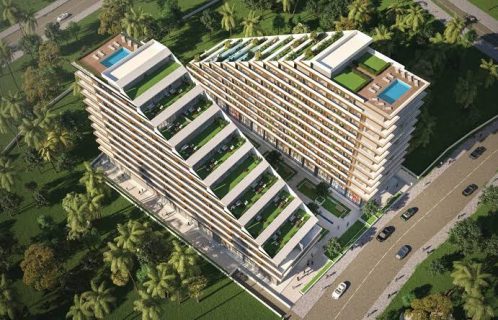 Developed by CAPEMAY Properties, a full services Real Estate Company focused on delivering quality buildings at competitive prices, good rental yield for investors, and excellent customer service, the Signature is a luxury apartments project that is being undertaken in the newly-constructed neighbourhood of Shiashie in East Legon, close to the Tetteh Quarshie Interchange and opposite The Accra Mall.
The project involves the construction of studios, 1-, 2- and 3-bedroom apartments, and a 4-bedroom penthouse with a private pool. It features amenities such as a fitness centre and steam room, rooftop pool and bar, ballet and yoga studio, bowling alley and basketball court, pharmacy, cafe and restaurant, karaoke studio and movie theatre, spa, children's playground, grocery stores, concierge service, and 24-hour security and CCTV just to mention a few.
Project for Construction of National Cathedral of Ghana in Accra
Situated on a 14-acre landscaped plot adjacent to Osu Cemetery in Accra, the Ghana National Cathedral project entails the construction of an interdenominational Christian cathedral that will comprise a number of chapels, a baptistery, a music school, a choir rehearsal, a grand central hall, as well as a two-level auditorium with 5000 seats.
In addition, the new National Cathedral of Ghana will also have an art gallery, a shop, multi-use spaces, and Africa's first Bible Museum and Documentation Center. It will also be linked to the capital city's most prominent landmarks, such as the Independence Square, Osu Cemetary, State House, and Africa Unity Circle, via a new ceremonial route and landscape.
Kumasi-Paga (Central Spine) Rail project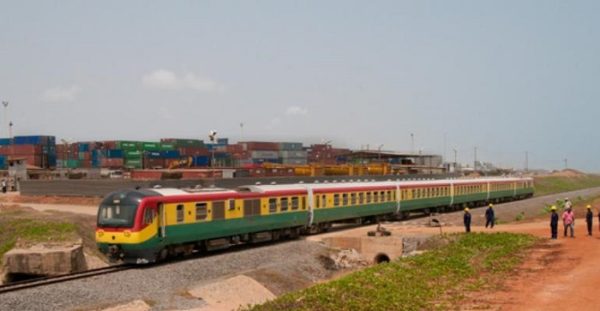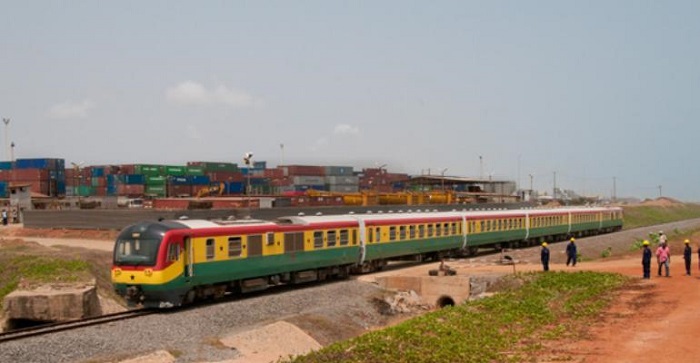 The Kumasi-Paga railway project, also known as the central spine railway project involves the construction of approximately 559k kilometre rail to link Kumasi in the central part of Ghana to Paga, which is in the north, on the border with Burkina Faso.
Upon completion, the project, which is in line with the Railway Master Plan completed in 2013, will improve rail and logistics infrastructure as part of an integrated transport network in Ghana.
It will also help to improve services to customers and reduce the cost of transportation, especially in trade to and from the hinterland and the Northern regions of Ghana, as well as the Sahelian countries. Furthermore, it is expected to facilitate the transportation of passengers and freight cargo from the South to the North of Ghana and onward to Burkina Faso and the Sahelian region.
Western Rail Line/Takoradi – Kumasi Railway Line Project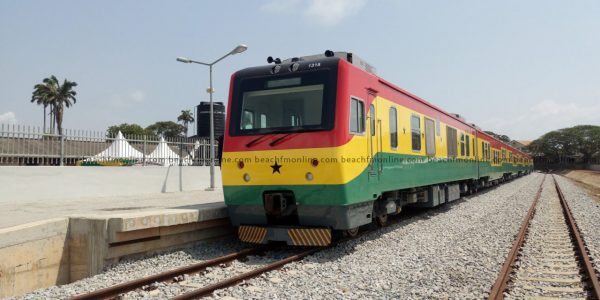 This is an ongoing project for the rehabilitation of the 339-kilometre railway line from the Takoradi Port, in the Western region of Ghana to Kumasi, in the southern region, with a branch line from Dunkwa to Awaso.
The project, the value of which is approximately US$1bn, involves the renovation of a total of 38 stations along with 2 terminals and other facilities as well as over 200 bridges and culverts. State-of-art telecommunication and signalling will also be put in place along with the reconstruction of the workshops and running sheds among other facilities.
Ghana Railway Development Authority (GRDA) is in charge of the rehabilitation of the railway line, which is key to the haulage of agricultural produce and minerals from the middle belt to Takoradi port. It is also home to key bauxite mines, which are the bedrock of the country's integrated bauxite aluminium master plan.